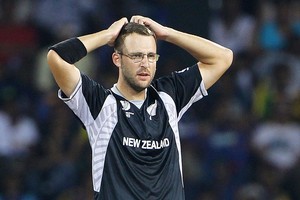 The fairytale which unfolded for New Zealand in the quarter-finals against South Africa never looked like repeating in the first 33 overs of Sri Lanka's chase last night.
The hosts were set to take a decisive and deserved place in the final. Then the Black Caps struck and almost broke the jinx of six consecutive semi-final losses in 10 World Cups.
John Wright's appointment as coach can only go so far by way of explanation for the team's resurgence of late. Yes, he is the definition of a catalyst but this demonstration of heart, albeit on the end of a five-wicket loss with 13 balls to spare, was foremost generated by the players. They deserve suitable plaudits for a gallant effort.
The hosts were cruising at 160 for one, needing just 58 runs from 104 balls. Then Jesse Ryder took a catch in the gully to dismiss Tillakaratne Dilshan for 73 - his first fifty against New Zealand in 20 one-day internationals - and the collapse began. The cacophony of the crowd dropped in proportion to a resurgence in Black Caps' intensity. Four wickets fell for 25 runs and New Zealand fought deep into the game.
Initially the bloke holding up the banner "At the cricket, please tell my tuk-tuk driver to wait!" did not look like he would have to plead for too much patience. Sri Lanka were cruising with a 120-run partnership for the second wicket.
They were making a mockery of the pre-match statistic that teams who win the toss and bat - as New Zealand skipper Daniel Vettori did - win day/night matches at this ground 65 per cent of the time. The statistics eventually lied but Sri Lanka had a job proving it.
The aggression which spurred New Zealand on in Dhaka initially struggled to work against the composure of Sri Lanka in front of their home crowd. The measured skill displayed by the hosts was matching the Black Caps' controlled fury. Their top three batsmen - Dilshan, Upul Tharanga (30) and captain Kumar Sagakkara (54) - stroked the ball to all parts and backed themselves to win. It is no accident each of them is in the top four tournament run-scorers. But the reverse is also true, their middle to lower order had experienced limited time at the crease and the void was obvious.
Vettori, who confirmed after the match that he'll step down as captain and from the Twenty20 team, led a fightback when he secured the LBW of Mahela Jayawardene for one beginning a scything through the Sri Lankans.
He was backed by Andy McKay, coming into the team at short notice after arriving on Friday. McKay took one for 37 from his 9.5 overs adding a necessary surprise element. Tim Southee was back at his best, at least in the later overs. He came back for a crucial late spell from the 43rd over, dismissing Chamara Silva on the way and finishing with three for 57.
Much was made pre-match of using the same pitch as that used in Sri Lanka's victory over England but did not seem to adversely affect the quality of the cricket. In hindsight the groundsman may well have been right in his assertion it would be fair. It may well have assisted the likes of Muralitharan, Mendis et al but the New Zealanders largely got out to their own errors. Muralitharan can now compete for double World Cup glory on Saturday in Mumbai having played his last ODI at home.
The Black Caps kept to coach Wright's three-wicket/35 over plan finishing at 142 for three but Styris struggled to accelerate beyond that point as the innings anchor in what might have been his last one-day international. His 35 from 44 balls at the 35-over point, with a strike rate a shade under 80 turned into just 57 from 77 balls striking at 74 by the time he was dismissed 12 overs later. It was an indication of how well the Sri Lankans fought with their skilled and varied attack to keep the pressure on. Styris looked somewhere near the balanced player of old, placing the ball all around the wicket and executing a number of crisp drives in the 'V', but it never looked like a match-winning knock.
His World Cup statistics are indicative of that, too. In 2003 he averaged 53.60 with a strike rate of 102. In 2007 he averaged 83 with a strike rate of 83. In 2011 he averaged 23.66 at a strike rate of 86 but may have been underutilised as an economical bowler capable of nagging off-cutters.
At least Styris fronted when it counted. Apart from the 77-run fourth wicket partnership between him and Taylor (36), the Sri Lankan attack and captain Sangakkara dictated the first innings tempo.
There were plenty of starts. McCullum continued his grim run against test-playing nations this tournament, averaging 10.60 in those five starts. Certainly he made a century against Canada, a half-century against Zimbabwe and was not out against Kenya but would be disappointed with the "big games".
Guptill's 39 was sound, driving exquisitely off his toes through mid-on and working the singles off his legs before Malinga produced a cracking yorker. Ryder cut a quicker Muralitharan delivery that got extra bounce but he left New Zealand struggling, having scored just eight runs in the 3.3 overs after finishing the second powerplay at 60 for one in the 15-over mark. Williamson went on to play a better than run a ball cameo of 22 that demonstrated he is the player to watch in future.
- Herald on Sunday