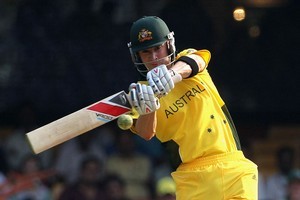 It may be small consolation but Australia may be in almost as bad a pickle as the Black Caps heading into the World Cup - something which enhances New Zealand's prospects against them in Nagpur on Saturday.
The Black Caps' form has been poor of late - many are still reeling from the 193 runs in the last 16 overs clobbered off their bowling by India last week - but it is not overstating things to say they have a chance of beating Australia in the pool round; a result that would likely bring knockout round benefits.
A narrow warm-up victory over Ireland and a trouncing from India show New Zealand are far from foolproof - but Australia have weaknesses of their own.
They may have won the last three World Cups and be the No1-ranked side in 50-over cricket, but gone are Glenn McGrath, Matthew Hayden, Adam Gilchrist, Andrew Symonds and Nathan Bracken from the squad which won in 2007.
Those who have emerged since - Doug Bollinger, Callum Ferguson, Brad Haddin, Steven Smith and Cameron White - are talented, but fail to instil the same fear.
Australia won the ODI series 6-1 against England but it was against a team struggling to focus after the Ashes triumph. They are struggling for pinch-hitters and slow bowling options. Their best effort was in the sixth match, chasing down a target of 334 to beat England in Sydney but they were also walloped by India in a warm-up that showed they may struggle against spin on the subcontinent.
Australia are reliant on individuals to scrape wins together. In the batting, a lot rests with Shane Watson and David Hussey (especially now brother Michael is out injured).
Michael Clarke is clawing his way back to form while Haddin and White had strike rates south of 80 against England. Ricky Ponting missed the series with his broken finger but his Ashes form failed to meet his usual high standards.
Australia would have struggled in the England series without Brett Lee. His 11 wickets at 24 with an economy rate of 5.28 stood out. Bollinger, Mitchell Johnson and Shaun Tait only chipped in occasionally. Johnson remains mercurial but cannot be relied on, while Steven Smith is yet to seize his moment on the international stage.
New Zealand have beaten Australia twice in seven World Cup matches (1992 and 1999) but never in sub-continental conditions (they have lost in three attempts - twice in 1987 and once in the 1996 quarter-final). Looking through the current New Zealand line-up, there are match-winners but few guarantees anyone will execute.
The last player to do so in a live rubber against Australia was Scott Styris at Napier during the Chappell-Hadlee series just over a year ago. His gritty 49 not out included the farcical head-butting incident with Johnson but it got New Zealand home and entrenched Styris in the team again.
It is rare to find a Black Cap with a better record against Australia than their average. Ross Taylor is the best example, averaging 39 in 21 matches compared to his career record of 35 in 99.
One advantage for New Zealand this Saturday could be World Cup experience. Ten Australians have not played in a World Cup - Ponting, Clarke, Lee, Watson and Tait being the exceptions.
Contrast that with eight New Zealanders. Daniel Vettori, Brendon McCullum, Taylor, Styris, James Franklin, Kyle Mills and Jacob Oram offer the Black Caps a decent core of experience.
John Wright also took India to the final against Australia in 2003.