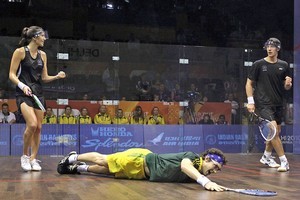 After 10 days of competition in Delhi it's come down to the final day and surprise surprise Australia stand in the way of New Zealand winning a sixth gold medal.
The Silver Ferns close New Zealand's involvement at the Commonwealth Games when they take on their old rivals later tonight, a win would equal the amount of gold medals won in Melbourne four years ago.
A loss would mean a 23rd silver medal for New Zealand, beating the record of 22 received at the Auckland Games 60 years ago.
Highlights from day 10:
Golden delight for women's squash pairing
The New Zealand squash team of Jaclyn Hawkes and Joelle King boosted the country's Commonwealth Games gold tally to four last night with victory in the women's doubles.
Kiwi shooting duo keep gold following protest
"Mentally frazzled" fullbore shooting pair Mike Collings and John Snowden have won Commonwealth Games gold, reward for surviving five days in sweltering heat, malfunctioning targets and protests.
Black Sticks fall just short of gold
New Zealand have closed the gap with Australia but need more depth, according to Black Sticks women's coach Mark Hager.
Silver Ferns never tire of the old enemy
Silver Ferns captain Casey Williams seemed slightly bemused by the question. "Don't you ever get sick of playing Australia," asked an Australian accent.
See a full wrap of day 10
NZ results in Delhi - day nine
Medal update:
Gold 5 Silver 22 Bronze 7
Two more gold medals and four silvers on the penultimate day of the Games take New Zealand's total to 34, three more medals than the Melbourne Games with one more guaranteed in the netball. Just what colour it will be is the question.
Full medal table
List of New Zealand medallists
What to watch for - Day 11:
Kiwis in action schedule
Medal hope
The Silver Ferns attempt to defend their netball title and win their second ever gold at 8.50pm.
Don't miss:
Hockey:
New Zealand's only other involvement on day 11 is the men's hockey team who play England in the bronze medal match (4.20pm).
More hockey:
Australia are the in-form team, India have the crowd on their side. The men's gold medal match is a must-see (6.55pm).
Marathon:
The traditional ending to the track and field sees the marathon runners close out the meet (1.55pm).
Closing ceremony:
The athletes say farewell to Delhi at the closing ceremony tomorrow morning (2.30am).
- Herald online