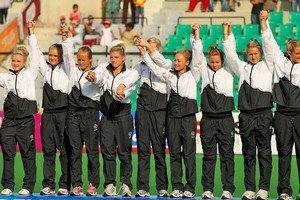 New Zealand have closed the gap with Australia but need more depth, according to Black Sticks women's coach Mark Hager.
Shattered after losing their Commonwealth Games final 4-2 on penalty strokes after it was 2-all at the end of extra time, Hager was full of praise for his team.
"I'm really proud of the girls, they put in a good performance all tournament," the former Australian striker said.
"I think we're getting close to the Aussies. They aren't that five or six goals better team that they used to be, and that's a really pleasing thing moving forward.
"As long as we keep these girls together then I think we'll have a really good unit for the London Olympics in 2012."
Goals from Sam Harrison and Clarissa Eshuis 30 seconds from the end of normal time, kept the golden flame alive for world No 7 New Zealand against opponents one spot higher.
New Zealand were worth at least a draw, having been the more attacking side, but could not finish their chances.
However strikers Katie Glynn and Krystal Forgesson missed with New Zealand's first two penalty strokes and Australia clinched the win, their third in the last four Games.
Silver is the Black Sticks' best Games finish, eclipsing the bronze of 1998 in Kuala Lumpur.
But Hager doesn't want the players to sit back.
"What we need is more depth to be able to push everybody to be better in this group,' he said.
"If we're going to rest solely on this group and no one underneath pushign them then we could become a bit complacent."
Captain Kayla Sharland admitted the defeat soured a top class campaign at the final hurdle.
"We wanted a gold. But the girls played well throughout the tournament, put our game on the world stage and hopefully we are a threat to more teams now."