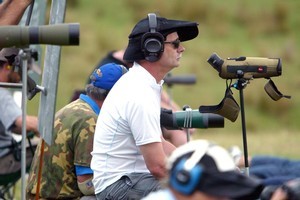 Mike Collings. Photo / APN
"Mentally frazzled" fullbore shooting pair Mike Collings and John Snowden have won Commonwealth Games gold, reward for surviving five days in sweltering heat, malfunctioning targets and protests.
Even after the shooting ended, and the pair were able to escape the heat of the range and relax, they were unable to celebrate the first New Zealand shooting gold of the Games.
Commonwealth Games medal table
Australia had protested that on the 1000 yard final shoot today one of their pair's shots was misread as a zero by the electronic targets - a score almost unheard of at this level.
Hits were either not being recorded by the targets, or incorrectly registered, with the same shot placement popping up time and again.
So Collings and Snowden had to wait anxiously for several hours to hear their fate.
If Australia succeeded their pair would have snatched the gold away.
By the time the Australian protest - and ones by other countries also related to the faulty targets - was dismissed, a medal ceremony due for 3pm was held in darkness, at 6.20pm.
It was one of the most difficult shoots he had contested, Whakatane-based Collings told NZPA.
Faulty targets meant shots had to be retaken, meaning even longer periods of concentration out in the Delhi heat.
"I'm sure my hair's turned greyer or whiter," he said.
"It was a marathon, today in my individual we had to shoot three different targets."
Collings was plagued by the targets in his individual, and plunged from medal contention to 18th today, when some of his shots were recorded as lowly fours and fives.
New Zealand protested, but like the Australian protest, it was dismissed, when the jury of appeal decided scores as registered should stand.
New Zealand won the pair with a Commonwealth Games record 588 points, with Scotland on 587, with England third on 584. Seven hours after the event, official results were still not available.
On the dais at last, Collings and Ashburton marksman Snowden were able to pat each other on the back and raise their arms in weary celebration.
They were deserved winners, manager Tony Waymouth told NZPA.
While the Australians were likely to feel more than a little miffed, that should not erode what Collings and Snowden achieved, he said.
"The bottom line is we did what we had to do," he said.
"It's a score that's highly acceptable to shoot for a Commonwealth Games medal, and they had to shoot it."
With the heat and the extra shooting the five-day contest in 45degC heat had been tough and the pair were "mentally frazzled", Waymouth said.
The Jury of Appeal had ruled, and teams might not be happy, but they had to accept it, he said.
"At the end of the day, Mike got the wrong rub of the green in the individual, and we had to accept it."
Englishman Parag Patel won the individual with 396 points, James Corbett of Australia 395, and David Calvert of Northern Ireland on 393. Collings was 18th on 382, Snowden 21st on 379.
Corbett, one half of the Australia pair which fell from the lead on the final shoot, was disgusted with the problems that plagued the prestigious shooting event.
"I felt really sad for the sport," he said.
"I don't feel like I won anything. That was basically the sub-contractor not fulfilling their basic obligation to the Indian government.
"We thought we had the pairs, but then everything went wrong. It's been a perfect nightmare."
No New Zealanders made the men's singles 50m rifle prone final, with Ryan Taylor and Adrian Black well down the ranks.
Levin marksman Taylor shot 588 from a possible 400 to finish 14th, Cantabrian Black 584 for 20th.
Jonathan Hammond of England topped the qualifiers with 595.
- NZPA