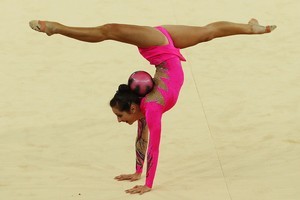 Mereana Rademakers of New Zealand performs with the hoop as she competes in the in the All-Around Rhythmic Gymnastics Final. Photo / Getty Images
New Zealand results on the 10th day of competition at the Commonwealth Games in New Delhi today.
BOWLS
Men, first playoff stage, Ali Forsyth lost to Leif Selby (Australia) 11-2 1-13 3-4; women, first playoff stage, Val Smith bt Claire Johnston (Scotland) 9-7 6-5, semifinal, bt Kelsey Cottrell (Australia) 9-7 4-8 4-3, final, lost to Natalie Melmore (England) 6-7 2-11.
CYCLING
Women's 29km individual time trial, Linda Villumsen 39min 04.15sec 2 (4.85sec behind winner), Melissa Holt at 23.66sec 5, Alison Shanks at 1min 31.41sec 10. Men's 40km individual time trial, Jack Bauer 50 min 48.51sec (3 min 29.85sec behind winner) 8, Jesse Sergeant at 4 min 15.35sec 9, Gordon McCauley at 5 min 13.94 sec 13.
GYMNASTICS, RHYTHMIC
Women's individual all-round, Mereana Rademakers, 82.700 points 16, Keziah Oliver, 81.850 17.
HOCKEY
Women's final, New Zealand lost to Australia 2-4 on penalty strokes.
After extra time: New Zealand 2 (Samantha Harrison, Clarissa Eshuis) Australia 2.
SHOOTING
Men's fullbore rifle pairs, Mike Collings/Peter Snowden 588/600 1. Men's fullbore rifle singles: Collings 392/400 4, Snowden 388/400 13. Men's 50m rifle prone, qualifying, Ryan Taylor 588/600 14, Adrian Black 584/600 20.
SQUASH
Women's doubles, final, Joelle King/Jaclyn Hawkes bt Jenny Duncalf/Laura Massaro (England) 11-9 11-10. Mixed doubles, final, King/Martin Knight lost to Kasey Brown/Cameron Pilley (Australia) 11-8 7-11 5-11.
- NZPA