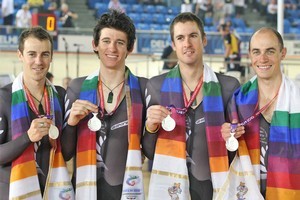 Another fairly successful day in Delhi for the New Zealand team with two silver medals and a bronze on day four but the gold medal tally still sits at zero.
All eyes are on swimmer Glenn Snyders and cyclist Alison Shanks later tonight to pick up the country's first gold.
However New Zealand's gold medal crisis is far beyond the biggest worry in Delhi right now as a stomach virus sweeping the athletes' village may be linked to the swimming complex while the athletes that are fit and healthy are clogging the sewage system with used condoms.
Meanwhile spare a thought for Aussie sprinter Sally Pearson who was Commonwealth Games champion for all of four hours before being stripped of her title.
Highlights from day four:
Silver yet again as Kiwis bow to Aussies
What would be do without the cycling team? New Zealand picked up three more medals on the boards last night, though gold remains elusive.
Aussie sprinter stripped of Games gold
Australian sprinter Sally Pearson was stripped of a Commonwealth Games gold medal, hours of celebrating victory in the 100m final.
More finals action for NZ swimmers
New Zealand should be at the business end of at least three finals at the Commonwealth Games pool tonight.
Tennis: Hosts smother Kiwi hopes
It's Games over for tennis players Rubin Statham and Marina Erakovic as both were eliminated by Indian players at the quarterfinal stage.
Condoms clog Comm Games drains
Thousands of flushed condoms threaten to choke the Commonwealth Games village's drainage system.
Swimmers sick in New Delhi, warmup pool suspected
The Commonwealth Games is facing a new crisis - reports that up to 15 swimmers on the England and Australian teams have a stomach virus potentially caused by the suspect quality of water at the aquatics center in New Delhi.
See a full wrap of day four
NZ results in Delhi - day four
Check out our Interactive New Delhi Games guide
Medal update:
Day four days of competition and New Zealand have seven silver and three bronze medals as the search for the elusive gold continues. A search minnows Nauru and Uganda completed yesterday to jump ahead of us on the medal tally as New Zealand currently sit in 14th place. Australia improved their medal haul to 68 overnight, 32 of which are gold.
Full medal table
What to watch for - Day 5:
Kiwis in action schedule
Medal hope
Swimmer Glenn Snyders qualified equal fastest for tonight's 50m final which puts him in a good chance of winning New Zealand's first gold of the Games. No pressure Glenn.
Don't miss
Athletics:
A packed schedule for New Zealand in the track and field with Valerie Adams appearing in shot put qualifying, Brent Newdick looking to hold onto a podium spot in the decathlon, Rebecca Wardell in day one action of the heptathlon and Nikki Hamblin racing in the 1500m final (from 5.30pm).
Netball
The Silver Ferns look to find their form against South Africa after a less then convincing performance against England yesterday (6.50pm).
Cycling:
Alison Shanks is a favourite to win tonight's 3000m individual pursuit while Eddie Dawkins, Sam Webster, Ethan Mitchell are in action in the men's team sprint (7pm).
Shooting:
Kiwi shooting great Greg Yelavich returns for yet another Commonwealth Games, first appering for New Zealand at the 1986 Edinburgh Games. Since then he was won 11 medals. Fellow Games medallist Nadine Stanton also lines up in the women's trap pairs with Natalie Rooney (4.30pm).
Swimming:
The second to last day in the pool sees backstrokers Gareth Kean and Daniel Bell back in action, the possible last ever Games appearance of Moss Burmester. Hayley Palmer, Emily Thomas, Melissa Ingram. Lauren Boyle, Natasha Hind, Penelope Marshall will feature in the women's events. (Heats 4pm, finals 11.25pm).
- Herald online