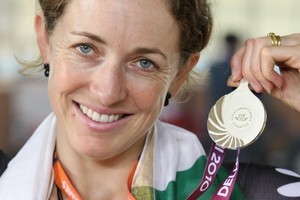 You know it's been a bleak day for black-clad Commonwealth Games athletes when High Commissioner Rupert Holborow is the leading New Zealand newsmaker in Delhi.
International news agencies and Indian newspapers were all over Mr Holborow being summonsed by the Indian Government to apologise for ``racial remarks'' made by TVNZ broadcaster Paul Henry about Delhi Chief Minister Sheila Dikshit.
So while New Zealand track cyclists were getting handed medals and put on a podium, Holborow was handed a demarche -- a formal protest - and put in the diplomatic dog box for Henry mispronouncing and giggling at the name Dikshit on air.
In the end, Holborow suffered less pain than the cyclists who, though winning two silvers and a bronze, spent the day looking at Australian backsides.
Such is the lack of depth in Commonwealth cycling, most of the medal battles come down to New Zealand and Australia, with daylight third.
Australia were in no mood to share today, and splattered the vaunted New Zealand men's pursuit team all over the velodrome when a plan to attack came out looking as if it had been drawn up by the Delhi Games organising committee.
Just after halfway, the New Zealand four was reduced to a three as it failed to cope with the Australian onslaught, then it was a two, with being lapped proving the final indignity.
"It was a bit of a hit or miss I suppose," Jesse Sergent said of the tactics to go out hard.
"We blew up but who knows what would have happened if we didn't blow up, maybe we would have got the better of them."
The other medals overnight were a 10km scratch race silver to Joanne Kiesanowski and a men's sprint bronze to Sam Webster.
And so day four in Delhi passed still without God Defend New Zealand having being played so much as once.
Netball's Silver Ferns moved in the right direction when they eventually tamed England 47-41 to lift their chances of avoiding world champions Australia in a sudden death semifinal, while five swimmers made their way into today's finals.
Of those backstroker Daniel Bell, freestyle sprinter Hayley Palmer and breaststroker Glenn Snyders look gold medal prospects, but no doubt those damned Aussies will get in the way.
The youngest gymnast from any nation at the Commonwealth Games, Jordan Rae came close to bagging a medal in the vault, finishing fifth, as did Misha Koudinov on the rings.
At the main stadium, middle distance runner Nikki Hamblin ran a classy 1500m in a hectic heat to make tonight's final, while Brent Newdick sprinted, jumped and threw himself into medal contention in the decathlon.
Hamblin, 22, was third in her heat won by Kenyan Viola Kibiwott in a time close to the Commonwealth Games record.
In the lawn bowls, the women's pair and triple both stayed on course for a glittering prize.
Not so at the tennis, where Rubin Statham and Marina Erakovic wound up like high commissioner Holborow, getting roundly belted by Indians to exit their respective singles, while the mixed badminton team was eliminated by top seeds Malaysia.
- NZPA