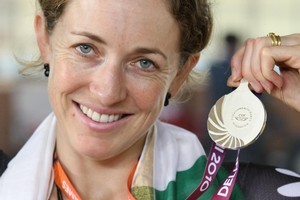 New Zealand picked up three more medals on the boards last night, though gold remains elusive.
The best result came in the women's scratch race where Joanne Kiesanowski finished second behind Australian star Megan Dunn.
Sam Webster beat colleague Eddie Dawkins in a bronze medal ride-off and the team pursuit, in the most disappointing result of the day, blew up in the gold medal ride-off against Australia.
New Zealand's medal tally stands at 10, with three bronze and seven silver. The cyclists have accounted for seven medals.
Pursuiters Jesse Sergent, Sam Bewley, Marc Ryan and Westley Gough will return home with silver around their necks, but due to the paucity of the five-team field, which included Wales who were disqualified during qualifying, silver was the worst they could do.
In truth it was probably the best they could do as well as Australia broke their own Commonwealth record and looked near unbeatable. However the manner of their defeat was galling, being lapped by Australia with a lap remaining.
They suffered when Bewley, probably their second strongest rider behind Sergent, started to fall off the back with seven laps remaining.
Gough and Ryan then struggled to stay on the wheel of Sergent and they ended in an undignified mess.
Coach Tim Carswell said it was the strategy to go hard early and race the Aussies.
"That was the fastest we've ever gone out over 2kms but you would have seen it didn't go too well after that," he said. "The boys are gutted and so am I."
By contrast, Kiesanowski's silver was utterly meritorious.
The Canterbury rider took a while to gather her post-race thoughts, which is another way of saying she was being sick.
"It was good because you know you've given it everything you've got. I just felt a bit nauseous, which is all good."
The race appeared to be heading for a mass sprint finish until colleague Rushlee Buchanan launched an audacious solo breakaway with six laps to go.
"It was all or nothing," said Buchanan of her scene-setting move. Unfortunately it was nothing, but it remained the key moment in the race. Dunn, the points race gold medallist passed Buchanan with 500m of the 10km race to go.
Buchanan was gobbled up by the fast-finishing pack and ended seventh.
Kiesanowski, 31, was the leader of that pack and she crossed a clear second ahead of England's Anna Blyth.
Kiesanowski showed she was in good form during Wednesday's points race and worked hard for silver medallist Lauren Ellis.
"We had a plan if it did come down to a bunch sprint, so we were really confident in our abilities to do a strong lead out. Unfortunately there was still one person in front of us," Kiesanowski said.
It's been the story of their Games. New Zealand's programme is undeniably world class, but they have spent three days watching Australian bottoms cross the line in front of them and must be worried that they will bring home a swag of medals, none of them gold.