In last week's Driven, we asked you what cars spun your wheels in the halcyon days of local assembly. Here is a selection of your favourite recollections: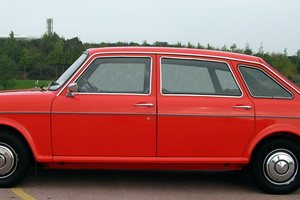 Ross:
I remember the era well as I did my motor mechanic apprenticeship at the NZPO workshops in Middleton Rd, Newmarket (now an apartment complex) just down the road from the NZMC assembly plant in Mortimer Pass, Broadway.
I visited on several occasions and saw Minis and Honda Civics being assembled there.
The Hillman Avenger was quite a significant New Zealand-assembled car that is often overlooked in our motoring history, drowned out by the numbers of Holden, BLMC and Ford cars sold here.
In fact more than 26,000 Avengers made their way on to New Zealand roads and we had them in the Post Office fleet, too.
Greg:
A legend of local assembly was Mitsubishi's front-drive Sigma and the original V3000. Whether a family car, fleet car or police pursuit car, the spacious, comfortable Sigma was a Kiwi favourite over the seven-year assembly span at the once-great Todd Park in Porirua.
Lavishly equipped SE and GSR-X models were ahead of their time with features such as automatic climate control, electronic instruments, automatic headlights and speed-sensing wipers.
A fine example of local ingenuity and development, the Sigma-based V3000 in particular was indecently quick and powerful, much like the exhilarating turbocharged Sigma GSR and GSR-X before.
Glen:
You could also mention how poorly built the local cars were.
English suppliers sent reject components because they knew it was too far to send them back and we were resourceful enough and compelled to fix and use them!
I heard this first hand from a Morris worker from the UK who said they used to save up all the rejects just for export CKD kits. Body panels sat outside in New Zealand weather for months before painting and fitting, leading to terminal rust in later life.
Roy:
In the late 1960s I was privileged to attend the SAE international conference at the Logan Park Centre, Auckland. One speaker talked about the future of the motor industry: that automatics would be seen in all types of vehicles, large and small even light commercial.
The second speaker of note was Hamilton Walker, who had invented the Walker Rotary engine. I wonder what happened to this New Zealand development?
Ian:
Our family hero car was a Leyland Maxi assembled at the Petone Factory of NZ Motor Corporation in 1976 and purchased by us as the third owner in 1981.
The car gave faithful service as family car, then second car and finally used by our daughters until 1996. Both our daughters learned to drive in it and to this day drive with the view that if you can drive a Maxi you can drive anything.
The five-door cavernous body accommodated five people in comfort and gave huge loading capacity with the rear seat folded flat. The back had been used as a lie-down bed more than once for a parent helping at school camps, and an adult's bicycle could be easily accommodated.
Periodic maintenance other than plugs, joints, oil and filter changes also involved regular replacement of the flexible exhaust pipe joint and top engine stabiliser mount. The engine was reconditioned in 1988.
Towards the end of its days, the four rust-damaged doors were held together using bitumen-backed aluminum strips ... it was traded for $500 when the local Holden dealer was offering generous overtrade allowances to clear his used car stock.
They offered to sell the car back to me for $10 and I sometimes wish I had accepted the offer - but then I wake up.
Jeremy:
In the 1950s as a kid I lived in Otahuhu where dwelt the famous Five Star Motors ... Dad slowly moved his way up the ranks of VW Beetles, getting a slightly newer model every two years as the no repair/low maintenance of the Beetles allowed him to save enough between models to do this.
He got friendly with the senior staff at Five Star and so us wide-eyed kids got to see the assembly lines where they were doing Skodas too, I think, and watched the new engines being run in on the bench before installation. "No need to run them in," was the proud boast, "we've done it for you!"
About the time we left Otahuhu, they were about to close ... Dad continued buying Beetles until his last was a 1600 SuperBeetle brand new - he was so excited.