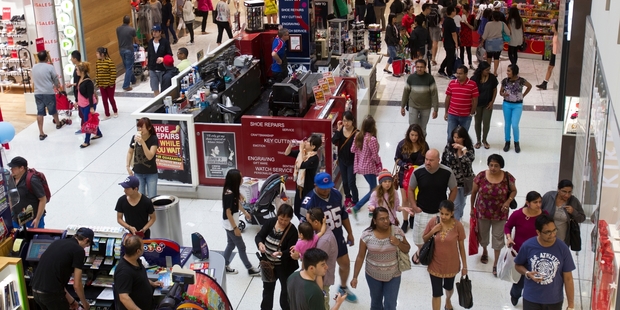 Consumer spending rebounded last month, led by purchases of durable items.
Transactions involving debit or credit cards - just over two thirds of all retail spending - rose a seasonally adjusted 1.4 per cent last month, and 1.8 per cent when the more volatile automotive sector is excluded, reversing declines of 0.9 and 1 per cent respectively in September.
More than two-thirds of last month's increase in core (non-automotive) spending was on durables, to a level 7.7 per cent above October last year.
ASB economist Daniel Smith said that higher turnover in the housing market was most likely to have driven that.
"Home-buyers often buy new appliances and furnishings for their new property."
Other areas of discretionary spending showed a mixed picture. Spending on apparel rose 3.1 per cent for the month but was just 2.8 per cent ahead of October last year, while the hospitality sector saw an increase of 0.5 per cent on September but 10.4 per cent on October last year.
Bank of New Zealand economist Craig Ebert described the October cards data as "more evidence that the New Zealand consumer is increasing spending, and at an accelerating rate".
This fitted with the improving labour market, the strong housing market and rising net immigration, he said.
Deutsche Bank chief economist Darren Gibbs said that at this stage, growth in consumer spending remained broadly in line with wage and salary incomes and what would be expected given better-than-average levels of consumer confidence.
Core retail spending paid for with cards was up 5.7 per cent on October last year, in line with the 5.3 per cent rise in total weekly gross earnings over the year to September recorded by the quarterly employment survey last week. Statistics NZ's retail sales survey for the September quarter is due on Friday.