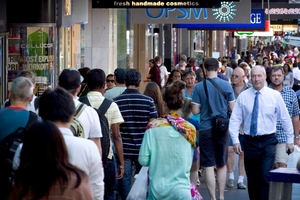 Retail spending paid for by way of electronic card transactions rose 0.8 per cent last month to be 5.6 per cent up on August last year.
Card transactions capture about two-thirds of retail spending.
Every sub-sector Statistics New Zealand reports on rose, led by durables, which were up a seasonally adjusted 2.8 per cent, more than reversing a 1.2 per cent drop in July.
Spending on durable goods has risen by 7.7 per cent over the past year.
"Given strong consumer confidence readings over the year to date, higher spending on big ticket or discretionary items is not surprising, and is likely to continue," said ASB economist Daniel Smith.
"The impact of the housing market can be seen in higher spending on durable goods, which people often buy to furnish a new house," Smith said.
"Higher house prices may also be contributing to households' willingness to spend, although the impact has seemingly been modest so far."
Infometrics economist Matt Nolan said recent figures released by Paymark suggested spending on hardware and building supplies continued to dominate the increase in durable goods spending, as residential construction climbed.
"However, expenditure on appliances and furniture is also growing," he said.
Spending on consumables, which include food and beverages, rose 0.6 per cent.
Nolan said spending on consumable products had increased in recent months as the exchange rate fell and global soft commodity prices rose, putting upward pressure on food prices after a prolonged period of weakness.
Spending on fuel also rose 0.6 per cent last month.
Smith said that was slower than in the previous three months, all of which had recorded fuel spending growth of more than 4 per cent on the month before.
"But it comes despite a small drop in petrol prices on average from the previous month."
Spending on hospitality rose 0.6 per cent, reversing a 0.5 per cent fall in July.
"Expenditure on hospitality goods has risen appreciably in recent months, suggesting that consumers' overall comfort and willingness to spend is rising," Nolan said.
"Although borrowing growth and consumer spending remain contained, the Reserve Bank will not want to see growth in either of these indicators accelerate further."