Their good luck runs out and Australians join rest of the world in economic strife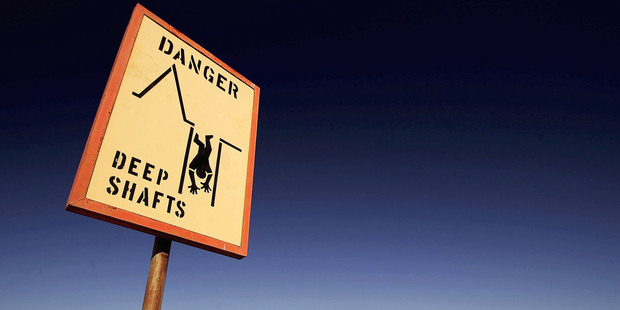 A chill wind is blowing out of the hot ochre-red country of Australia's northwest. Western Australia, the state that led the mining boom, is now bleeding, shedding thousands of jobs, sacking public servants, and battling a sharply declining economy.
The same wind is streaming across the Northern Territory, Queensland, and through New South Wales' Hunter Valley as plummeting investment, widespread closures and project cancellations track the end of the nation's resource bonanza.
Growth in Australia's big resource markets of China and Southeast Asia is slowing, and no other industries can take up the slack. Agriculture is treading water. Construction, housing, manufacturing, services and retailing are trapped in the doldrums.
This week, fears emerged that Holden would join Ford in ending car production in Australia. Telstra confirmed the axing of hundreds of jobs, adding to a long list of mass sackings and redundancies in virtually every corner of the economy.
Business conditions have dived to a four-year low.
Australian Securities and Investments Commission figures show the number of companies forced into administration in April was the highest since records began 14 years ago.
Confidence has sapped from business, investors and consumers, unemployment is rising, the large block of casual and part-time employees cannot find enough work, and amid political uncertainty the nation faces the need to tackle serious questions of productivity and structural reform.
"The simple truth is there are structural changes in our economy that will need to be carefully managed,"Australia's new Treasurer, Chris Bowen, said.
It is a view shared by Reserve Bank Governor Glenn Stevens and former Treasury Secretary Ken Henry.
Stevens warned that slower economic growth was "likely to be the norm", reflected in the braking of annual growth from an average of 3.5 per cent over the past decade to 2.5 per cent for the past nine months.
In an interview with the SBS television station, Henry said many businesses would need to develop new strategies. Those that succeeded would have understood changes in Asia and developed plans to integrate with regional and even global supply chains.
Australia has escaped recession for more than 20 years, and remains one of the developed world's best-performing economies. It has recovered from previous global and mining hangovers, and there are some signs of life - tourism, for example, is struggling, but has been encouraged by a falling dollar and record arrivals from China and the United States.
The overdue drop in the dollar's value has come as a relief to an economy hammered by its effect. It has dropped more than 10 per cent since April, and forecasters predict it could slip to US75c-US85c by next year.
And while the resources boom may be waning as mining shifts from the great drivers of investment and development to production, the industry will still provide muscle to the economy. In the longer term Asia's growing infrastructure and energy demands will still power it.
But for the moment, gloom is descending across the country and will inevitably cloud prospects for many New Zealand companies. Transtasman retailers such as Michael Hill are already feeling the chill.
This week's forecast by the International Monetary Fund of a continuing brake on global growth followed a warning from the Organisation for Economic Cooperation and Development that the fizzling mining boom would be only partly offset by any strengthening in other sectors.
In the first quarter of the year, GDP grew by only 0.6 per cent. Growth slowed by almost 4 per cent in WA, and by more than 10 per cent in the Northern Territory. Victoria, NSW and Queensland expanded by less than 1 per cent.
This week's National Australia Bank monthly business survey found conditions last month fell to their lowest since May 2009, reversing small gains in the two preceding months.
"Most concerning in June was the collapse in retail, mining and manufacturing conditions, with retail activity deteriorating to its weakest level in the [16-year] history of the monthly survey," NAB chief economist Alan Oster said.
Investors remain depressed. The Australian Chamber of Commerce and Industry's July survey of investor confidence said that while confidence was recovering from historic lows, it was still in the negative. Businesses were pessimistic about the economy and the climate for investment.
Consumers are also worried, although the Westpac-Melbourne Institute Consumer Sentiment Index showed that despite a small decline in confidence some optimism was emerging.
But there is no joy in the vast mines of Australia. Oster noted in last month's NAB survey: "The pessimism that has crept into the mining sector since mid-last year has become very apparent and persistent, with this industry by far the most pessimistic overall."
The Australian Bureau of Resources and Energy Economics expects investment to plummet by more than 60 per cent over the next five years.
In the past 12 months the cancellation of Woodwide's A$36 billion Browse liquefied natural gas project and BHP Billiton's A$30 billion Olympic Dam expansion have led a list of 18 projects, worth A$150 billion, to be dumped or deferred.
The toll includes Woodside's Sunrise LNG project in the Timor Sea, WA's Oakajee deepwater port north of Perth, and the A$10 billion Dudgeon Point coal terminal near Mackay in north Queensland.
Elsewhere, the industry has been shedding job as mines close, reduce or suspend production. More than 9000 jobs are reported to have been lost in the coal mines of Queensland and New South Wales.
Workforces have been drastically reduced by companies such as BHP Billiton, Rio Tinto, Yancoal Australia, New Hope Corporation, Anglo American Coal, Xstrata, Aquila Resources and Peabody Energy.
Gold mines have also taken a big hit. Apex Minerals in WA is going into administration, Tanami Gold's Coyote Mine in WA's north has been placed into care and maintenance, and US-based Alacer Gold is selling its Australian operations.
Mining's contraction is already being felt through the nation's economic slowdown and its effect on government revenue and employment. The shockwaves are now deepening through its supply and service chain.
This week, Ernst and Young warned of more receiverships and distress sales in the coming year as mining expenditure fell by a forecast 20 per cent.
Almost half the listed companies dependent on miners had issued profit downgrades in the past six months, it said.
Nothing has hammered home the plight of mining more than the tremors now rocking WA, the state that defined and led the boom. In June WA recorded its second consecutive quarter of negative growth.
"It is a very tough fiscal environment," State Treasurer Troy Buswell said.
Next month Buswell will bring down a budget expected to report a A$2 billion slug, largely from lower mining revenues. State debt is forecast to soar from A$18 billion to A$25 billion within the next few years.
Buswell is planning to dump up to 1500 public servants, adding to steeply rising unemployment. Although still below the national 5.5 per cent, the state's jobless rate last month was 4.9 per cent, almost 1.5 per cent up on June last year.
Since the start of the year 14,000 jobs have been lost in the state. The ANZ Bank reported this week that WA had shown the biggest fall in newspaper job advertisements of any state - almost 50 per cent down on a year ago.
The nation is struggling beyond the mines. Manufacturing has been scarred by shutdowns and cutbacks from food processing to the automotive industry.
Ford has announced its withdrawal from Australian production in 2016, hammered by high costs and an overcrowded market. Holden has pruned back production and cut its workforce, and is now subject to speculation it will follow Ford's exit.
The South Australian Government warned this week that the company could shut its big Adelaide plant by year's end as Holden reportedly sought a further A$60 million from federal and state Governments to fulfil its plans to build two next-generation vehicles there. Holden has already secured A$75 million from SA, Victoria and Canberra for the project.
Gloom persists throughout the manufacturing sector. Although the Australian Industry Group's performance of manufacturing index rose 5.8 per cent last month, it remained in negative territory. New orders, supplier deliveries and employment continued to decline.
The AIG says the sector has lost more than 100,000 jobs since the global financial crisis, and another 100,000 are expected to disappear over the next five years.
The pain is also being felt by retailers, already hurting from on-line competition and, in food, by the muscular expansion of supermarket titans Coles and Woolworths.
Chains such as Myers, David Jones and Harvey Norman are hurting. Target plans to close stores and cull hundreds of jobs.
A 0.1 per cent lift in retail spending in May did little to reverse earlier falls, and small rises in clothing, footwear and personal accessory sales were a sign of changing seasons rather than growth.
Discretionary spending showed consumers' nervousness. They deserted restaurants, cafes and takeaway food stores, and eschewed electronic goods.
"The 0.1 per cent increase in May illustrates that consumers are still holding on to their purse strings and discretionary spending remains tight," Australian Retailers Association executive director Russell Zimmerman said.
Construction and housing are doing little better. The AIG-Housing Industry Association's performance of construction index for June continued to slide, although it said some good signs were emerging in new orders and in residential and commercial building.
The Bureau of Statistics also reported that private house approvals increased 1.5 per cent in trend terms in May - the sixth consecutive monthly rise.
Elsewhere, Australia's big services sector remains in trouble. Communications, personal and recreational services showed small growth, but the AIG-Commonwealth Bank's performance of services index said conditions last month were among the weakest in the survey's four-year history.
Profits continued to fall as costs rose and selling prices and sales fell.
Uncertainty is taking its toll throughout the economy. Business has put plans into limbo as Prime Minister Kevin Rudd ponders a new election date. If Opposition Leader Tony Abbott wins, the game will change again, with repeal of the carbon and mining taxes, promised austerity, and a new economic strategy.
Concern over jobs has been a significant drag on consumer confidence and spending, and Australians see little to dissuade them that worse is ahead for employment.
Queensland, NSW and Victoria have hewed into spending and are stripping tens of thousands of public servants from their payrolls. The national unemployment rate of 5.5 per cent is expected to rise further, an expectation supported this week by an ANZ Bank survey of job advertisements. It said the number of jobs advertised in major metropolitan newspapers and on the internet had fallen for the fourth consecutive month to 7 per cent below March and 19 per cent behind June last year.
The world is fast catching up on Australia.
Growth rate
3.5 per cent during the past 10 years
2.5 per cent during the past nine months
Slowing growth
10 per cent in Northern Territory
4 per cent in Western Australia
Falling dollar
10 per cent fall against USD since April