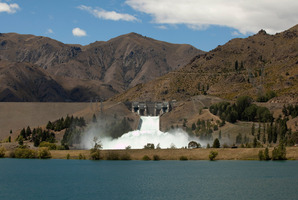 Meridian Energy is to pay the Government an interim dividend of $100 million after a return to normal hydro lake inflows in the six months to December allowed it to recover from the very dry conditions which had "knocked the stuffing out" of its financial performance in the first half of 2012.
The state-owned electricity generator and retailer yesterday reported an underlying net profit after tax of $88 million for the latest half-year after non-cash items, especially the fair value movements of risk-managing instruments, are removed.
That is still 11 per cent lower than the same period of 2011, however, reflecting a $14 million or 33 per cent increase in transmission costs, as the effects of Transpower's major upgrading of the national grid flow through, and a $13 million hit from hedging the company took out to limit its risk from the low hydro inflows last winter.
Inflows in the December half-year were higher than the 80-year average and Meridian ended 2012 sitting pretty with its hydro lakes 13 per above average and 23 per cent higher than a year earlier.
In addition, Meridian has secured consent to raise the levels of Lake Pukaki in the Waitaki River catchment and draw them down more than previously allowed in dry years, adding 550GWh of storage, or the equivalent of 10 per cent of its hydro generation in the latest half-year.
It was a major coup for the company, in terms of its ability to manage risk in very dry years, chief executive Mark Binns said.
But while inflows to its lakes returned to normal, Meridian lost some of the benefit because the peak inflows coincided with periods, 27 days in all, when the HVDC link between the North and South Islands was down. As the work to upgrade Pole 3 of the link, due to be completed by May, will benefit Meridian by creating something close to a single national market for electricity, it is not complaining.
The big question mark hanging over Meridian, and the whole industry, is the future of the Tiwai Point aluminium smelter, Meridian's largest customer and the user of 14 per cent of national electricity output.
"All I can say is that we are currently still in negotiations with Rio Tinto," Binns said. "It is slow but it is definitely fair to say they have moved forward," he said.
New Zealand's demand for electricity remained subdued and in the case of industrial users had declined, Binns said.
The weak demand outlook has seen Meridian slim down its pipeline of generation projects. It is also looking at selling its half-share of the A$1 billion Macarthur wind farm in Victoria, Australia - a joint venture with AGL.