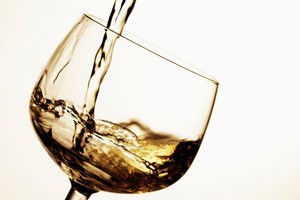 The New Zealand dollar's strength against the currencies of major trading partners is having a big impact on wine exporters' profits and even resulting in jobs being shifted overseas, an industry group says.
New Zealand Winegrowers released its annual report this week, showing wine exports reached $1.1 billion in the year to June, a 5 per cent increase on the year before.
Total New Zealand sales (both export and domestic) lifted 11 per cent to 221 million litres.
New Zealand Winegrowers chairman Stuart Smith said that despite the lift in revenue, the kiwi dollar's continuing strength against the British pound and US dollar was having a major impact on exporters' profits.
To cut costs, some firms were exporting bulk wine - filling plastic bladders that get placed inside shipping containers - and having it bottled overseas, he said.
Smith said bottling jobs at wineries, as well as manufacturing positions at New Zealand bottle-making plants, were lost in the process.
"Effectively we end up exporting jobs offshore," he said.
The New Zealand dollar, which soared to a post-float record of US88.42c this month, was trading at US82.7c and 50.2p against the British pound last night. Smith said the Government needed to step in and establish monetary policy that would put an end to the "wild gyrations" in this country's currency.
Changes could include forcing banks to source more of their funding within New Zealand, he said.
"Other Governments have moved very quickly to adjust to the changing environment - New Zealand's hasn't."
Smith said the Government should be thinking about what was best for New Zealanders - not what was best for Australian-owned banks.
"Our feeling is that if something isn't done [about the strength in the kiwi dollar] we are going to see more and more New Zealand jobs migrate offshore," said New Zealand Winegrowers chief executive Philip Gregan.
Gregan said the wine industry was in a much better position than it was three years ago, following the 2008 vintage. At that time, a bumper 285,000- tonne crop resulted in a 27-million litre oversupply - eroding wine, land and grape prices.
This year saw another large harvest (328,000 tonnes), but Smith said excess inventory had been "sold through" and the industry had confidence based on anticipated demand.
He said New Zealand Winegrowers had commissioned PricewaterhouseCoopers to conduct a strategic review of the sector..