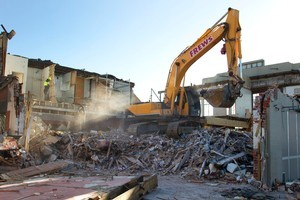 The New Zealand economy may have contracted 0.1 per cent in the first quarter but recovered in the current three months and is expected to pick up pace in the next two years as Canterbury rebuilds, according to the NZIER Consensus Forecasts.
Economists lifted their average forecast for economic growth in the year ending March 31, 2012, to 2.1 per cent from the 2 per cent expansion they expected in the last survey in March. Growth will speed to 4 per cent from 3.9 per cent in the 2013 year, the report shows.
"The Canterbury rebuild continues to be a central pillar of strong economic growth, particularly for construction," NZIER said in the report. "Continued aftershocks complicate the outlook with economists' views diverging on the scale and timing of reconstruction in the region."
The latest survey shows greater inflation risks are expected over the next two years. Inflation is expected to average 2.8 per cent in the March 2012 year, up from the 2.6 per cent pace predicted three months ago.
For 2013, a rate of 2.7 per cent is expected.
The unemployment rate is expected to trend down to 5.3 per cent in 2013, from 6.6 per cent this year. Employment growth will remain modest at 1.3 per cent in 2012, rising to 2.5 per cent in 2013, the report says. Nominal wages are seen rising 2.9 per cent in 2012 and 3.5 per cent the following year.
Residential construction will grow a tepid 2 per cent in the March 2012 year, up from 1.8 per cent seen in the March 2011 year but in 2013, a surge of 37.9 per cent is forecast (revised up from 26.9 per cent in the March survey), reflecting a jump in spending to rebuild Canterbury.
The New Zealand dollar will be "broadly steady" in the next two years, climbing to an average 67.6 in 2012 before falling to 66.9 the following year, the report says.