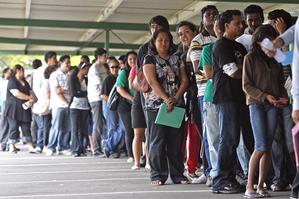 Most of the jobs were offering low pay and many had unsociable hours, but the applicants turned up in their thousands.
The 2500 people who yesterday waited up to seven hours to apply for one of 150 jobs at a new South Auckland supermarket showed competition is fierce when options are few and unemployment is high.
The line of Countdown job-seekers extended hundreds of metres around a Manukau warehouse being used as a makeshift interview suite.
At the end was a 15-minute sit-down with one of up to 40 interviewers. At stake were a variety of positions, from "trolley boys" and "checkout chicks" to butchery, delicatessen, produce and managerial roles.
Some people had been lined up two hours before interviews started at 9am. Only about half of those who queued reached the interview stage.
Their area had an unemployment rate of 9.2 per cent in September, more than the Auckland and national average of 6.5 per cent.
One of those in the queue was Manukau resident Shaista Raza. She has applied for dozens of jobs, in several industries, over the past year, but has been unable to get work.
The 25-year-old is supported by her sister and brother-in-law with whom she lives while she completes a business administration diploma at the Careers and Transition Education Association in Otahuhu.
She was hoping to get part-time work at Countdown.
"It would be great to get something in the management field or marketing but anything will do ... Finding work is very hard right now, it has been a very long and bumpy road. Admin, cleaning jobs, you name it, I've applied for it."
Miss Raza queued for about three hours yesterday but had to leave to look after her nephew. She planned to queue again today.
"It's amazing the patience people have. It shows the recession really did hit us."
Progressive Enterprises area manager Wayne Dohmen said the company had to start turning people away from about 3pm so it could complete interviews by 8pm.
The numbers have already exceeded the 1700 who turned up last month to seek jobs at a Countdown opening in Pukekohe in March.
"There was a big cross-section of people with different skill-sets," Mr Dohman said. "Today was a chance for us to see how much interest there was in the local community."
Council of Trade Unions president Helen Kelly said the fact people were prepared to queue for a long time showed how desperate they were to find work, even if it was low-paid.
"Unemployment is still increasing and all the discussion about the economy is on the up is not showing through in any of the figures, particularly the unemployment figures."
She said the Government needed to do a lot more, such as building on the successful community jobs scheme.
"If you look at the people in the queue, they are not in that youth group, they are not in the group that have been longer-term unemployed, and the Government could make a real investment in those people."
National Distribution Union general secretary Robert Reid said the queues showed that a huge unemployment problem existed.
He said the jobs on offer were at above minimum wage levels because of a collective agreement between the union and Progressive Enterprises, the owner of the Countdown supermarket.
The jobs were advertised online, on a billboard and in newspapers.
The supermarket, being built on Great South Rd, is to open at the end of March.
The job interviews will continue today and tomorrow - when the queue is expected to be longer as the weekend makes it easier for people to attend.
COUNTDOWN PAY
With increases as negotiated with the union:
* Starting rate: $13.59
* Supervisor role: (in charge of under six staff): $15.04
* Supervisor role (more than six staff): $15.51
* Butchers and bakers: $18.01
* Department managers: negotiated