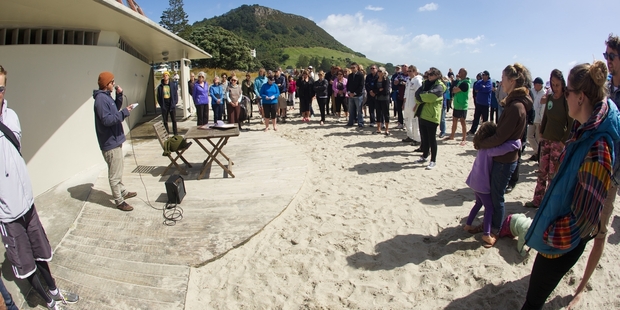 More than 150 people gathered on the Mount main beach to draw a line in the sand and protest against any future use of Corexit.
Mount Maunganui surfer Dominico Zapata organised the protest which was held on Saturday.
Corexit is an oil dispersant and was used in the Rena clean up.
It has been linked to deaths and serious illness in America following the 2010 Gulf of Mexico oil spill and is currently stockpiled in drums at the Port of Tauranga.
"As soon as I knew they were using it on the Rena, I was concerned, especially because of the tide, wind, ocean currents and wave action, we don't actually know where that Corexit has ended up," Mr Zapata said.
Recently research revealed the toxicity of Corexit increased 52-fold when combined with oil, prompting the Mr Zapata to organise the protest.
He said he was really pleased with the number of people who turned up - at least 150 - and shared their views about the use of Corexit.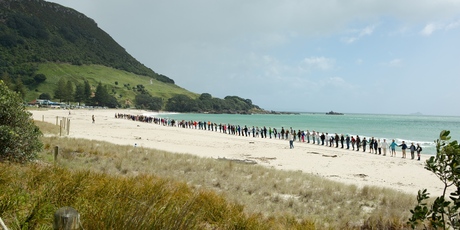 Mr Zapata said the crowd included local iwi, councillors and the mayor.
He said the aim of the protest was to give residents the opportunity to show how they felt about Corexit.
"I think we definitely achieved that. It's also coming up to the two year anniversary of the Rena disaster and it is something we need to keep in the public's awareness."
Mr Zapata said all those who were at the protest also signed a petition which would be sent to the Government in a bid to get the use of Corexit banned in New Zealand.
He said more protests could be held if the Government didn't listen to peoples' concerns.
The protest was held a day after the regional council asked Maritime New Zealand to remove its drums of Corexit from a Bay of Plenty Regional Council storage shed at Mount Maunganui.
The request was the result of a joint approach by two of the Bay's local government leaders and regional councillor Paula Thompson.
Regional council chairman John Cronin said the council was storing 3200 litres of Corexit, on behalf of Maritime NZ, at a shed which it leased from the Port of Tauranga.
"We are asking Maritime New Zealand to remove it from our premises. It is their product and we don't agree with its use, so we are asking them to store it somewhere else," he said.