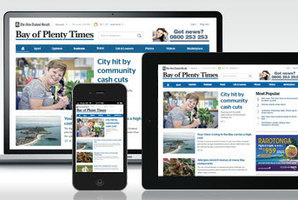 Welcome to the new-look Bayofplentytimes.co.nz.
Along with the quality local and national news coverage you have come to expect -you now also have easy access to even more national and international coverage from the APN Newspaper family.
We hope you find the new site easier to use, easier to read and easier to discover stories.
You can now find and access additional content from The New Zealand Herald, Rotorua Daily Post, Hawkes Bay Today, Wairarapa Times-Age, Wanganui Chronicle, Northern Advocate, the Northland Age, Hamilton News, Stratford Press and the Aucklander. Simply click on the "publications" button at the top left hand of the page, and select a title from the drop down box.
A single personal profile and log-in process will allow you to comment on and share stories from across all the titles. Click here for more information on how to login or register.
Try out our new 'Save and View Later' later feature, which allows you to simply save an article, video or photo gallery to your profile and view it later - with the ability to access the content across devices on mobile, tablet or desktop. All you need to do is log in to the site and click on the STAR icon that appears near the article's headline.
Have some feedback? Email editor@bayofplentytimes.co.nz