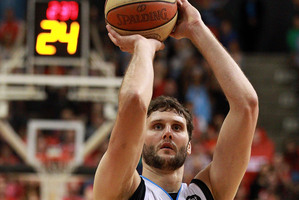 Wollongong Hawks 76
NZ Breakers 78
The Breakers showed just how comfortable those white road singlets sit on their shoulders this season, going into a graveyard known as 'The Sandpit' and coming out alive last night.
Not only have Wollongong been something of a bogey team for the Breakers - possessing an Australian-best record of 7-5 against the two-time champions over the past three seasons - but their home court has provided particular problems.
New Zealand had won only three of 15 games at the WIN Entertainment Centre coming into the encounter, but a 78-76 shootout broke that hoodoo and boosted the Breakers' lead atop the Australian NBL.
The Breakers have won six of their eight games across the Tasman this season, a success rate which has played a large part in their 12-3 record.
Last night's victory was the third leg of a four-game road trip and, with only lowly Townsville to come, the Breakers have a chance of emerging with a perfect record from a testing New Year period.
The two sides came into the clash ranked first and second in defence but a couple of high-powered offences prevented predictions of a defensive duel.
That was a real possibility in the first quarter as poor shooting and persistent whistling restricted either side from establishing control.
The second quarter was more fluid for the Breakers' offence, with failure from the floor replaced by sharp shooting which saw 27 points posted. Alex Pledger, Mika Vukona and Will Hudson had their way with the Hawks close to the rim and helped build a 43-42 lead at the major break.
That smallest of advantages was soon wiped out as the lead continued to change hands throughout the third quarter. A big three from one-time Wollongong fan favourite CJ Bruton boosted the Breakers' breathing room to five points going into the final quarter.
The lead grew as large as nine but the Hawks continued to circle and a three from former Breaker Oscar Forman handed Wollongong a rare edge with a minute left, before Bruton answered right back to cement his clutch reputation.
The Hawks still had the chance to tie it at the death but some suffocating defence from Cedric Jackson kept Wollongong from getting a shot away.

Wollongong 76 (Martin 28, Hurdle 12, Saville 11) Breakers 78 (Pledger 14, Hudson 14, Jackson 11). Halftime: 42-43.
- APNZ