Let John Moyle guide you on a epic journey through Australia's New South Wales, exploring everything from the state's forests and fauna to heritage homes and fabulous food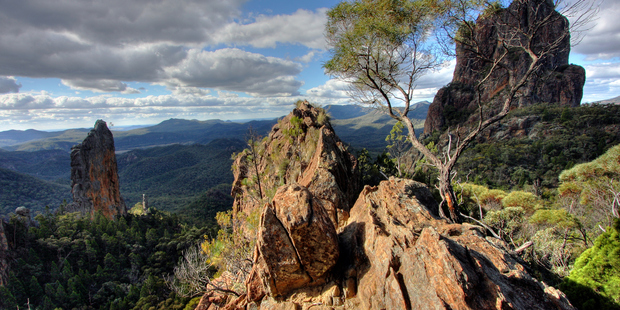 One of the best ways to explore NSW is to hit the road with just the destinations and a flexible schedule in mind.
One road trip that offers plenty of surprises and adventures along the way is a circuit through the state's heartland: out of Sydney and west to Orange, then west to Dubbo, up to Coonabarabran, then south-east to the Hunter Valley towns of Scone and Muswellbrook.
Allow a week, plus a couple of extra days for the times when you just want to soak in the local ambience, and you'll return home with memories of an adventure well done.
If you're beginning your trip from Sydney, go out via Parramatta Rd before turning right onto the Western Motorway (M4) at Strathfield. Continue all the way until the M4 becomes the Great Western Highway at Lapstone in the Blue Mountains. You'll pass through Katoomba and Lithgow before getting to Bathurst, the first stop on our adventure.
Just three hours' drive from Sydney, Bathurst, Australia's oldest inland town, lives and breathes history. In 1863 bushranger Ben Hall raided the town's gun shop, and during the 1940s it was the hometown of Prime Minister Ben Chifley.
Bathurst also has some of the finest examples of Victorian architecture in New South Wales, such as the Bathurst Gaol, the Courthouse and many superb churches complementing its many gardens and parks.
Be sure to keep an eye open for the fully restored Cobb & Co coach inside the visitor information centre.
In keeping with the motoring theme, why not take a drive along parts of the famous Mt Panorama Motor Racing Circuit, which is actually a public road when there are no races on? The nearby National Motor Racing Museum houses a collection of very fast cars and motorbikes, and a race-track simulator to test any would-be racer.
After satisfying your inner rev-head, just 7km out of town is Abercrombie House, one of the most magnificent stately homes in NSW. Still privately owned, this mansion offers a glimpse of how Australia's early squattocracy lived. It's open for guided tours at specific times.
Panning for gold still raises the hopes of prospective prospectors in the old gold towns of Sofala and Hill End, 40km and 70km respectively from Bathurst. Both towns have been the inspiration for many artists over the years, and still evoke their past glories as gold rush towns.
On your way back to Bathurst, you might want to drop into Rockley, not as well known as Sofala and Hill End, but another gold-rush era town that's worth exploring.
Leaving Bathurst behind, another half an hour along the Great Western Highway is one of the state's biggest food baskets, Orange.
It's also the birthplace of the great Australian poets Banjo Paterson and Kenneth Slessor. An obelisk featuring a bronze statue of Paterson is situated 6km east of Orange on the Ophir Rd.
Visitors come to Orange to savour its rich array of seasonal foods and wine, and to discover how these help create local culinary delights. With more than 170 restaurants, the region presents some great opportunities for fine dining and wining, without the big-city attitude or costs. A regional farmers' market operates on the second Saturday of every month.
Just out of town, an extinct volcano, Mt Canobolas, rising 1300m above sea level, affords sweeping views of the surrounding Orange Cabonne Blayney region. With the Blue Mountains for a backdrop, there are seven bush walks that can be done in this area.
If you're staying in town, consider enjoying a night out at the Amusu Theatre, Australia's oldest movie theatre, located in Manildra. The home of the original travelling movie-show man, it screens vintage and blockbuster movies on the third Saturday of each month.
Next morning, it's time to head the car along through Molong to Dubbo, home of the Western Plains Zoo and a wealth of history. The zoo, without a doubt, is the big-ticket item in town. Established in the 1970s to allow Taronga Zoo's elephants, lions and rhinoceros more room to roam, it's now the region's leading tourist attraction. Join the early risers and take the ultimate zoo tour on a morning walk around the premises before the hoards arrive.
Just 7km out of town towards the zoo, you'll find Dundullimal, a low-slung timber slab homestead dating from the 1840s. One of Dubbo's great pioneering attractions, it still boasts its original tent-shaped plaster ceiling. The homestead also has a working blacksmith's shop.
Located on the banks of the Macquarie River, Old Dubbo Gaol offers a grisly insight into the hardships suffered by inmates in a Victorian-era prison. Now a museum boasting the original gallows, complete with the tools of the hangman's trade, the display offers an insight into colonial era barbarity. The anamatronic and holographic display brings the experience all too chillingly to life.
Now it's time to move on and head 200km north to Coonabarabran, the gateway to the spectacular Warrumbungle Ranges and home to Australia's largest optical telescope. During the day, head into the Warrumbungles and tackle the "Breadknife" and "Grand High Tops" treks that rate among Australia's Top 10 walks.
An hour from the Warrumbungles lies Gunnedah - the northernmost point of our journey. Known as Australia's "koala capital", this relaxed rural community has plenty of nearby bush walks that will provide you with a chance to spot these special marsupials in their native habitat.
Turning southward, we're now on our homeward stretch and just 440km from Sydney, with the towns of Scone and Muswellbrook still to visit.
Situated in the upper Hunter Valley, Scone is the world's second largest horse-breeding area, boasting more than 60 stud farms and billions of dollars worth of highly prized horse flesh. Nearby Lake Glenbawn State Park is a popular day trip, and provides plenty of opportunities for camping, fishing and watersports.
About 15 minutes south of Scone, you'll enter the town of Muswellbrook, which is famous for its wine industry, coal mines and local history. Before heading out to a cellar door such as Yarraman or Cruickshank Callatoota Estate, take a stroll around the town centre, which is drenched in Hunter Valley history.
You can start a heritage walk from the Tourist Information Centre in Hill St, and cross into Bridge St, which is lined with old pubs, churches and cafes.
The southern end of Muswellbrook is also redolent in charming hostelries, churches and public buildings.
From Muswellbrook,it's just a half hour or so on to Newcastle - and then a couple of hours down the Pacific Highway and you'll find yourself back in Sydney.
By now you should have spent anywhere between four days to a week or more exploring some of this great state's rich history, and have a wealth of memories that will last a lifetime.
Gunnedah is known as Australia's "koala capital". The area's bush walks will give you ample opportunity to see them in the wild.
- AAP

Getting There
Fly there with Air New Zealand Book now
Find out more at Australia.com