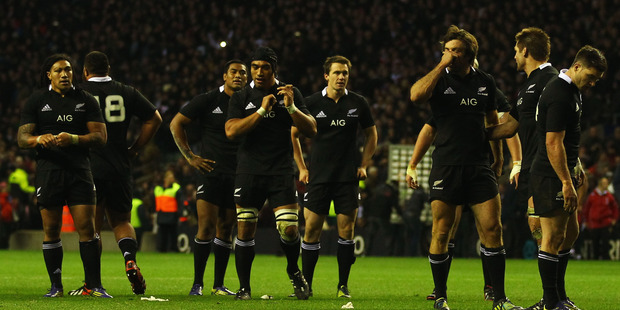 Conrad Smith and other experienced All Blacks are in line for sabbaticals as the New Zealand Rugby Union turns its attention to the next World Cup.
The huge responsibility of defending New Zealand's title in England and Wales in 2015 is not being underestimated by the NZRU, which has acknowledged, particularly after the disappointing end to the recent Northern Hemisphere tour, that the top players must be looked after as the International Rugby Board fails to get to grips with a global season.
Veteran centre Smith was one of several All Blacks to express a desire for a well-earned break in the week leading up to the humiliating 38-21 defeat by England at Twickenham and the Hurricanes skipper could miss at least part of the Super rugby season in 2014. NZRU chief executive Steve Tew used the 31-year-old as an example when talking about how his organisation was living up to its promise of protecting its players against burnout.
Last week's board meeting also discussed how many tests the All Blacks are playing next year, the inference being there will be fewer than the 14 played in 2012.
"Our top players are always going to be under the most pressure because by definition they are the players that end up playing the most pressurised games," Tew said. "It's hard to get away from that but there's no doubt that we are concerned about how we manage our players' careers. I think without wanting to tempt fate or blow our own trumpet we have done a pretty good job being flexible in the last four or five years. We are seeing a lot of very experienced players still playing at the peak of their abilities despite the heavy workload that we've asked them to carry.
"Conrad is a good barometer and we may well do something for Conrad before his career ends as well, given his longevity and loyalty. We did discuss the number of tests that we'll play next year at the board meeting and we've got some discussions to have with parties on the other side of the world before we make that public."
The All Blacks are slated to play Ireland, France and England in the Northern Hemisphere next season and are understood to have an option of adding a test against Wales or an international against the Barbarians as a money spinner.
However, given the NZRU's improved financial situation since the AIG jersey deal, which is locked in until 2017, and the poor performances by the All Blacks in the "add-on" revenue-gathering tests against the Wallabies in Brisbane (an 18-18 draw) and defeat by England, an extra test at the end of the year looks unlikely.
"Now that we've locked in a considerable proportion of our commercial revenue we can make our decisions based on what's best for the team rather than necessarily having to take the money thing into account," Tew said.
Captain Richie McCaw's sabbatical will rule him out of the game until after the June tests against France, and Keven Mealamu ruled himself out of the Blues captaincy in order to start Sir John Kirwan's first season at the franchise late.
McCaw has also negotiated several previous late starts at the Crusaders, with Blues prop Tony Woodcock activating that clause in his contract this year.
Who's due for a break?
Conrad Smith (Hurricanes), age 31, tests 66
Yet to have a sabbatical, Hurricanes skipper Smith is a defensive linchpin who looked weary against England.
Kieran Read (Crusaders), age 27, tests 48
Read will captain his franchise and country in the absence of Richie McCaw. Will need a break before 2015.
Dan Carter (Crusaders), age 30, tests 94
His first sabbatical in Perpignan ended in injury. Will need another if he is to play in his first World Cup final.
Ma'a Nonu (Highlanders), age 30, tests 76
Went from winning the World Cup to playing in Japan. In absence of SBW, Nonu is easily the best No12 in the country.
- APNZ