An outnumbered and unlucky Whanganui Maori side could not hold off Taranaki Maori's second half comeback in their 29-24 loss in the Cooks Gardens curtain raiser game on Saturday.
Trying to regain the 122-year-old Tuera Shield, Whanganui made the gamble while their ranks were bolstered by members of the Steelform Wanganui squad, taking first use of the substantial wind when they had the services of first-five Dane Whale and No 8 Tremaine Gilbert.
Ethan Robinson was the standout from second-five, laying on two tries and goal kicking with 100 percent accuracy from in front or adjacent to the goal posts as the home side led 21-10 at the halftime break.
However, Whale and Gilbert now had to depart to get ready to sit on the bench for the Heartland Championship match, and by then Whanganui had also lost centre Jaye Flaws (ankle) and his replacement Te Rangitapu-McLeod (head knock) for the remainder of the game.
Having started with a smaller six-man bench, Whanganui's playing resources were stretched going into the wind, whereas Taranaki had brought a big eight-man bench with them, including some very strong forwards, as they looked to bust through the lighter home team pack on their tryline.
Whanganui defended grimly, on three occasions holding up Taranaki over the chalk, but referee Ben Lourie followed up his first half sinbinning of tryscoring halfback Josh Fifita with flanker Jackson Campbell now departing after accumulative team professional fouls, leaving further holes in the line.
Trying to stem the flow at 21-17, another Robinson raid saw lock Josh Lane all but score, being held up, then Whanganui got a penalty for Robinson to extend them back out to a seven point lead while giving his 14-man team a breather while Campbell waited to come back.
However, both Lourie and his assistant referee Mark Wilson then missed Taranaki second-five Te Kepa Grindlay blatantly being five steps offside when he snatched a Robinson pass to run back 40m under the posts to level the scores immediately.
Taranaki swiftly worked back down into Whanganui's tryline corner and after repeated shunts, the wall caved and No 8 Rieran Young was driven over for what proved the match winner in the 72nd minute.
Whanganui had final chances to score inside the last two minutes, Lourie giving them a stream of infringement penalties but not exercising a yellow card, but fumbled ball at the ruck cost them.
While gutted, Whanganui coach Dennis Tucker was proud of his team for trying everything to defy the odds.
"You can't knock what the boys did," he said.
"The forward pack played beyond what they should have."
He singled out Robinson and Lane for outstanding performances, both on attack and defence.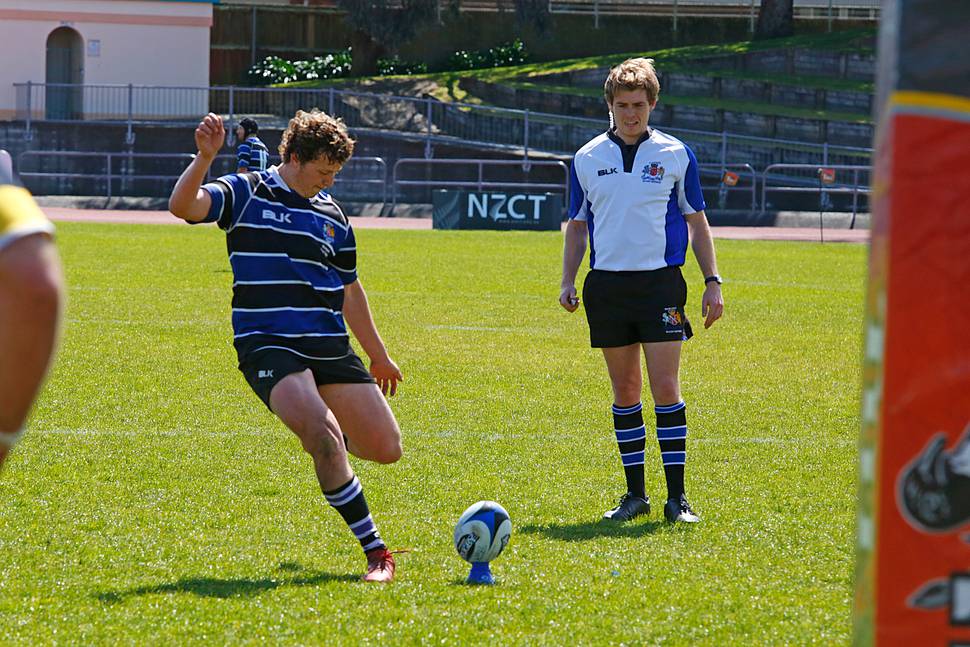 Despite Whale being able to kick for territory, Whanganui infringing while trying to stop Taranaki's ball runners let the visitors get in position, and from a scrum win, dangerous winger Liam Parker came across field to create the overlap and stepped his way through to score.
Whanganui replied through their own backline spread, with Robinson punching through the hole and turning the ball back inside to Fifita, who dived under the posts in the tackle.
Whale combined with Flaws, who offloaded above his tacklers, with fullback Sheldon Pakinga-Manhire then stepping through tacklers to bring Whanganui back to the line.
Taranaki's defenders rushed up on Whale's outside runners, so he threw the dummy and just casually pivoted back inside to waltz over beside the posts.
Visiting centre Meihana Grindlay then combined with brother Te Kepa to send hooker Abe Haira charging for the line, just stopped inches short by Robinson, and Taranaki spread wide from the breakdown with Young spinning through the last tackler to score.
A long pass by Robinson set up winger Corey Carmichael for a crack at the corner flag, and Whanganui spread back to the middle from the ruck with Robinson putting his brother Cade Robinson through the hole to score under the posts.
However, with Fifita's sinbinning after a series of penalties, Whanganui could not get into position for more points, being short of the prerequisite halftime lead from a '15 point wind'.
Taranaki fullback Rick McKenna missed an early penalty attempt, with Whanganui now having to grind out from their own territory, and another Taranaki penalty saw Lourie march the home side back a further 10m for back chat.
Although Whanganui defended their line from multiple barge over attempts, the loss of Campbell hurt their chances, and finally flanker Rawiri Nanasini went off a 5m scrum and got the ball down in the tackle of prop-turned-flanker Te Uhi Hakaraia.
After missing easier attempts, McKenna got the conversion from the sideline for 21-17 in the 62nd minute.
Whanganui could just about have wrapped the match up if Lane had scored, having to settle for three points, before Te Kepa Grindlay stole his try with winger Matiu Welch quickly drop-kicking the extras, and from there a tired Whanganui could not hold off Young and his Taranaki pack any longer.
Whanganui Maori's next game is on Saturday against Manawatu Maori in Palmerston North.
Taranaki Maori 29 (Rieran Young 2, Liam Parker, Rawiri Nanasini, Te Kepa Grindlay tries; Rick McKenna con, Matiu Welch con) bt Whanganui Maori (Josh Fifita, Dane Whale, Cade Robinson tries; Ethan Robinson pen, 3 con). HT: 21-10 Whanganui.
* * * * *
The Maori fixture was the last time for the Robinson brothers to play together as 24-year-old flanker Cade Robinson leaves Whanganui this week to take up a two-year contract with the Scarborough Rugby Football Club in England.
The Kaierau loose forward broke into the Steelform Wanganui team last year in the latter half of their Meads Cup-winning campaign, but after accepting the Scarborough offer he stepped down from this year's Heartland team, just playing occasional matches for the Development XV and the Maori.
Scarborough's 1st XV plays in North 1 East league of English rugby, the sixth tier of the RFU's domestic competitions.