Whanganui artist Dan Mills has been having a whale of a time in Castlecliff again.
The man who transformed the dairy and takeaway on the corner of Karaka St has continued the marine mammal theme on a substation in Rangiora St.
"It works in with the themes of the other mural on the block and it has similar literary influences."
Mills' inspiration came from Herman Melville's Moby Dick, Keri Hulme's The Bone People and Eleanor Catton's The Luminaries.
As well as humpback whales, The latest mural includes children riding turtles and progressive illustrations of origami whales.
"If someone has a piece of paper with them, they could follow the diagrams on the mural and make a paper model."
The mural covers an unsightly old substation belonging to Vodafone and the company has agreed to support Progress Castlecliff in their continued rejuvenation of the suburb.
Whanganui Deputy Mayor Jenny Duncan said it is fantastic that Vodafone was willing to foot most of the bill for the mural.
"When the council is willing to support projects like the rejuvenation of Castlecliff, businesses show their generosity too."
Duncan said Downer Utilities Alliance have also contributed to the latest mural project and erected the boarding over the substation for Mills to paint on.
" It is great that Dan and other artists are doing such wonderful work in Castlecliff," said Duncan.
"Art really helps to lift the suburb and people appreciate it."
In addition to the whale murals, Progress Castlecliff have previously commissioned Mills to paint a 3D zebra crossing and a mural depicting the old Castlecliff steam tram.
"I really enjoyed working on this latest one and I almost didn't want to stop," he said.
He needed to stop though, and get on the road to Waipu in Northland where he will be sprucing up a previous mural he painted at the campgrounds there.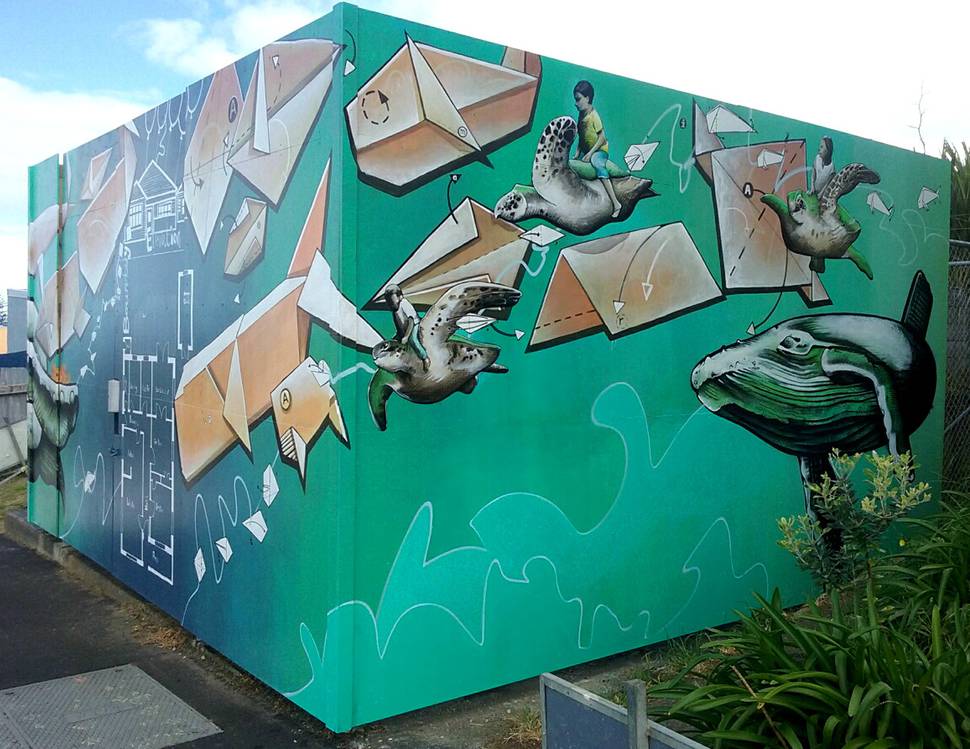 All of this comes close on the heels of Mills' completion of the magic carpet in the alley between George's Fisheries and Embassy 3 on Victoria Ave.
The artist will be back in Whanganui this weekend to participate in the 24-hour Art Jam at Space Gallery where he will be working on a collaborative painting on canvas to be auctioned on Sunday.