Mason Maraku reckons he has been playing the drums for "about 100 weeks" and his dad bought him a small kit when he was just 2.
However long he has been playing, the 11-year-old was good enough to win the best drummer award at the Rockshop Bandquest regional finals in Hawke's Bay last week.
And Mason's band - the 8 Melodies of Rutherford Junior High in Whanganui - brought home the prize for best group.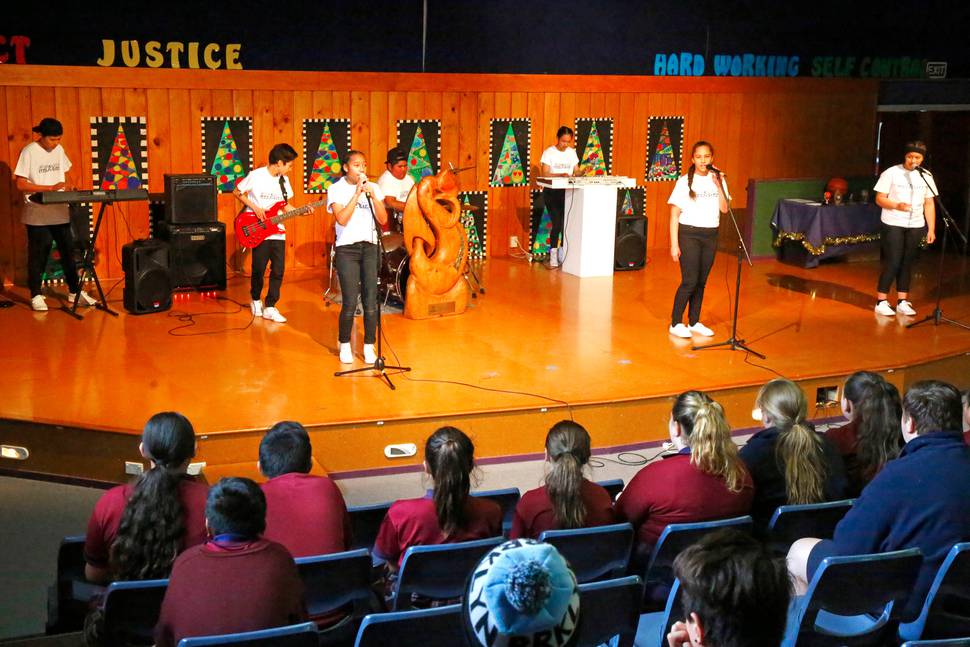 "There were eight of us and one guy left but we decided to keep the name," said keyboard player Febelyn Kitongan.
Mason's dad, Jordan Maraku, is the band's musical director and the group say he is like the eighth member of the band.
Teacher Katie Fergus, who manages the group, said the band was formed last year.
"Some of the original members have moved on to high school so we have a couple of new members this year."
Bass player Isaac Waitokia-Saggers and keyboard player Kalani Ranginui had no prior experience but say they now feel confident and enjoy playing the 8 Melodies repertoire.
The repertoire includes the group's original composition If You which they all wrote together.
"It's a song about how you should talk to your loved ones if you are struggling because they will help you," explained vocalist Seini Baleinukulala.
Seini is one of three singers in the group and she shares the harmonies with Oceania Marino and Summa Arai.
Summa is also a talented designer who came up with the logo for the band's T-shirts.
Rutherford principal Diane Henare said 8 Melodies have made the school very proud alongside other pupils who have recently excelled in netball and football competitions.
"We have a lot to celebrate," she said.
8 Melodies will now get to work on their entry for the national Rockshop Bandquest which is conducted online. They have to upload their video on YouTube by September 13.