Whanganui artist Jason Carr moved to England 20 years ago and has gained the attention of the world but it has not been an easy ride. Liz Wylie talked to him about his work and how he has overcome depression through artistic expression.
It has been over 30 years since Whanganui art tutor Rei Hendry had a little boy named Jason Carr in her class but she remembers his special spark.
"You ask a child like Jason why their painting has a space or an additional aspect that none of the other children have captured and they will say 'I just painted the tree like you asked me to'.
"They don't realise they have it when they are small and sometimes they suffer if they can't give it expression when they are adults."
Carr, now an ascending artist on the world stage and living in England, remembers Hendry's classes and how much he enjoyed them.
"She was lovely and I remember feeling very encouraged by her."
He describes himself as a figurative painter and his stunning oil portraits feature a diverse range of subjects – a small blue-eyed boy with cars on his shirt, a heavily tattooed man holding a gun to his throat, a woman painting an "X" on her face and a priest in ceremonial robes are just a few of them.
It is one o'clock in the morning in England when I call and Carr sounds understandably tired but also excited about the latest development in his career.
"I have been invited to exhibit at the British LGBT Awards Art Initiative alongside Maggi Hambling who is one of the best UK artists of her time.
"It's quite a big deal and a fantastic platform for me as the guest list is very exclusive and in the past has included people like Alan Carr and Ian Mckellan."
The invitation comes on the heels of winning the GFest/Magnum Visual Artist Award last year and a commission through Saatchi Art to create a large work for an American client.
Life, says Carr, is personally and professionally great for him although there was a time, a few years back, when he was deeply depressed.
Despite having a devoted life partner in his husband Mark Birchenough, a loving family back in Whanganui and many good things in his life, Jason experienced a mental breakdown seven years ago.
"I felt ashamed of my depression and I felt like I needed a nine to five job to pay for a lovely house and things I thought were essential."
Painting helped him to recover he says, and some of his portraits portray his experiences of depression.
Jason's painting Goodnight My Darkest Friend is a portrait of a muscular man clutching a bird of paradise flower, gazing away from the viewer and looking weary but determined.
"I didn't know him when I started the painting – he was a model who agreed to sit for it.
"When I explained that I had experienced debilitating depression and I was moving away from it, he said he was experiencing something similar and understood what I needed from him."
The artist says he now understands that he has the potential to become depressed and has the tools to manage it.
"It may sound like a cliché but it really helps to talk about it and state that you feel depressed without feeling shame or embarrassment – it's the first step.
"When I started talking about it, I found that pretty much everyone I confided in had experienced it or someone close to them had.
"As soon as you give voice to it, it becomes easier to manage."
Carr was recently interviewed by Javier Melian of Chrom Art Magazine who is "fascinated and intrigued" by Carr's work.
"They really trigger something inside," Melian wrote.
The portraits, he said, depicted people who had "chosen not to be victims."
"I can see how art is a therapy of sorts for him, but also for the viewer, as for me his paintings shout 'you are not alone'; they are unexpectedly reassuring and comforting. Mysteriously, I feel hugged."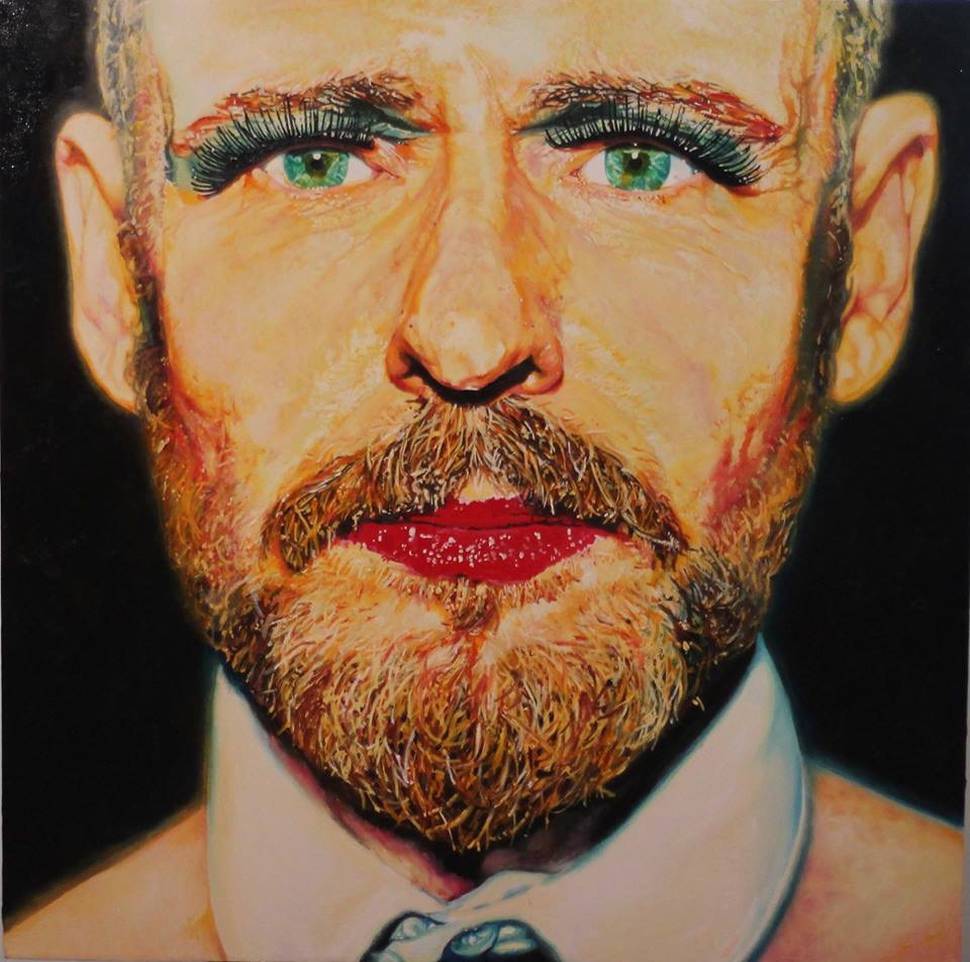 Jason said making his art a fulltime vocation has made him a lot happier and he looks for subjects who will personify the feelings he wants to express.
Some of the paintings are commissions from people who have seen his work and like his style.
His time is divided between London and the Manchester home he shares with Birchenough and a whole lot of English and French bulldogs.
"We are dog breeders and that is a busy part of our lives too," he says.
"I'm really grateful to Mark for understanding and supporting the time I need to devote to painting."
Their part of Manchester is pleasantly green he says, and not the grey and dismal place that people might envisage from watching Coronation St.
Although Carr has now lived in England for 20 years, he gets home to Whanganui to see his family most years and his family visit him.
His mother Jan Funnell, is preparing to fly to London for the British LGBT Awards Art Initiative opening on May 19.
"Jason had to apply for permission for me to attend so it's a big occasion and I'm thrilled to be going."
She noticed her son's talent when he was a pre-schooler and encouraged him by taking him to Rei Hendry's classes and her friend Danny Castle introduced Jason to oil paints which are his preferred medium now.
"Even as a toddler, he would draw these cartoons which were quite sophisticated for such a young child.
"I am so happy for him that he is getting international recognition for his art."
Jason first attended Gonville School, then Rutherford and later Wanganui Boys College (now Whanganui City College) where he was a winner of a Robertson Art Award.
"He went to Wanganui Polytechnic and studied foundation arts for a year and then he went to work as an illustrator at Display Associates in Whanganui," says Jan.
Display Associates production manager Fiona O'Leary says she has great memories of Jason and his work.
"His cartoons had so much personality, the expressions he could give his characters were amazing.
"From a brief description, it seemed like, within minutes we had exactly the cartoon we were after."
O'Leary said it was invaluable to have someone like Carr on the team in the days before Google images existed.
The green frog which is part of the company's logo was adopted during the early 1990s when Jason was on the staff and Fiona says it was probably because of the personality Jason gave him.
"Jason had a larger than life personality and a great sense of humour to go with it and we certainly did miss him when he moved on to bigger things in Auckland."
In Auckland, Carr studied cartoon animation and learned from an animator who had worked on Disney's The Jungle Book.
Next came the move to England which was intended to be a fairly brief "OE" experience but he's still there 20 years later.
Does he ever think about moving home?
"Yes without a doubt," he says.
"I love Whanganui and I am delighted to see how vibrant the arts scene is."
He will come back to live in his home town one day he says but for now he has a lot going on in the world.
Rei Hendry says she is thrilled to hear that her former student is doing so well and she is still encouraging young Whanganui artists with after school and holiday programmes.
"Whanganui does seem to breed artistic talent and it is a privilege to be able to nurture it," she says.