A beach scrub fire which crews battled overnight on Thursday may have been deliberately lit and the cause is being investigated.
A helicopter was needed to fight the 2.5 hectare fire along a section of coastline between Castlecliff Beach and Kai Iwi Beach, 4km west of Seafront Rd.
Deputy principal rural fire officer for Whanganui, Gavin Pryce, said the fire spread through beach, sand dunes and scrub "which encapsulated some rather large cliffs".
There were no homes or property in danger and the cause was not yet known.
"But we suspect it was deliberately lit," Mr Pryce said.
"Fires don't start by themselves. We has a couple of fires in Castlecliff last night where kids were seen lighting them."
Access was difficult when fire crews were called to the scene late on Thursday because the tide was in so a helicopter was called to work through until dusk.
Firefighters made access to the area at 10pm on Thursday and worked through to 2am.
"We had to leave it and let it burn last night," Mr Pryce said.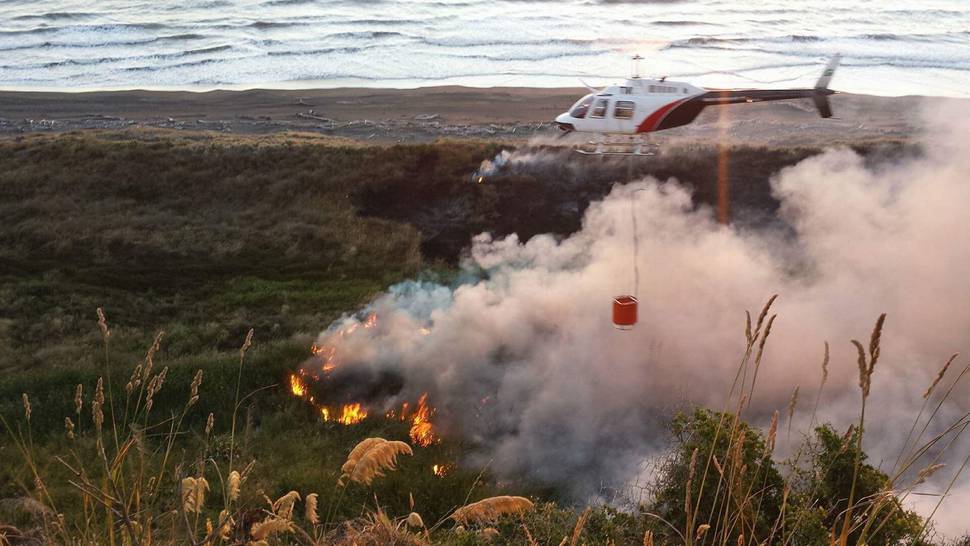 "I had no concerns of any property threat so we let it burn and with the cool, damp air overnight it settled it down really well."
Crews and a helicopter returned to finish the job at 6am on Friday.
Mr Pryce said the dryness of conditions in Whanganui was "shocking".
"I can't stress enough to the public to be vigilant with fires. It's crazy."
Mr Pryce said the fire risk remained high but was bordering on very high.
And with much more dry weather "we won't be far away from a total fire ban".
Meanwhile, crews from Marton, Whanganui and Manawatu were called to a three-week old fire which reignited about 4.30pm on Thursday 5km south of Turakina and began spreading into grass and burning heavy fuels.
The fire has been declared out and all hotspots extinguished with a digger and fire break constructed right around the fire area.