Sir Gordon Tietjens has finally called time as head coach of the All Blacks Sevens team after 22 years in charge.
The 60-year-old Tauranga resident announced his decision to step down today, ending a remarkable reign unlikely to be repeated in sevens rugby or any other international sport.
Tietjens played a pivotal role in growing the profile of sevens in New Zealand and around the world that culminated in the sport's first appearance at an Olympic Games in Rio last month.
Read more:
Scotty Stevenson: Titch's halfway vigil sevens' great endurance act
Queen's Birthday Honours 2013: Sir 'Titch' won't be easing off
Tietjens inducted into Hall of Fame
His New Zealand teams won four Commonwealth Games gold medals, two Rugby World Cup Sevens titles and 12 HSBC World Rugby Sevens Series.
But the ultimate prize of an Olympic medal eluded the first sevens coach to be knighted and inducted into the IRB Hall of Fame.
Tietjens says in the last year the Olympics was his major driving force.
"That was the pinnacle of my career. I was certainly going to consider retiring after then. I had probably done my time and it was time for someone else to come through," he said.
"I never expected it to last as long as it has. If you had told me in 1994 I would still be coaching in 2016 I would have thought you were mad.
"It has been a great, great journey obviously with a lot of success along the way and a lot of great, enjoyable times.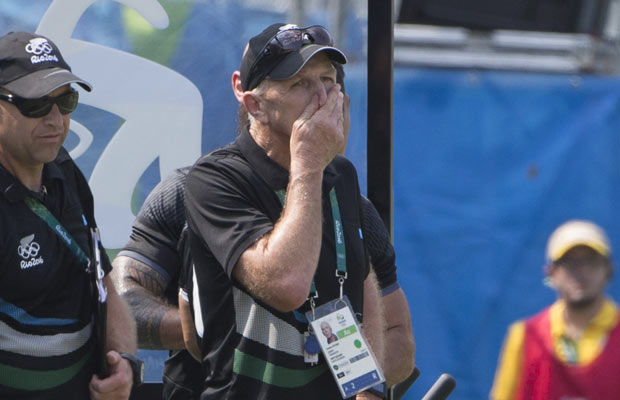 Gordon Tietjens after the defeat to Japan at the Rio Olympics. Photo / Photosport
"I am looking to re-energise if you like and put that disappointment behind in not winning Rio.
"Obviously all of us are tremendously disappointed by the result, that's the players and the management team.
"You go into that tournament with a goal of winning a gold medal and we all know how intensely competitive it is now and the Olympics confirmed how tough it is.
Watch NZH Focus: Sir Gordon Tietjens has decided to stand down as head coach of the All Blacks Sevens team after 22 years in charge.
"We prepared mentally and physically as best we possibly could. We will have learned so many lessons from Rio and hopefully that will certainly put us in better standings going into the next Olympics."
One of the key things Tietjens would like to see is the establishment of a central base for sevens rugby in New Zealand.
He has seen first-hand the rapid improvement in other countries that have centralised the running of the game.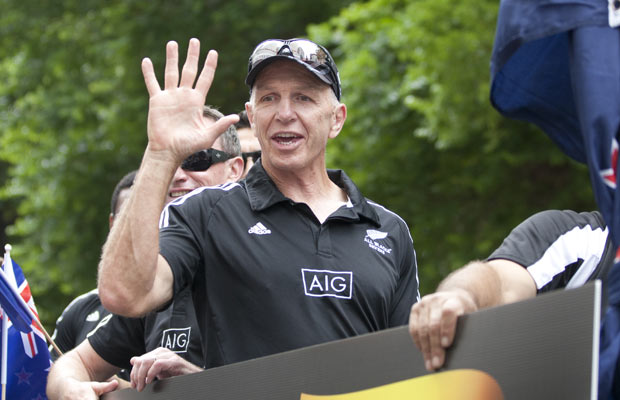 Tietjens waves to the crowd during the rugby sevens parade along Lambton Quay ahead of the 2014 Wellington Sevens. Photo / Mark Mitchell
"That is definitely the key to the future. It is something that I have been a little disappointed about that we have not moved as quick as some of those nations," Tietjens said.
"In Australia if you make the sevens team you live in Sydney, in South Africa you live in Stellenbosch and in Kenya it is Nairobi. It just goes on and on.
"There must be some advantages with that.
"In New Zealand we don't do that. We are scattered all around the country. The demands placed on fitness trainers, physios and skills coaches is greater, with more pressure on them because we are always catching up.
"We are not collectively there as a team and I think it works against us.
"The only time we get together as a team is at the assemblies prior to the tournaments and that is not enough."
Tietjens believes the University of Waikato Adams Centre of High Performance at Mount Maunganui is the ideal place to base a centralised sevens programme.
"I think it is a fantastic facility. It has everything there now with the grounds, the training gym, the recovery and physio rooms, and is the obvious place to really make the sevens game prosper."
When Tietjens considers the legacy he has created and what he is most proud of, there is no obvious, immediate answer.
He is proud of so much he has overseen and so many players who first made their name in his sevens teams before becoming great All Blacks like Jonah Lomu, Christian Cullen, Beauden Barrett and Ben Smith.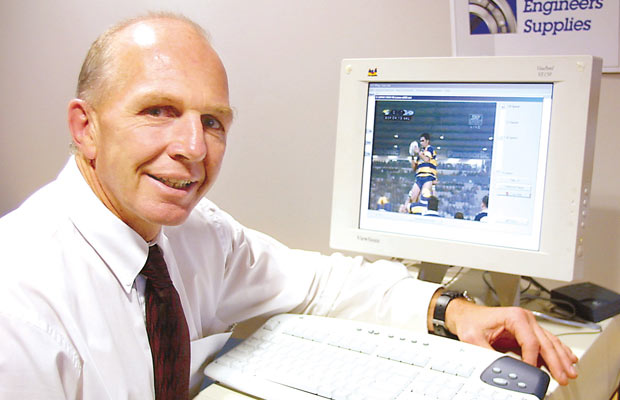 Gordon Tietjens with a video analysis unit in 2001. Photo / Bob Harding
"First and foremost I am unbelievably proud to have coached the All Blacks Sevens for so long and to have had so much success.
"For me my first gold medal in Kuala Lumpur in 1998, and then to go on and win another three gold medals at Comm Games, are things I am immensely proud of.
"When you look at the game now and how tough it is, to win 12 World Series and two World Cups is something I have to be proud of as well.
"Eric Rush played 13 seasons for me and was an outstanding captain. He was someone I built a very, very good relationship with and he played a big part in creating our culture that played a big part in our success.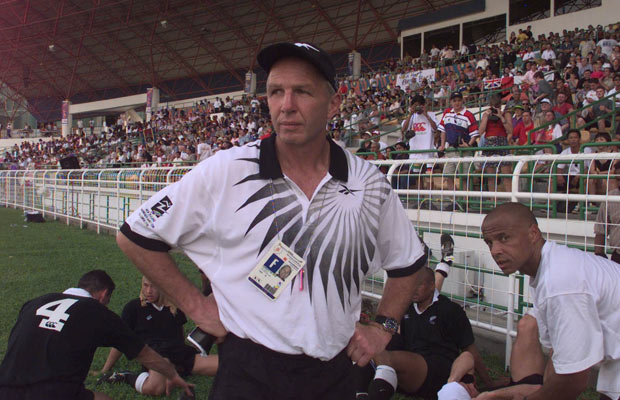 Gordon Tietjens at the 1998 Commonwealth Games. Photo / Jimmy Joe
"Karl Te Nana, Liam Messam and DJ Forbes continued on those leadership qualities, understood the culture, values and the commitment that was needed."
Tietjens will still be involved in sevens in the future but he is not sure exactly what role he will play.
But you can guarantee he will give it 100 per cent commitment and dedication - just as he always has done for so long to the game he loves.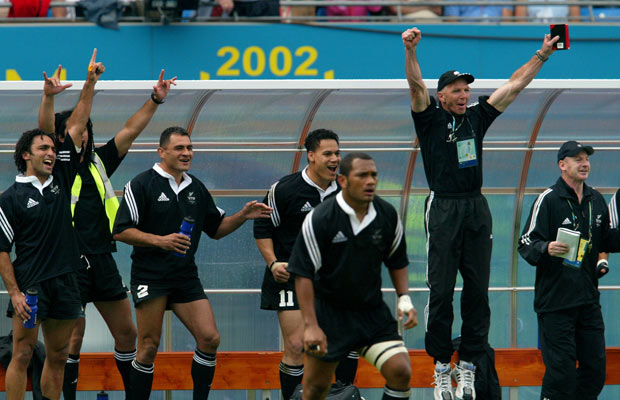 Gordon Tietjens and the players jubilant after Bruce Reihana scored the match sealing try against to win gold at the Manchester Commonwealth Games. Photo / Brett Phibbs