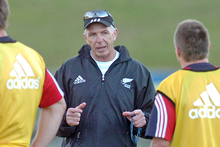 New Zealand Sevens coach Gordon Tietjens has been inducted into the IRB Hall of Fame, the first sevens coach gain recognition this way.
Tietjens' induction follows New Zealand's record-breaking 10th IRB World Series win in London overnight.
To cap off a great night for New Zealand, Tomasi Cama received the IRB Sevens Player of the Year award. Cama also finished the season as leading points scorer with 390 points.
New Zealand Rugby Union chief executive Steve Tew said the accolades were testament to the consistent excellence of the team.
"I am delighted for Gordon that his remarkable achievements in sevens have been recognised by the IRB in this way. He has been at the top of his game for 17 years and has led the New Zealand Sevens team to all 10 of their world titles and four Commonwealth Games gold medals - an amazing accomplishment for any coach.
"The team has had an incredible season picking up three tournament wins in what was a very competitive series this year. To come away with our 10th World Series win is just fantastic, and we are very proud of them.''
Tew also congratulated Cama on winning his award.
"Tomasi has been an integral part of the New Zealand Sevens team for seven seasons. He is one of the most exciting players I have seen in this form of the game and has had an outstanding season,'' he said.
Tietjens joins a group of great New Zealanders that have already been inducted in to the IRB Hall of Fame, including All Black greats Sir Brian Lochore, Sir Wilson Whineray, David Kirk, the 1888 Natives team and Joseph Warbrick, Dave Gallaher and Jonah Lomu.
Usually inductees to the IRB Hall of Fame are required to have stepped down from active duty in playing or coaching for at least three years before being considered for induction. However, the IRB Hall of Fame panel viewed Tietjens' achievements as so outstanding that they were willing to overlook that criteria for induction.
New Zealand secured the title in a 36-0 win over South Africa in the Cup quarter-final at Twickenham in the final leg of the World Series. New Zealand went on to finish third at the tournament, beating Argentina 40-0 in the third and fourth play-off.
Fijian-born Cama was up for the award for the second year running, having lost out to South Africa's Cecil Afrika last season.
"It feels awesome. It's just a reward for all the hard work from the boys. Without them it would have been impossible to receive this award. I want to thank them as well,'' Cama said.
Cama fought off competition from compatriot Frank Halai and England's Mat Turner to win the individual accolade.
As well as finishing the season with 34 tries, Cama's impeccable drop-kicking helped him to 390 points for the season, the leading mark.
He also ends the season second in the all time point-scoring charts with 1,627, behind only England's Ben Gollings.
Cama becomes the fourth New Zealand player to win the prize, following Orene Ai'i, Afeleke Pelenise and his captain DJ Forbes.
- APNZ