At just 22, Reporoa runner Michael Voss is collating an impressive record of performances.
A half marathon specialist of sorts, Voss bounced back from an injury layoff in 2017 to win the Huntly Half Marathon and finish fourth at the Christchurch Half and second at the Auckland Half last year.
He said his results last year, despite being on the comeback from injury, were a good confidence boost.
"Auckland definitely was because I wasn't that far off my PB and Auckland is quite a hilly course. That gave me confidence that I was back in form again.
"The main goal last year was to get back to full fitness because the year before I had heaps of injuries."
This year he has shown he excels at the shorter distances too - on February 16 he finished second at the Athletics New Zealand 10,000m Championship; and that he still has plenty to give in the half marathon distance with a win in Rotorua last weekend.
"Training had been pretty consistent leading up to it [10,000m], I didn't really know what to expect or who was lining up for it. I just sort of stuck with the group at the start, held on until the last 600m or so and then opened it up a bit and managed to get second.
"I like those distances on the track, but I still definitely prefer the road stuff."
Voss was the first person over the finish line at the Copthorne Rotorua Off Road Half Marathon on Sunday, finishing the 21km event in 1hr, 15m and 54 seconds.
Behind him was Auckland's Paul Crowhurst in second and Gisborne's Steve Morrow in third. The first woman home was Gisborne's Grace McConnochie in a time of 1hr 23m 07s, followed by Tauranga's Maria Page in second and Morrinsville's Tess Kepa.
Voss said the event worked in with his "Sunday long run" training schedule and didn't know what to expect when he went into it, obviously happy to take the win.
Last year, Voss also had a go at his first full marathon in Rotorua. It was a sign of his talent that he went into the event as one of the favourites, despite having never completed the distance.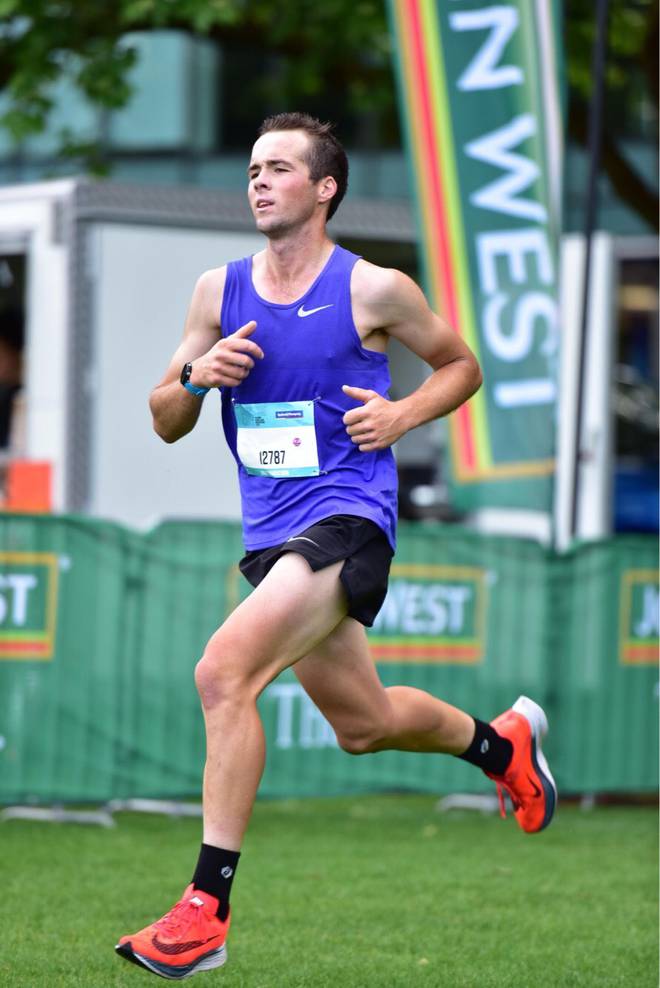 However, it was not to be. He was near the front for much of the race but ran out of steam in the final 10km.
"I tried the marathon but got that wrong the on the day. I blew up at 30km and had nothing left. The big thing was the nutrition - I sort of went into it with an open mind and thought 'she'll be right'.
"The legs just had nothing left and I fell off the leader from there, it was a long way home from there."
Now, a year older and wiser, Voss has entered the Rotorua Marathon again and is determined to learn from his mistakes.
"I'm looking forward to giving that another crack this year, hopefully it will be lesson learned. That's the main focus now, I'm going to start really ramping up the mileage and workouts for that.
"I'm starting to practise with gels and fluid now, seeing what works with my stomach and how well I handle it throughout training. It's trial and error, there's still a bit of time to sort it out and hopefully by race day it all works out."
Voss was always active growing up, but started taking running seriously when he finished school and began his building apprenticeship. He well and truly has the bug now.
"I just got more and more serious over the years, now I pretty much run every day and follow a structured programme. It's sort of just a habit now, but definitely getting the results when you've put in a lot of hard work in the months leading up to a race is pretty rewarding.
"There's the people you meet from around the country too, they're all good mates and you all have the same sort of interests. That always keeps you motivated as well," he said.
Before the Rotorua event though, he'll be able to fit in another event as part of his training schedule, competing in the Maraetai Half Marathon in Auckland on March 17.
Copthorne Rotorua Off Road Half Marathon results:
Men
1st: Michael Voss (Rotorua), 1:17.54.
2nd: Paul Crowhurst(Auckland), 1:23.05.
3rd: Steve Morrow (Gisborne), 1:24.16.
Women
1st: Grace McConnochie (Gisborne), 1:23.07.
2nd: Maria Page (Tauranga), 1:43.57.
3rd: Tess Keepa (Morrinsville), 1:47.07.