In their first appearance in Rotorua the Tall Blacks have put on a show, beating Hong Kong 124-65 to take another step towards 2019 FIBA World Cup qualification.
It was a match a decade in the making and Rotorua basketball fans showed their appreciation by turning out in force at the Energy Event Centre.
The Tall Blacks wasted no time getting into their work in the first quarter, racing out to a 32-17 lead. New Zealand Breakers star Thomas Abercrombie was hot from the three-point line early on, shooting three from four on his way to a personal tally of 12 points for the quarter.
Captain Mika Vukona was a force in the paint during the first quarter, hauling in three rebounds, including two at the offensive end.
The Tall Blacks continued to be dominant in the second quarter, extending the lead to 63-35 at halftime. With a clear height and physical advantage, they made life tough for Hong Kong anywhere near the rim.
The points were fairly evenly spread among the home side - Abercrombie still led with 12 at the break while Dion Prewster and Isaac Fotu had nine. University of Virginia captain Jack Salt, who has bulked up significantly since his Tall Blacks debut five years ago, had five rebounds, while Shea Ili had seven assists.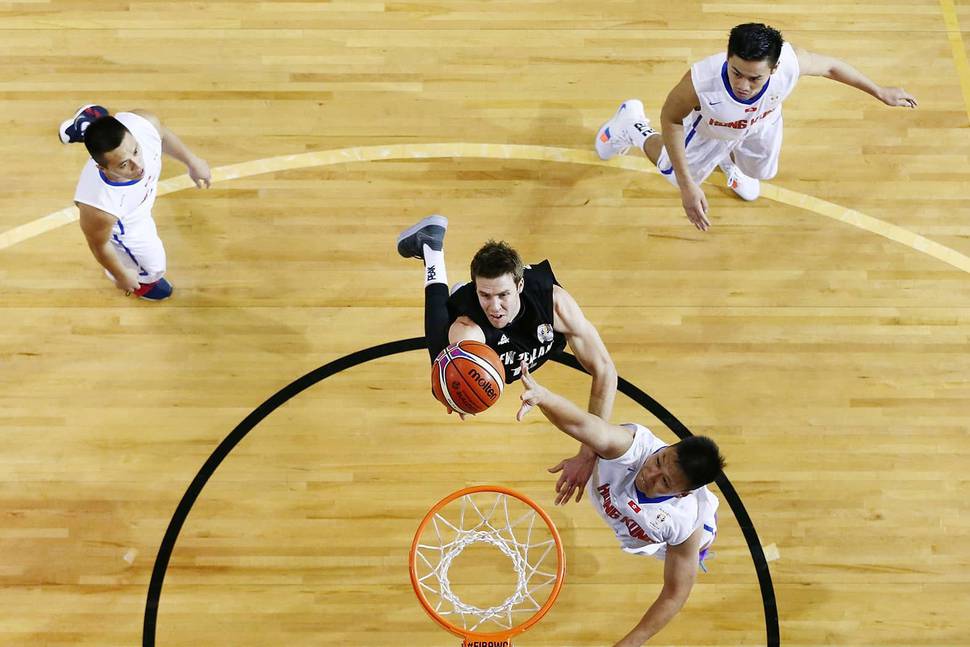 Hong Kong showed plenty of heart, however, Choi Kwan Tsai and Shing Yee Fong leading the way with 11 and eight points respectively.
Fotu found some scoring momentum for the Tall Blacks in the third quarter, making consistent baskets close to the rim as they extended the lead to 93-50. He scored eight points in the quarter to take his personal tally to 17.

Abercrombie still led the way with 18 while Jordan Ngatai sunk two three pointers late in the quarter to take his total to 12.
With the game in the bag the Tall Blacks earned some style points in the final quarter, with slam dunks and alley oops destined for the highlights reel, as they romped home to a 124-65 victory.
Abercrombie and Rob Loe were the top points scorers with 18 each, while Fotu finished on 17. Fotu was the leading rebounder with seven and Ili finished with 10 assists.
Fong top scored for Hong Kong with 17 points, while Kam Hing Cheng dragged down three rebounds and Adam Xu had seven assists.
Head coach Paul Henare said the game was a good opportunity for players to get some time on court in a competitive situation and work on implementing "some new things offensively".
"To run it against someone other than ourselves was good. We had guys who hadn't played competitive hoops for a few months, those guys that aren't in season right now - it was important for them to get some game wind in the lungs. You can train as hard as you want but there's nothing like running up and down in a game," Henare said.
He was particularly pleased with the ball movement and efficiency his side played with in attack. The Tall Blacks finished with 38 assists and 46 made shots.
"It's a crazy high number, I don't think I've ever coached a game with numbers that high. That's something we've been working on, letting the ball do some work for our team. At the end of the day you've still got to put the ball in the hole and we got some good looks and the guys knocked them down."
Salt, who finished with nine points, seven rebounds, two steals and two blocks, said it was "awesome" being back in the black singlet.
"It was awesome, just singing the national anthem - I haven't done that for a long time. It's pretty good just to represent my home country and get the lungs going a bit because I haven't played since March.
"I've looked up to Mika [Vukona] for a long time, so to be able to play with him and some of the guys I played with four or five years ago was awesome," Salt said.