Parents and caregivers can keep children on their toes and engaged these April school holidays, with plenty of free entertaining activities on in Rotorua.
Arts, crafts and music are a few of the activities in the line-up for Rotorua Library's April School Holiday Programme.
Its programme runs from Monday April 15 to Friday April 26.
Rotorua Library youth and early learning lead Kylie Holmes says a wide variety of activities and events are on offer.
Some require registration, while for others people can turn up on the day.
She says one highlight will be the Te Aka Mauri Ball at 10.30am on Tuesday April 16 where children can dress in their finest outfits and bring their best dance moves.
"Some children may remember Deano Yipadee who presented a magic show at one of the previous school holiday events.
"He is back again at 10.30am on Thursday April 18 and is very likely to be very popular again."
Making grass heads, lego building and creating post-it-note mosaic art are just some of the other activities on offer.
"These events also give children the opportunity to be creative, and help to teach children how things grow and are made."
All events are free but a gold coin koha is always appreciated to help with costs.
Donations for the Pet Care session at 1.30pm on Wednesday April 24 will go directly to the SPCA.
For more information and to find out which activities require bookings, go to www.rotorualibrary.govt.nz.
There are some creative surprises in store for those who take part in the annual, free Great Rotorua Museum Easter Egg Hunt.
Children and their families can become Easter detectives and follow a series of clues to find Easter letters hidden throughout Government Gardens.
The challenge is to find all the letters and solve the mystery word.
The clue sheet is available from tomorrow from a variety Rotorua iSite (Fenton St), the Children's Art House during free Easter crafts and from the Rotorua Museum Facebook or website.
Those who solve the mystery word can enter the draw to win an Easter prize pack.
Entry boxes will be at Rotorua iSite and Children's Art House (during free crafts). All entries need to be in by Monday April 29.
People are asked to take care when hunting for the letters, as they will be hung up high, and to leave them there for the next Easter detectives.
Children can also get crafty with free Easter crafts at the Children's Art House from April 15 to April 18, 10am to 2pm each day.
They will be able to make Easter baskets, puppets and cards for the holidays.
For more information contact Rotorua Museum, call (07) 351 8055 or email rotorua.museum@rotorualc.nz.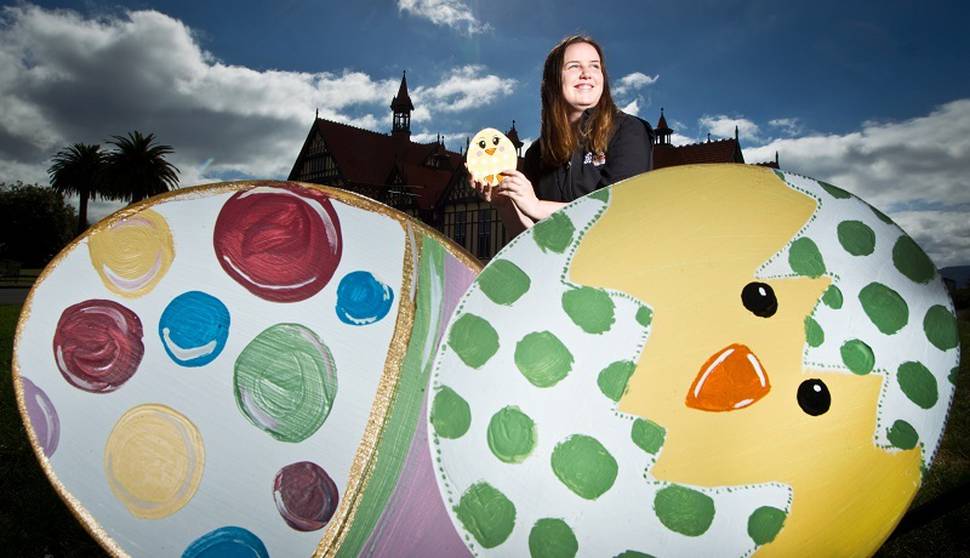 There are also four scavenger hunts across the Bay of Plenty's bush, lake and beach reserves to help keep children active, and to showcase the natural gems of the region.
The scavenger hunts are at Tikitapu (Blue Lake), McLaren Falls Park, TECT All Terrain Park and Ōhope Beach.
In the scavenger hunts participants solve clues, take photos and get out there to discover reserves and parks.
Sport Bay of Plenty's recreation team leader Sonia Lynds says we are lucky to have a range of great parks and reserves to explore in our own backyard.
To take part people can download clues from the Virtually on Track website. Spot prizes are available for entries submitted between April 13 and 28.
Children can spend time learning about small furry friends at a free school holiday session being held by Animates Rotorua on Tuesday April 16 at 11am.
Children can also enjoy the thrill of performance at The Biggest Little Circus' free performances tomorrow at 1pm and 5.30pm at Te Manawa.