Murmurs filled the room as guests caught a glimpse of what Rotorua's latest subdivision is likely to look like.
The Ashworth Villas subdivision is officially on the market after its blessing and opening at a well-attended event last night and house and land packages in the subdivision will range from $697,000 to $758,500.
The properties are being marketed by Bayleys' Beth Millard, Julie Brake and Jacquie Bishop.
At the launch Millard said there had been almost 100 people on the waiting list for information on the properties before they officially came to market.
"The word is out and everyone's talking. The next big thing is here and it's Ashworth Villas."
There will be 50 lots available in the gated complex with floor areas ranging from 134sq m to 157sq m and land areas ranging from 284sq m to 378sq m.
There will be a mix of two and three-bedroom villas designed for those aged 50 and older who are looking to downsize from large family homes.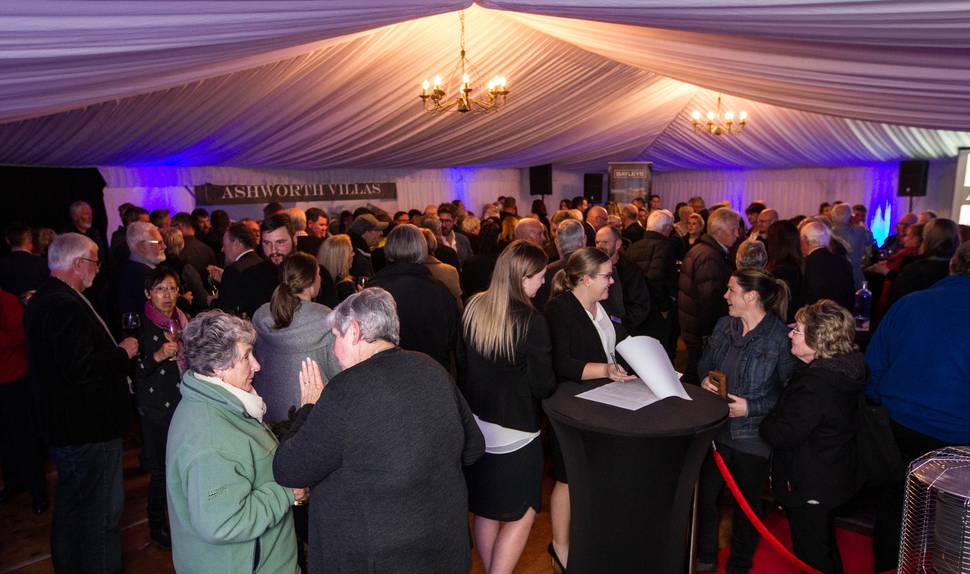 Millard said the development would have a positive effect on housing availability as those over-50 sold to move in to the complex, freeing up family homes.
"The timing couldn't be more perfect. We're in the midst of a housing crisis, we've got the lowest levels of stock available.
"This will get people moving from big family homes because they've now got a choice. They don't have to leave town to live somewhere slick and this is going to be slick."
The land the villas will soon sit on was put on the market and sold in March this year by its then owners, the Church of Jesus Christ of Latter-day Saints, after plans to build a church there never eventuated.
Ten tenders were received from prospective buyers all over the country, but the property is being developed by local developers The Holmes Group.
In July the Rotorua Daily Post revealed the land, on the corner of Malfroy Rd and Ranolf St, would become Ashworth Villas.
Millard said since the sale work had been "fast, furious and back-to-back".
"We've worked around the clock to meet this deadline.
"Thank you to the Holmes Group. Without developers that have courage, developments like this just wouldn't happen."
Rotorua mayor Steve Chadwick spoke at the opening and said it was special because the Holmes Group is locally owned.
"This land has been sitting vacant for a long time. There's been a lot of interest in this site but nothing has ever quite worked. It's been waiting."
She said Rotorua was riding a "wave of success".
The complex will include a shared leisure facility with a lap pool and a plunge pool, both geothermally heated.
Each owner will own their own land but also have a one-fiftieth share in the shared facilities.
The 20,011sq m site has been empty since 1988 and was previously the site of a transit camp for families awaiting state housing before the Voyager Resort Hotel was put there between 1983 and when it was demolished in 1988.
It has had a few owners since, including a Japanese businessman who intended to build a hotel on the site before his plans were crushed by a market crash. The site has been empty since 1988.
The Holmes Group is Rotorua-based and is behind other developments in the city including Parklands Estate, Eastgate Business Park, Lynmore Lake Vista Estate and Lynmore Junction where Motion Entertainment is.