New Zealand celebrated its finest ever medal haul at an ICF Canoe Sprint and Para canoe World Championships by banking a gold and a silver on a thrilling final day of action at Montemor-o-Velho in Portugal.
Lisa Carrington powered to a sixth successive world K1 200m title to retain her iron-like grip on her speciality event before the New Zealand K4 500m crew of Carrington, Caitlin Ryan, Aimee Fisher and Kayla Imrie took a valiant silver, finishing an agonising 0.010s behind world and Olympic champions Hungary.
The two medals won on the final day added to silver medals banked on the two previous days by Carrington in the K1 500m, Carrington and Ryan in the K2 500m, Fisher and Imrie in the K2 200m and Para-canoeist Scott Martlew in the KL2 200m. This eclipses the previous best medal haul of four achieved at the 2017 edition in the Czech Republic.
Carrington, who had secured the previous seven global titles in the K1 200m with five straight world titles and two Olympic golds, was without doubt the overwhelming favourite to make it number eight.
However, few could have predicted her level of dominance and stunning victory margin of more than a boat length.
Racing into the lead from the outset, by the 100m mark Carrington already held a three-quarter-of a length lead on her nearest pursuer, Linnea Stensils of Sweden. For the remainder of the race, she put on a demonstration to further destroy the field and stop the clock in 38.821s. Emma Jorgensen of Denmark, who repeated her silver medal won at the same event at the 2017 World Championships, finished a distant 1.727s down with Stensils (40.585s) in bronze.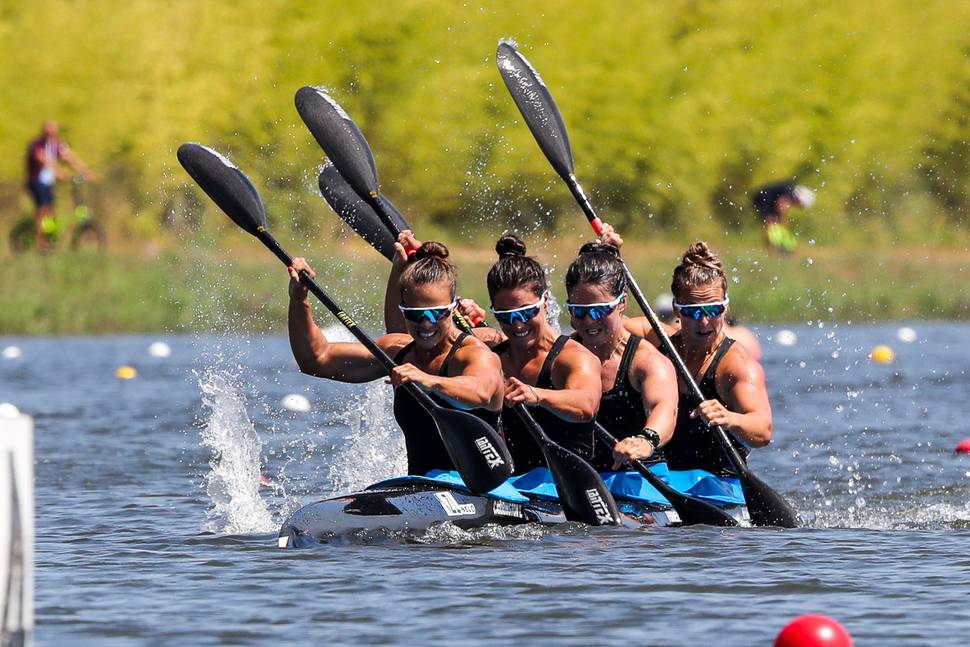 After the race Carrington said: "It is amazing, it is awesome just to be here and do what I do with my team-mates. To be able to deliver in the K1 200m, it is pretty cool."
She then returned with her crewmates in optimistic mood, having led the qualifiers for the women's K4 500m final, although with a Hungarian crew comprising five-time Olympic champion Danuta Kozak, who was hunting her third gold of the regatta, the New Zealanders were aware they faced formidable opposition.
The Kiwi boat got away to a fantastic start and held an advantage by just under a quarter of a second at 250m before the Hungarian crew applied the blowtorch to draw level in the final 100m. In a captivating climax both boats flashed across the line seemingly together only for the Hungarians to be given the photo-finish verdict by one hundredth of a second in 1m 33.761s.
For Carrington, personally, it was her fourth medal (one gold, three silver) of the championship.
A wonderful championships for New Zealand was brought to a conclusion by Ryan and Quaid Thompson in the 5km events. Ryan, who won silver medals in the women's K2 500m and K4 500m, narrowly missed out on a third medal, finishing fourth In the women's 5km in 24m 25.572s. The North Shore paddler finished more than 23s adrift of gold medallist Lizzie Broughton of Great Britain and a little more than 10s shy of the medals. In the men's 5km event, Thompson placed 18th in 23m 22.055s behind gold medallist Fernando Pimenta of host national Portugal in 21m 42.196s.
Canoe Racing NZ CEO Tom Ashley said: "They've been amazing and it says a lot of the work that this group of athletes and coaches have put in to produce a best ever World Championships medal count.
"One of the most impressive facts to consider is, we are working with such a small talent pool of athletes compared to many other nations and punching well above our weight. We saw some incredible racing across the regatta, and we were just a little unlucky to miss out on gold to some brilliant teams in three races by less than five hundredths of a second."