Ten-year-old Flynn Osborne is fighting off tonsillitis, but when he woke up this morning he refused to pull out of the Tough Guy and Tough Gal Challenge mud run.
"He has been very ill but it's his first time and he was determined to it," his mother Karen said.
She was surprised Flynn got all the way through.
"We had to come watch in case he carked out," she said.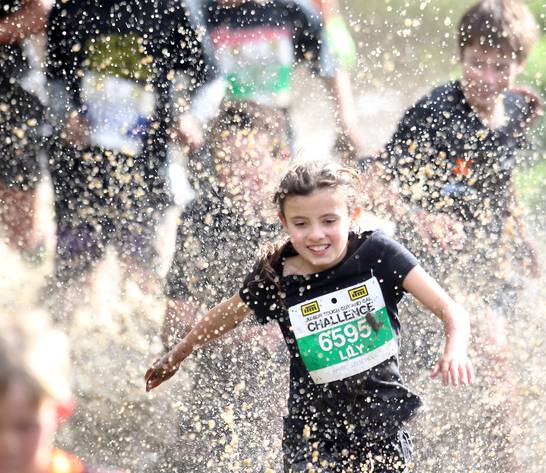 The junior challenge at Lakes Ranch, Lake Rotokawau was open to girls and boys aged 7 to 12.
Flynn and his schoolmates from Amisfield School, Tokoroa were among 2000 kids who completed the 1.5km or 3km race events on Wednesday and Thursday in Rotorua.
The Tough Guy and Tough Gal events for all ages are now North Island-wide, after starting in Rotorua 16 years ago.
Participants were encouraged to fundraise for the charity partner Cure Kids leading up to their run this year.
Flynn Osborne raised $155 and his mum was "very proud".
Twelve-year-old Katie Hatcher from Kaitao Intermediate was the first girl home after a staggered start.

She said the course was "fun, muddy and slippery".
"There were people yelling 'woohoo woohoo' throughout the race!"
The atmosphere was hyped but competitors were not timed and many wore fancy dress.
The event focused on participation and the priority at the finish line was to get competitors a drink of water between huffs and puffs, and a washdown in the showers.
Race director Aimee Gregory said it was their biggest year in Rotorua so far.
She said Lakes Ranch had been "very accommodating".
"We've got schools from Cambridge to Whakatāne and Matakana Island. In previous years we've even had kids from Tolaga Bay come over."
Gregory said the kids' challenges had grown from 3000 competitors five years ago, to 12,000 this year, across Auckland, Hamilton, Hawke's Bay, Palmerston North and Wellington regions.
Secondary school students will be on the Rotorua start line at 10am tomorrow, and adults will take part on Saturday.
Tough Guy and Tough Gal
Adult Challenge: Saturday, August 18, Individual, corporate and gym/club challenge, 6km or 12km options, competitors must be aged 13 or older
Secondary School Challenge: Friday, August 17, 6km or 12km options