There were colourful flashing lights, sparkle and high-speed adrenaline action a-plenty at Slam Rock, the Sulphur City Steam Rollers' annual roller-derby fundraising event.
This year marked the fifth anniversary of the event and one of the most anticipated on the New Zealand roller-derby calendar and this time Rotorua team Motley Crew took on the Salty Rollers from Moana Roller Derby in Tauranga.
Despite going down to the visitors 228 to 110, the Motley Crew side held their own and were thrilled the event raised thousands of dollars, with the final tally yet to be counted.
Before the game, Moana Roller Derby team members Andrea Bedford, Oh sugar!, and Leonie Cairns, Katchawhaea, were "amped" to be playing.
"This is the highlight of the roller-derby calendar and we are stoked to be invited to play," Cairns said.
The stands at Rotorua's Sportsdrome were packed on Saturday night as crowds came along to cheer for the local team.
"It's exactly like bull rush, except of course on skates," Cairn said.
All players wear a helmet, mouth guard, wrist guards, elbow pads and knee pads as compulsory attire.
"I am often quite nervous before the games, but not once the whistle goes," Bedford said.
Cairns said she had played a variety of team sports but roller derby was her favourite.
There was loud rock music and even louder cheers as the teams made their way out into the arena.
Friends Zara Murphy and Sarah Johnston had never been to a roller derby event before but came along to support the Rotorua girls.
"We would love to get involved," Johnston said.
"I'd definitely be down to give it a go."
Murphy said, for her, roller derby was all about girl power and it was amazing seeing all the community support.
"It's a really amped atmosphere and there's a really fun rock-and-roll aspect.
"It's something alternative and just a little bit different."
Slam Rock is run by about 30 volunteers and 21 game officials, some coming from as far as Wellington.
Two of the youngest helpers, Anna Calder, 10, and Sara O'driscoll, 12, were running the selfie frame throughout the evening.
It was Anna's third year helping out at the event.
"It's a very exciting sport, and quite intense," she said.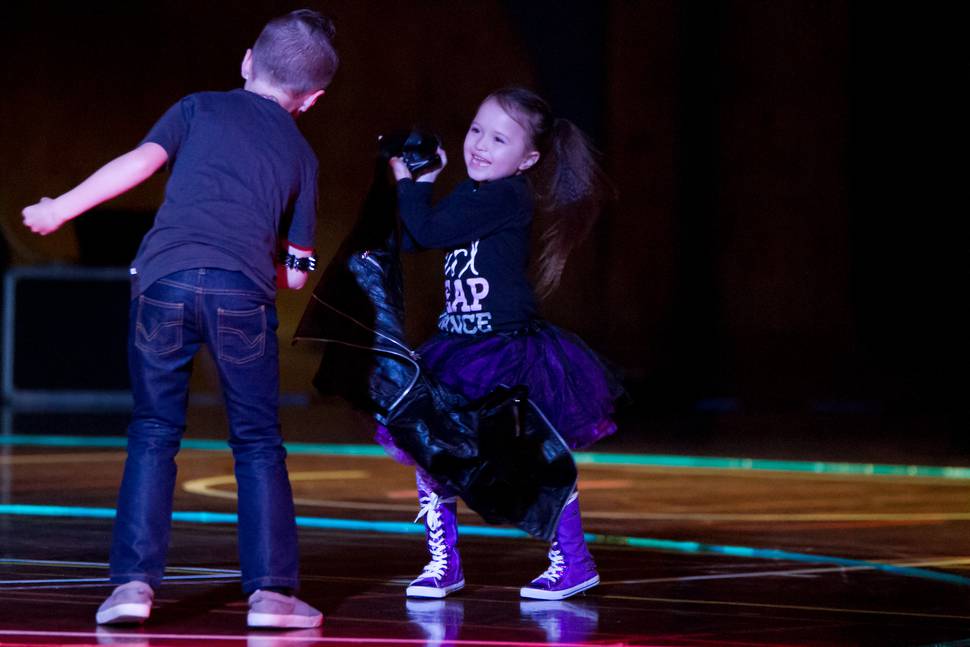 During halftime the Steam Rollers host the annual Slam Rock Air Guitar Competition in which members of the crowd are invited down to the centre of the track for a high-energy battle with the goal to become the adult or child air guitar champion of 2018.
Last year Anna won the children's section of the competition and said this year she had been practicing with a real guitar at home.