Brett Tippie is a mountain bike legend (official).
And he's back in our town for Crankworx week to commentate on events in his unique, exuberant and good-hearted style.
"I'm very humbled when I hear the 'legend' word," he says.
"But I'm happy that I inspire other people while doing what I've always loved to do - shred the mountains and make people laugh."
As well as Crankworx duty, Tippie will be at the Rotorua premiere of The Moment at the Blue Baths on Tuesday March 20 at 7pm.
This feature length film documents the birth of the free ride mountain biking in British Columbia a couple of decades ago and he was a big part of it.
The sport was in danger of being totally hijacked by the lycra-clad, cross-country, racer brigade. Nothing wrong with them.
However, the freeride crews took mountain biking back to its origin days of fun and madness and added a big shot of adrenaline as they drove bikes to the very edge of their capabilities and beyond. Extreme.
"It was bizarre seeing The Moment for the first time, myself as a younger man and my buddies as I remember them," says Tippie.
"It was such a cool moment in time, but how were we to ever imagine it would turn into what it did. It was a real crossover from our winter mountain sporting world and what we took from that to the emerging mountain biking scene. Somebody's gotta be first, because if you're not first, you're last."
He first visited Rotorua in 1991.
"I drove through when I was on a snowboarding tour," he continues. "I really got to stop and check it out two years ago. One of my favourite places to visit, now. I love the friendly Kiwi people, it's a lot of laughs during the event and the trails and especially the dirt are amazing…world class."
Tippie isn't feeling his age.
"Who's old? Me? I'm over the hill but I'm just picking up speed," he says, as he looks down the barrel of another busy year in adventure sports. "It's a pretty stacked roster of events. I've been announcing Redbull Crashed Ice, then kicking off MTB season in Rotorua. Next I'm off to various British Columbian events, photo/video shoots, Crankworx Innsbruck, Les Gets, Whistler and Interbike, Red Bull Rampage and as many cool trails I can get to in between."
When the events are close to home in British Columbia it's family time.
"We get to travel around and hit some awesome places that we can all enjoy. My wife is a shredder and my oldest daughter, who's nine, has been bitten by the bike bug too, so life is great."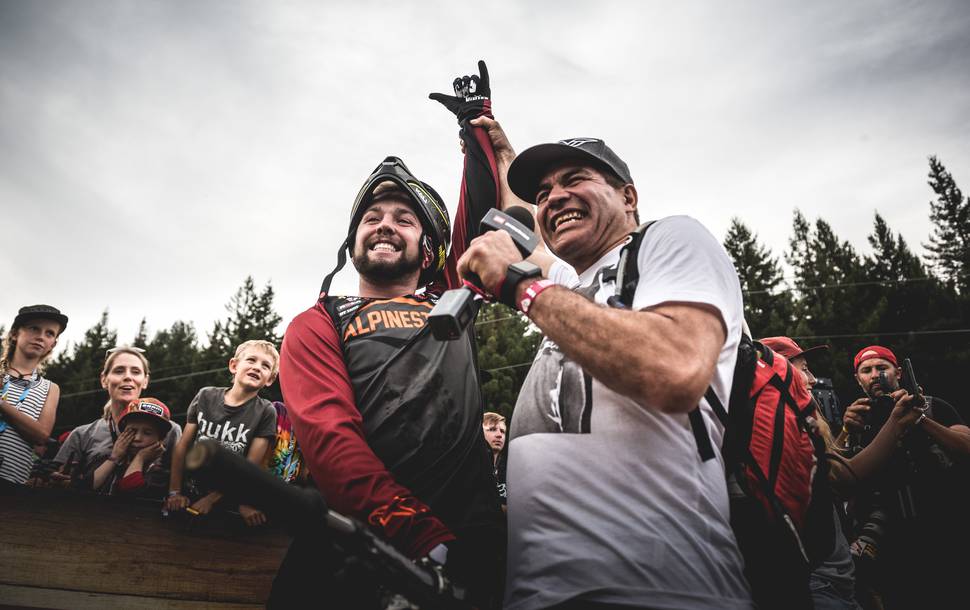 Meet Tippie at The Moment screening. He rides for YT Industries and there'll be one of his jerseys – signed – up for auction. Proceeds to the Rotorua Trails Trust. Tickets: www.bigbikefilmnight.nz
-Crankworx Rotorua 2018 is underway with an array of events from hundreds of young ones getting out there at Kidsworx to breathaking action in the forest and at Skyline. Slopestyle is my favourite – simply spectacular. You can check out the schedule and get tickets at www.crankworx.com/festival/rotorua/
-There's a Rotorua Trails Trust working bee on Sunday on No Brains. Meet at the Waipa MTB carpark by 9am. Transport in, tools provided or BYO. Make a difference in 2018: www.rotoruatrailstrust.co.nz/join.