A portion of Blomfield Gully will be closed for the next four to five weeks while contractors work to remove 18 eucalyptus trees.
In recent years the Rotorua Lakes Council has received feedback from the community, especially the surrounding neighbourhood, asking for the trees to be removed because of concerns for safety, leaf fall and shading.
Residents were notified by letter in November about this planned work.
Contractors will begin preparation work today with felling to start about a week later on Monday, February 12.
A statement on the council's website said public access would be closed from 42 Blomfield St to Pukehangi Rd while the work took place and signage would be in place to advise users.
Large machinery and vehicles will operate within the gully so members of the public are being asked to follow all signage instruction for their own safety.
Work is expected to be completed in the second week of March, weather permitting.
The council's statement said it apologised for any inconvenience during this time.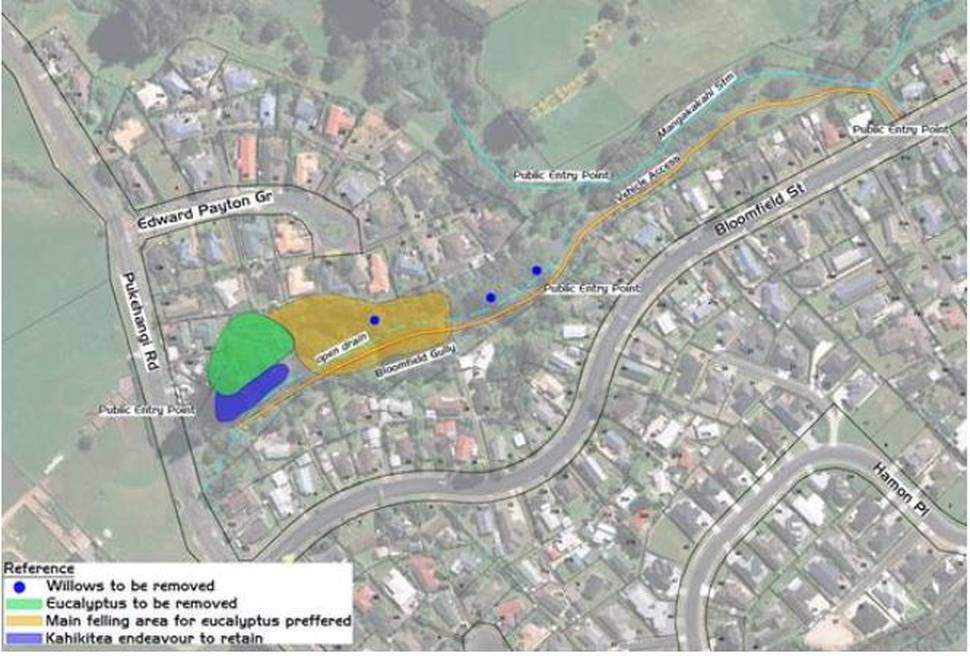 Frequently asked questions
Why is the council removing them now?
By removing the trees now it means there will be less damage to the native growth in the gully than if we waited until the undergrowth was more established. It also means we can re-establish replacement natives sooner.
Can I access the gully while work is taking place?
No. The gully will be closed to public for approximately four to five weeks while contractors carry out the felling work. This will ensure the safety of users and also allow the contractors to complete the work as soon as practical.
What will happen to the wood?
The smallest branches and other debris will be mulched and larger manageable logs will be cut and sold for pulp. The largest logs that cannot be removed will be left on site in a safe position and natives will be planted around them.
Will you be replacing the trees?
Council's horticultural team have taken into consideration leaf fall, shading and potential future safety risks in choosing the native trees to replace those removed. In April-May next year the council will replant the area with trees such as rimu, kahikatea, miro, tarata, manuka and mahoe.