Heavy rain and strong winds have caused surface flooding, fallen trees and power outages in the Rotorua area, as a storm sweeps across the country.
However Bay of Plenty Civil Defence says no significant effects have been felt across the region.
As at 10pm, 60.6mm of rain has been recorded at Rotorua Airport today, with a further 22.8mm expected to fall before midnight.
Crews are attending two fallen trees on Dansey Rd - both are blocking one lane of the road so motorists should avoid any unnecessary travel in the area overnight.
A fallen tree was also blocking both lanes on Maraeroa Rd (about 1km from Mamaku). Motorists should avoid Maraeroa Rd while the tree is removed.
Hundreds of homes in Mamaku lost power about 4.45pm. The Unison website states
379 customers were initially affected, with the final 53 in Amoore Rd, Cecil Rd and Maraeroa Rd expected to be restored by midnight.
A further 283 customers in Hamurana lost power at 7.45pm. Of those, 83 are still cut off, on Dudley Rd, Jackson Rd, Lagoon Rd, Mervyn St, Roy Rd, Stewart Rd and Tauranga Direct Rd, with an expected restoration time of 11.30pm.
At 8.49pm, 236 customers in Tumuni also lost power. This outage is expected to end by 11.18pm. Another 104 customers are without power in Kaingaroa, with an estimated restoration time of 1.25am.
Contractors were tonight attending to a slip on Okareka Loop Rd about1km from Tarawera Rd.
In a Facebook post tonight, Bay of Plenty Civil Defence said high tides and large swells were still expected, and these may lead to coastal inundation and surface flooding in some areas.
"This weather event is expected to pass through the Bay by 6am tomorrow (Friday). However further bursts of heavy rain are possible during Friday, with severe wind gusts possible in exposed places until Friday evening."
Earlier: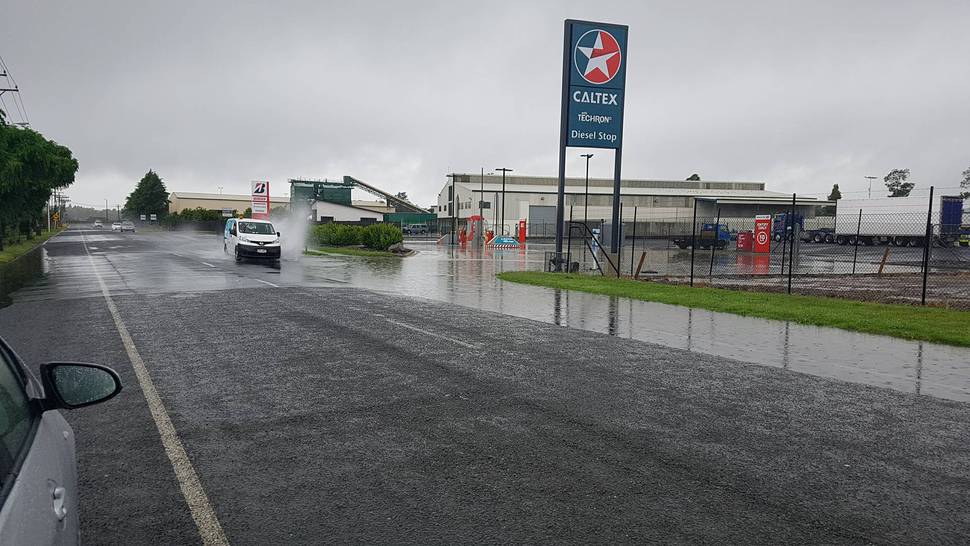 Rotorua resident Manuhuia Johnston's backyard and driveway, on Vaughan Rd, flooded this morning.
"Last year it happened twice and it is terrifying as I am always worried that the water will come into our house, but we have been lucky so far it only goes as high as the back step.
"It's even scarier at night and we can't sleep with worry. My other worry is the damage this is doing to our foundation and our driveway as it is almost wiped away and then we have to ensure most things are lifted up like our washing machine and mower so they do not get damaged, as well as our yard being a mess from all the debris."
She said they had called the council previously and had been told the drain on the road was blocked.
"It's so frustrating," Johnston said.
The wet weather overnight along with warning there was more to come had not deterred visitors to Rotorua.
Rotorua Thermal Holiday Park's Andrea Scott said most of those camping at the park had stayed and there were still people showing up looking for accommodation.
"We have had a couple of people leave, but people are still showing up. It's wet and they are well aware of that, they're ready to brave it," Scott said.
Among those braving the weather were British couple Chloe Sharpe and Ben Webster, who arrived in Rotorua today as part of a tour of New Zealand.
"This is our third day, we're doing a road trip down the whole of New Zealand. It's been good, but wetter than we expected. We went and looked at the geysers and got very wet but ploughed on regardless," Webster said.
"It's not quite what we expected," Sharpe said.
"We expected it to be a bit drier, but we're still enjoying it. It's a beautiful country and a bit of sun would make it perfect. It rains all the time in England so we're used to it," she said.
Daniel Henderson, of Wellington, and his family were also braving the conditions at the park.
"We come to Rotorua every year for two or three weeks. We were here in the tent last night, it was pretty loud and heavy, it woke me up at about 5am and there was a lot of water under the tent.
"I think you just have to make the most of it. We went out to the lake and spent the day there swimming today, it was cool," Henderson said.
Bay of Plenty Regional Council and Civil Defence teams are continuing to monitor weather updates.
From 4pm today to 6am tomorrow the region is forecast to receive 100-150mm about the ranges and 70-100mm elsewhere.
Regional council flood manager Peter Blackwood said the region's catchments had up to 100mm of rain last night, particularly those in the east, so they were no longer dry.
"It would be prudent for farmers beside the Rangitaiki River and all other Eastern Bay rivers to move their stock to higher ground before nightfall, as the first level warnings may be given during the night.
"People camping in low-lying coastal areas or near rivers and streams should also be aware there may be coastal inundation," Blackwood said.
In response to the rain in the Rangitaiki catchment and forecast heavy rain tonight TrustPower is spilling a small amount of water from the Matahina Dam. The total outflows of 160 cubic metres per second are no greater than the flow under full generation, but the generation flow is currently restricted.
"Therefore, this spill will not flood additional land and there is absolutely no flood risk to Edgecumbe," Blackwood said.
This morning there was surface flooding on parts of Vaughan Rd in Rotorua, including at the Caltex Diesel Stop and around Infracore buildings.
Rotorua police Senior Sergeant Dennis Murphy advised drivers to be aware of the weather and drive to the conditions.
"If the weather event is as predicted there will be parts of our roading that could be affected by surface flooding so drive carefully and be aware.
"If we do get the wind there could be fallen trees and debris on the road so, again, just be aware of the conditions. Drive at a safe speed and be careful," Murphy said.
He said, if the weather was bad, any unnecessary travel should be put off if possible.
A post on the Rotorua Lakes Council website said council staff, Infracore and contractors were on standby to deal with any weather related issues that arose.
It advised people to be prepared, check drains and remove blockages to avoid flooding around houses, ensure there was a torch or candles handy in case of power cuts, check roading information at www.nzta.govt.nz and keep an eye on vulnerable neighbours.
Reports of fallen trees, slips or flooding could be given to the council's Customer Centre by calling (07) 348 4199.
MetService meteorologist April Clark said the heaviest rain was still to come and could hit Rotorua any time this afternoon.
"There is a heavy rain warning for Rotorua, but it is going to be windy as well. There could be wind up to 120kmh in exposed areas," Clark said.
She said it was important people were prepared, especially those travelling home from holidays.
"Just be prepared and plan for it. The persistent rain, along with the wind, could cause debris on the road, surface flooding and poor visibility, so just be patient and alert while driving."
There was also a power outage in Hamurana this morning, affecting 252 customers. Power has now been restored.
All of the North Island's west coast and the top half of the east coast is under threat of coastal flooding as the huge waves and strong onshore winds swell king tides.
A swathe of weather warnings have been issued.
Heavy rain and destructive gales are set to bring havoc for the next two days.
The heaviest rain is expected in Northland, Auckland, Coromandel Peninsula, Bay of Plenty, Mt Taranaki, Marlborough and Nelson.
MetService is forecasting up to 160mm of rain to fall over Mt Taranaki and the Nelson and Bay of Plenty ranges.