Three sinking houses owned by the Rotorua Lakes Council have failed to sell at an auction that was over in seven minutes.
Three of the four council-owned Western Rd properties, which have known ground and subsidence issues, went up for auction at the Harcourts building yesterday.
However, the reserves for each house, namely 66, 76 and 80 Western Rd, were not met and they passed back to the agent, Jon Parrington.
The highest the bidding reached was $235,000 for 76 Western Rd. Bidding for 66 and 80 Western Rd capped out at $155,000 and $160,000 respectively.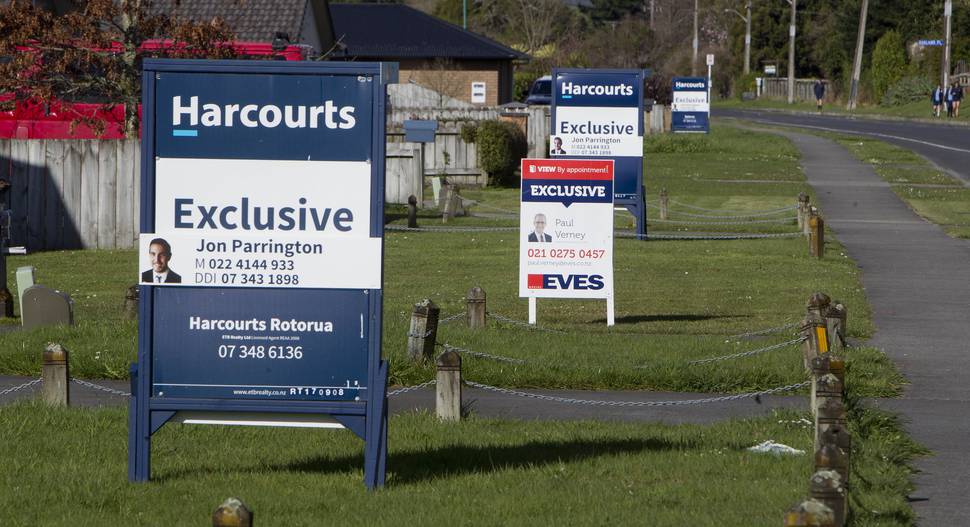 Rotorua man Ian Barker was one of the only active bidders in a room of about 10 people.
He said he was interested in the properties as investments.
"They won't say what the reserve is but I suspect it's high. I think the council is probably expecting a bit too much for them.
"I'd still be interested because if we could get them for cheap enough we would look to fix the ground issues."
Council chief financial officer Thomas Colle told the Rotorua Daily Post after the auction the purpose of selling the properties was to recover public money.
"The properties did not meet the market appraisals we had done and we will now consider our next steps."
The homes were built as part of the Oakland Estate by developer and former Rotorua district councillor Geoff Kenny.
Mr Kenny became aware of the subsidence problem in early 2008 when 10 to 12 homes had already been built on the estate.
Movement in some soil layers, caused by the weight of the buildings, was blamed for damage to homes, ranging from out-of-level floors and loose bricks, to doors and windows that would barely close, and cracks in foundation walls.
In 2012 the Department of Building and Housing reversed consents for three of the properties. In July 2013, and after a lengthy battle, the council, Mr Kenny and the engineers involved reached a confidential out-of-court settlement with seven property owners worth more than $5 million.
At the time council chief executive Geoff Williams said the council had bought four of the least damaged houses, with Mr Kenny buying the others.
2017 capital values
80 Western Rd: $522,000
66 Western Rd: $512,000
76 Western Rd: $467,000
Failed auction bids
80 Western Rd: $160,000
66 Western Rd: $155,000
76 Western Rd: $235,000