Rotorua's business community got its chance to tell many of the district's mayoral and council candidates what they wanted from them if they were to be elected in October.
The key themes were that Rotorua was experiencing unprecedented growth that should not be hindered due to council policy, ignore the Maori economy at your peril, and to make sure training suited roles available in the employment market.
The Rotorua Chamber of Commerce, supported by the Rotorua Daily Post, held its first Rotorua Lakes Council candidates meeting at the Novotel hotel tonight, with almost all of the 35 council candidates, and all seven mayoral candidates attending.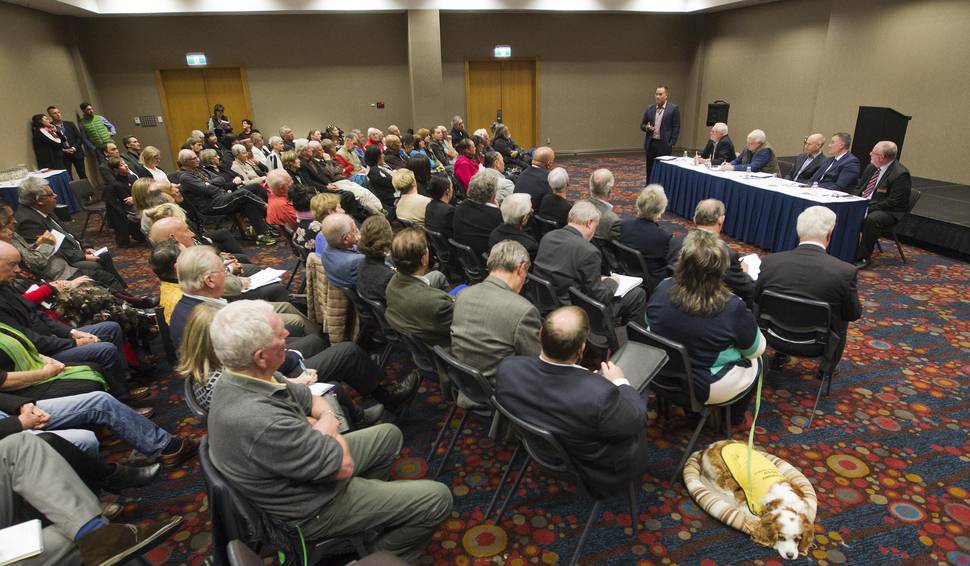 The meeting was set up to allow the business community to tell those candidates what they wanted to see from the incoming council with a panel of six local businessmen speaking on a range of topics lead by chamber chief executive Darrin Walsh.
The panel was made up of Integrated Systems Design Ltd's Tony Jacques, Deloitte Rotorua's John McRae, Ponsonby Road Lounge Bar owner Tamati Coffey, Inner City Focus Group spokesman Mike Steiner and Te Arawa Lakes Trust chief executive Gareth Jones.
Mr Coffey said the hospitality sector obviously relied on its customers and that the council should provide the infrastructure that brought people to the city and made them want to stay and spend their money.
Mr McRae said the key to continued growth was public and private investment.
"There is confidence the council is working as a team ... what we want to see as a business community is to continue what we have seen in the last few years."
Mr Jacques said he wanted to see the airport working a lot better and trade training, especially at Waiariki Bay of Plenty Polytech, improved to suit roles available in the region and focus on the training of locals.
The majority of the speakers also stressed the importance of partnering with the growing Maori economy, in particular Mr Jones, who said while iwi asset growth was growing rapidly the same could not be said for the well-being of iwi members.
"Any council that ignores social values moving forward will be fraught with danger ... there is a disconnect with Maori and that failure is spread right across the country.
"Our strength is us coming together."
Mr Jones said the council's Te Arawa's partnership board was unique and should be celebrated.
"Embrace Maori, try not to be exclusive, collaborate and be open, talk to each other and share knowledge."
He also warned potential councillors they should be aware of what's happening around Rotorua - in Taupo, Whakatane and Tauranga - and not to get left behind.
"Tauranga will smash you - they will take the airport, the university and the jobs and should not be ignored."
The chamber's mayoral candidate debate will be held on Tuesday, September 13 from midday at the Novotel.
Registration for the event is essential and costs $25 for members and $30 for non-members. Visit www.rotoruachamber.co.nz, or call (07) 346 3657, to register.