Howie Morrison Jnr has brought together a few of his famous friends for an event to raise money for St Faith's Church in Ohinemutu.
He has organised a pre-Christmas trivia and auction night with a twist.
Teams entering the quiz would be able to bid for former MP/broadcaster John Tamihere, actor Temuera Morrison or boxer Shane Cameron to join them.
Mr Morrison said it was not too hard to convince the three well-known New Zealanders to attend, although he had to change the date to accommodate Mr Cameron's schedule.
"I'm good friends with John Tamihere, and obviously Tem's a cousin and Shane and I are friends on Facebook."
The church needed funds for maintenance and restoration, particularly after volcanic activity sprang up just outside.
"That's just an added cost," Mr Morrison told the Daily Post.
"They don't really have a fund for restoration."
Steam and bubbling hot water started to emerge from under the concrete in front of the church in April.
It followed a series of small eruptions in Lake Rotorua late last year and early this year, located very close to Ohinemutu village.
The high lake level and high rainfall this year were a factor, St Faith's Wally Tangohau said.
Mr Tangohau told the Rotorua Daily Post just a few weeks ago that the concrete would need to be pulled up to allow for a more thorough GNS analysis.
"We did think the actual stream might be under the church but we won't know until we get the concrete up."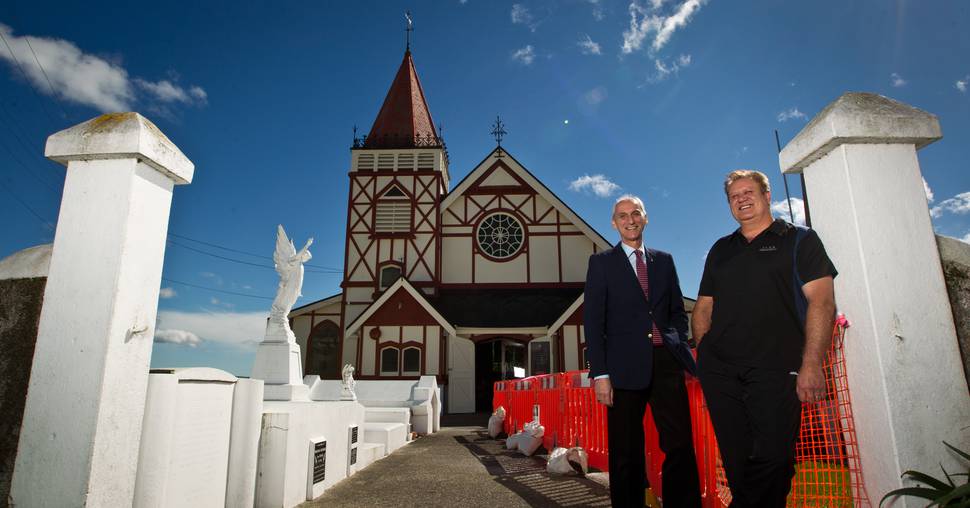 The concrete would also need to be replaced, he said, probably with cobblestones or a boardwalk.
The church was monitoring the situation, which did not seem to be getting worse, he said.
Mr Morrison had the idea of an auction/trivia night after seeing the format work well as a fundraiser for a local marae in Fielding.
"It was a great event - and in five days it was all booked out."
St Faith's was his family church, Mr Morrison said, and he wanted to continue the family legacy of support for the institution.
"Dad was always an avid supporter of the church. It's about supporting our church and our Reverend, Tom Poata."
Mr Morrison would MC the event, with Reverend Poata assisting as quiz master.
Those interested in attending could book a table for 6-10 people for $500. Bookings can be made at www.eventfinda.co.nz
The fundraiser begins at 6pm on Friday December 15 at the Whakaturia Dining Room in Ohinemutu.