The family of a Rotorua tourism pioneer are coming to terms with a tragic loss, but his wife says she will forever remember the great times they enjoyed together.
Harvey James, an award winning environmental tourism leader and owner of Waimangu Volcanic Valley, died suddenly on Monday. He was 65.
His wife Trudi told the Rotorua Daily Post she was in shock but had a tight knit circle of friends supporting her and their children, of which they had two each from previous relationships.
"We breathed for each other," Mrs James said.
"We were meant to be together, he was my beautiful man and it's hard to think about life without him, but I'll do it for him.
"I was extremely proud to be his wife, it was a real honour for me, I adored him."
Mrs James said their Glenholme home had been inundated with visitors since her husband's death making her realise how important her husband was to the community.
"He never blew his own trumpet and always played things down.
"Even after he started the sustainable tourism charter and the Government picked up on it, he was just so humble about what he did."
She said he loved to surprise her and was generous.
"He could also be quiet and just sit and listen before coming back with a clever little quip.
"There was this little boy in him that I just loved."
She said the pair loved concerts - they had been to 21 shows in the 10 years they had been together - and were planning a "bucket list" trip to the Amazon and Galapagos Islands later this year.
"Life was never dull, we were always on the go. Just last week we were rocking out at Bruce Springsteen and the week before we were in Napier for the Art Deco weekend."
She said her husband was passionate about making Waimangu one of the best visitor experiences in New Zealand, loved his cars, especially his 1962 Daimler Dart and loved the outdoors.
"Being the kaitiaki [guardian] of Waimangu and that environment was so important to him.
"He didn't like being in the office bound to technology...so there was no way we could have his funeral inside a building, he would have hated that."
Mr James was a foundation member of the New Zealand Sustainable Business Council and in 2012 was awarded a Rotorua District Council community leadership award for his work with the natural environment.
His popular tourist attraction holds Qualmark Gold standard, won the Bay of Plenty Supreme Sustainable Business Award in 2004, picked up a New Zealand Innovation in Eco Tourism Award in 2003 and 2004, won the New Zealand Service to the Environment Award in 2001 and 2002, the New Zealand Eco Tourism Award in 2001, and was Rotorua Supreme Business of the Year in 1999.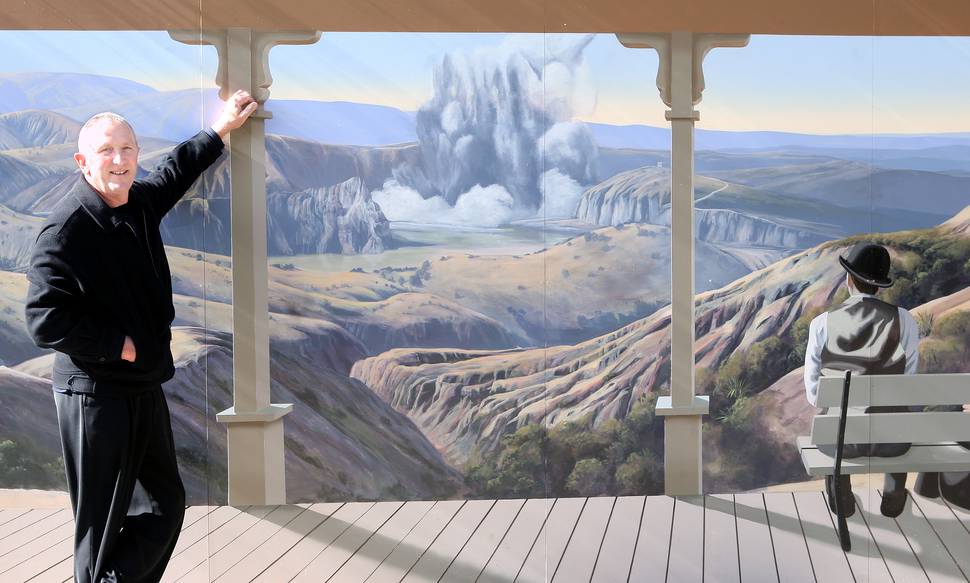 Mr James was the second influential tourism leader to have died within the space of a week after the death of Doug Tamaki on Saturday.
Rotorua mayor Steve Chadwick said Mr James was a quiet yet passionate man who did a wonderful job with the sustainable tourism charter.
"We were all really shocked and are reeling from the loss of some amazing leaders recently and Harvey was definitely one of those.
"I knew about him back in 1996 when I was in government, he was quite a trailblazer and an innovative person.
"He loved the thermal valley and put it back on the international map as a unique ecosystem and he got a lot of international credit for that even having Nasa come and test robots there.
"He proved you can run a sustainable business, still have it thriving and protect the environment at the same time.
"He was a unique operator and will be a great loss," Mrs Chadwick said.
Destination Rotorua general manager Oscar Nathan said Mr James was not just the founding member of the Rotorua Sustainable Tourism Charter, but the driving force behind it.
"It was the first of its kind in New Zealand and is now part of a hybrid sustainable business charter that is still going on to this day so is a real credit to Harvey.
"We'll miss the way he thought...all of a sudden he'd pop out with an idea or something from a different perspective.
"He was never negative and it's just a really bad time for the Rotorua tourism sector with the loss of Harvey and Doug."
Friend and colleague Deryck Shaw said Mr James' contribution both locally and nationally was "significant because Harvey was a reserved character, he was very astute and very humble and didn't what a lot made of his personal achievements".
"I think that's what gave our charter credibility and his work was ground breaking.
"He looked out internationally at different models and brought his own version to Rotorua and New Zealand, his vision has endured over a long period.
"But he was also all about his staff and the customers at this business and the awards Waimangu achieved were all down to what Harvey had done."
Mr Shaw said his friend was a fantastic person and was made the first life member of the Sustainable Business Charter in December.
"He is a real loss to the industry in Rotorua. We will all miss his immense talent and drive," Mr Shaw said.
Mr James' funeral will be held under the sails in the Redwood Forest tomorrow at 1.30pm.
He is survived by his wife Trudi, his children Laura and Emily, and step children Blake and Lohgann.
Harvey James
- Owner Waimangu Volcanic Valley
- Multiple tourism award winner
- Founder of the Sustainable Business Council
- Eco tourism pioneer
- Died in Rotorua on Monday, funeral tomorrow at 1.30pm, under the sails, Redwood Forest