A family have lost everything but the clothes on their backs after a fire destroyed their Waipawa house but say their Christian faith is getting them through.
Yesterday morning, Bruce and Jocelyn Buchanan and their two young grandsons awoke to their fire alarms sounding and part of their home engulfed by flames.
"I got up and saw flames in the corner," Jocelyn said. "I tried to put it out but it got too big and we had to abandon it."
Their youngest grandchild, 9-year-old William, has cerebral palsy and recently had an operation which meant he had casts on both legs and was wheelchair-bound.
"Because of my brain injury 13 years ago, I am noise-sensitive and William is the same, so we heard the alarms. He and the dog raced into my bed."
Bruce, who has chronic pain syndrome and uses a wheelchair, tried to put the flames out with towels but that proved unsuccessful. His motorised wheelchair was destroyed in the fire.
William crawled out the back with his double cast, leaving his expensive wheelchair inside, Jocelyn said. Their other grandson, 10-year-old Hunter, went to the front gate.
A family friend had been staying the night.
Senior constable John Flack said all five occupants were out safely by the time he had arrived at the scene.
As a precaution they were taken to the Central Hawke's Bay Health Centre.
Jocelyn suffered a first degree burn to her right foot. The others weren't injured but were in shock.
The pair relocated from Hastings 13 years ago when they moved their house on to the site. It has been a labour of love to renovate the old house over the years and were three-quarters done.
Forty-five years of "heart and soul" invested into an embroidery collection worth about $20,000, as well as family heirlooms, home-schooling supplies, medical equipment and others were lost in the fire.
"It's just the precious stuff that we are sad about, the rest are just possessions."
For the first time as a family, they were planning to take a holiday to Christchurch later in the year. However, due to the fact they had cash for the holiday in the house, those plans have been halted.
Due to health expenses, the couple could not afford insurance.
"We were just going to restart the insurance and now it's too late. Knowing that my health is plunging, I have dreams that have been altered."
They have been the guardians of the two boys for the past six-and-a-half years - something which now weighed heavily on their shoulders due to the love and responsibility they felt for them.
"We've got to rescue two boys. If it was just us, it would be different."
Speaking to Hawke's Bay Today from the hospital - not even five hours after the ordeal - flowers, and several boxes of clothes had been delivered from those in the local community, with more expected to be donated in the coming days.
Thirty-five volunteer firefighters spent most of the day battling the blaze on Johnson St.
Waipawa volunteer fire brigade chief fire officer William Christall said the house was "fully involved" once they arrived just after 7am.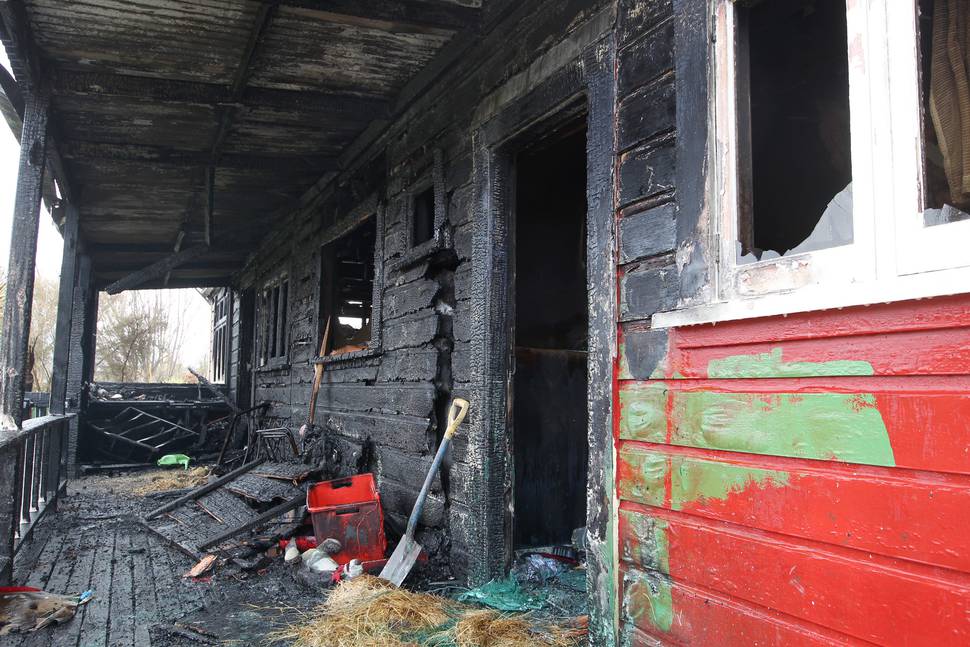 Eight appliances from Wairoa, Waipukurau, Tikokino, Ongaonga and Otane attended.
"We initially thought one person was trapped inside but they exited the rear," Christall said.
"We made sure everyone was out safely first".
A family friend, who did not wish to be named, went to see the damage of the house and was overcome with emotion. She said they were a "lovely" family.
"They have worked for years to make it a family home. It was so beautiful."
As for the future, they did not know what was next. They already had three 0.4ha sections up for sale and planned to use the money, once they were sold, to rebuild on their remaining land.
"Everything might have been altered but my faith hasn't been altered," Bruce said.
A Givealittle page has been set up for those wanting to donate to the family.