A blaze has ripped through a Glenholme house.
At least three fire trucks were at the address in Rimu St and the street was cordoned off last night.
Fire and Emergency New Zealand shift manager Paul Radden said FENZ had multiple calls about the fire from about 5.30pm.
"The property was well involved when the crews arrived."
He said the blaze was extinguished by 7pm and crews were dampening down hotspots.
"There is no suggestion it was suspicious and no indication of the cause yet."
A Rotorua Daily Post reporter at the scene said the house was still smoking at 6pm, though there were no longer visible flames.
She said there was water running down the street and a man and woman hugging outside the home.
A neighbour, who did not wish to be named, said she was in the kitchen making dinner when she noticed the blaze next door.
"I ran outside, it was blazing. I thought it was going to come next door because of the wind so I grabbed my photo albums of my children and my iPad and ran outside. The neighbours were running outside the house, it looked like they saved only their television.
"It's so sad for them ... They made it out with their lives and their television, but they've lost everything else."

Deborah De Loree, who lives across the street from the burned home, said she never smelt the smoke or heard sirens.
"I walked outside and I just saw the house blazing. There were fire engines out there and flames coming out of the whole front of the house. On the other side of the street there was a group of six or seven people."
She said the crowd were moved when fire crews shut off the street with a cordon.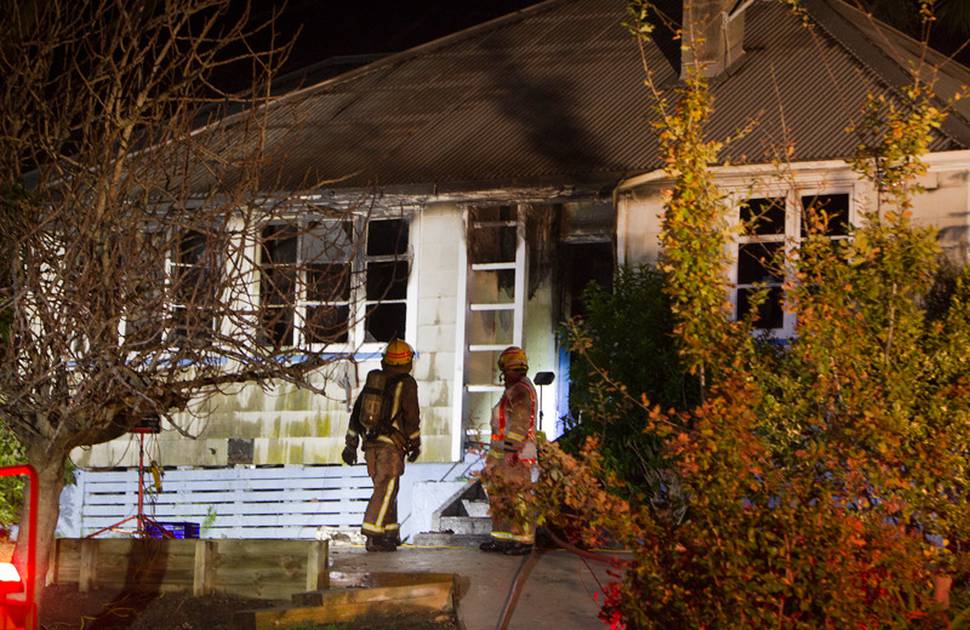 "I asked a fireman if everyone was out of the house and he said 'I think so'."
De Loree said the owners had been doing "quite a lot of work" to do the house up lately.
"They just had contractors there last week."
She said there were multiple homes behind the house that used the same driveway.