Friends and family hugged, kissed and wept as the body of a beloved Rotorua teacher was brought onto Tunohopu Marae.
Louise Jones taught at Westbrook School for more than 20 years. The mother of two died suddenly on Monday morning, after calling in sick for work.
Her body was brought on to Tunohopu Marae at Ohinemutu shortly before 6pm tonight.
From 4.30pm a crowd of mourners dressed in black gathered in the carpark outside the marae. Some smiled, some wiped their eyes.
Many brought umbrellas after the afternoon rain, but the weather remained warm and fine for the arrival of the teacher's casket.
Police in uniform arrived in an unmarked car and consoled mourners.
The carpark was almost full with about six lines of cars gathered by 6pm. More than 100 people gathered in total.
Hats were taken off and heads bowed as a black car arrived and the casket was carried on to the marae.
Iwi Te Whau knew Louise Jones for more than a decade through their involvement in the Rotorua Primary Schools Maori Festival. She was the secretary of the annual festival while Te Whau is the event manager.
He said he would always remember Miss Jones' smile.
"She always had this infectious smile that continued even if someone was in a mood. She was always so calm, polite and her infectious smile would ease anything," Te Whau said.
Te Whau estimates Jones was the volunteer festival secretary for at least 13 years. He said the pair once spoke about their motivations for being involved.
"For her it was showcasing the talent of our young children ... to see her children on that platform and see them thrive not only academically but in the performing arts.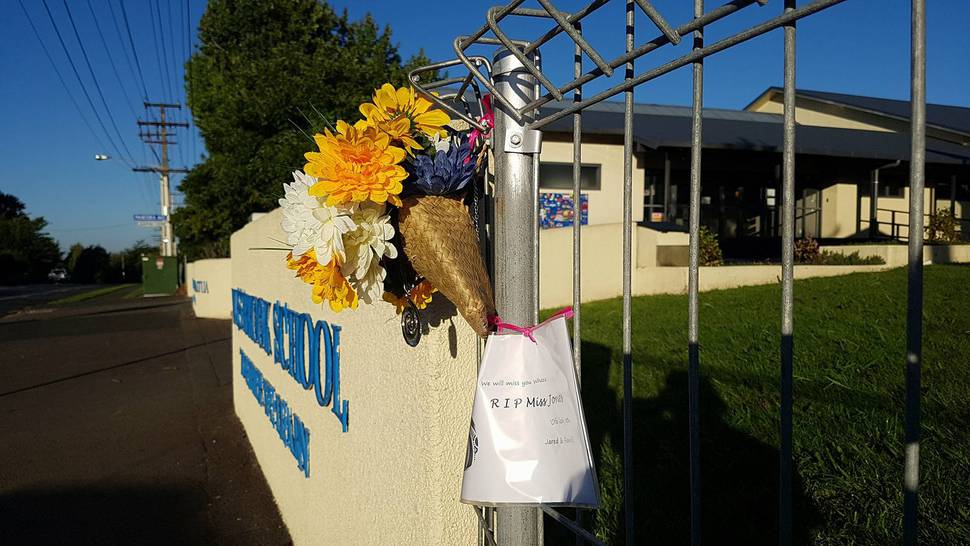 "Being Maori was a huge influence on what she wanted to give back to the community."
Te Whau said Jones also spoke highly of her own children so he shared the grief not only of festival organisers but also of her family.
David Massey runs the Rotorua Group Challenge boot camp, which Jones took part in.
He said the teacher made consistent efforts to stay fit and healthy, running in the forest and aqua jogging.
"She loved running around the forest and exploring trails with her running and training buddy," Massey said. "She will be sorely missed by those who knew her."
Westbrook School principal Colin Watkins previously told the Rotorua Daily Post the school was reeling after Louise Jones' death and he described her as a woman with mana.
Her funeral will be on Thursday at 11am at St Faith's Church. Westbrook School will close for the day to allow students and staff to attend.