The investigation into last week's horror crash that killed four and injured eight people is expected to take two to three months.
Taupo area road policing manager Senior Sergeant Fane Troy said the crash, which brought the number of deaths in the Taupo road policing area this year to 20 from 16 crashes, still needed further scene investigation and analysis.
Those killed in last Tuesday's crash were Mele Ilisapi Oliveti, 44, a Tongan national living in Palmerston North, Helena Adele Paul, 56, of Kaikohe, Leighton Phillip Ahuriri, 60, a New Zealander living in Western Australia, and Hone Te Ahurei Hawkins-Kanuta, 5, of Kaikohe.
A 10-month-old boy was flown to Starship Hospital, where his condition was most recently described as stable.
The crash happened beyond a passing lane, and the impact was close to the centre line, Troy said.
"Early indications are that it had nothing to do with the passing lane but part of the Serious Crash Unit investigation is to determine actual point of impact as well as any vehicular, environmental or driver factors that may have contributed," he said.
Speed and alcohol were not believed to be causes.
Troy was in charge of the scene at last week's crash, which involved a large number of people.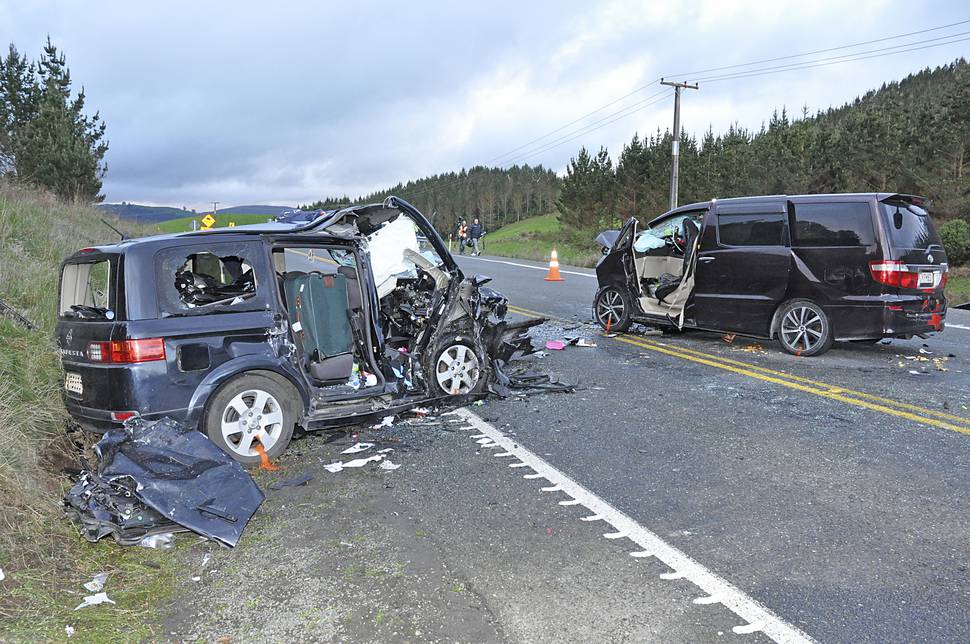 "It made for what appeared to be a chaotic scene but I'm proud of all the emergency services," he said.
"Everyone did their role to perfection, which resulted in the injured people being transported to hospital as soon as possible."
He was also grateful for the efforts of people who stopped and helped emergency services by holding tarpaulins over the injured people. One was an off-duty doctor.
Last year, 13 people died in the Taupo road police area, which covers from Piarere South (the turnoff to Tauranga on State Highway 1 between Tirau and Cambridge) to the summit of the Desert Rd, east to Tarawera on the Napier-Taupo highway and west to State Highway 32, also known as the western lake road.
This year, 12 of the 20 fatalities have happened on the South Waikato side of the police area.
Troy said last year's toll was down on 2015, when 24 people died in 18 crashes. The fewest recorded deaths were seven from seven crashes.
Troy said the Taupo police area historically records road deaths in the high 20s or low 30s every year.
Nationally, the road toll has been rising for the past four years.
Last Tuesday's crash was about 2km from a horrendous smash in 2009, where five people were killed in a head-on collision between a van and a car on State Highway 1, 17km north of Taupo. Despite the history, the area was not considered an crash black spot.
Troy said all New Zealand roads could be dangerous when people did not drive within their capabilities or at a safe speed for the environment, which included the road, weather and traffic.
He said highway patrols had noticed drivers were regularly crossing the centre line, whether through distraction or tiredness.
Drivers needed to think about where their car was positioned because being close to the centre line left minimal room for error, Troy said. Fatigue was also a common factor, and people on long journeys should share the driving or take two-hourly breaks.
Police were also seeing people seriously injured by insecure items inside their vehicle.
Large items should be put in the boot, pets should wear restraints and people with station wagons or people movers should use cargo nets, he said.
State Highway 1 from Piarere to Waiouru is under review by NZTA.
Safe Driving
• Be aware of your surroundings.
• Travel at a safe speed.
• Take breaks.
• Don't drive impaired or distracted.
• Always wear your seatbelt properly.
• Fit children's car seats correctly and check they have not expired.
• Secure large items and pets to stop them turning into a missile in a crash.