Prime minister Bill English has this morning met locals at a Rotorua cafe before donning his gumboots to plant a tree at Reporoa School's makeover day.
He then had morning tea at a Rotorua retirement village - making one woman's 90th birthday memorable before announcing his government would four-lane Te Ngae Rd.
Mr English flew into Rotorua this morning and he and local MP Todd McClay headed to the Coffee Club cafe at the Redwood Centre in Lynmore.
There, he chatted to families, posed for photos and talked to cafe staff - both front of house and in the kitchen.
Jo Keefe said she went along to meet the prime minister and show her support for National.
"I just see National as a better fit for our economy," she said.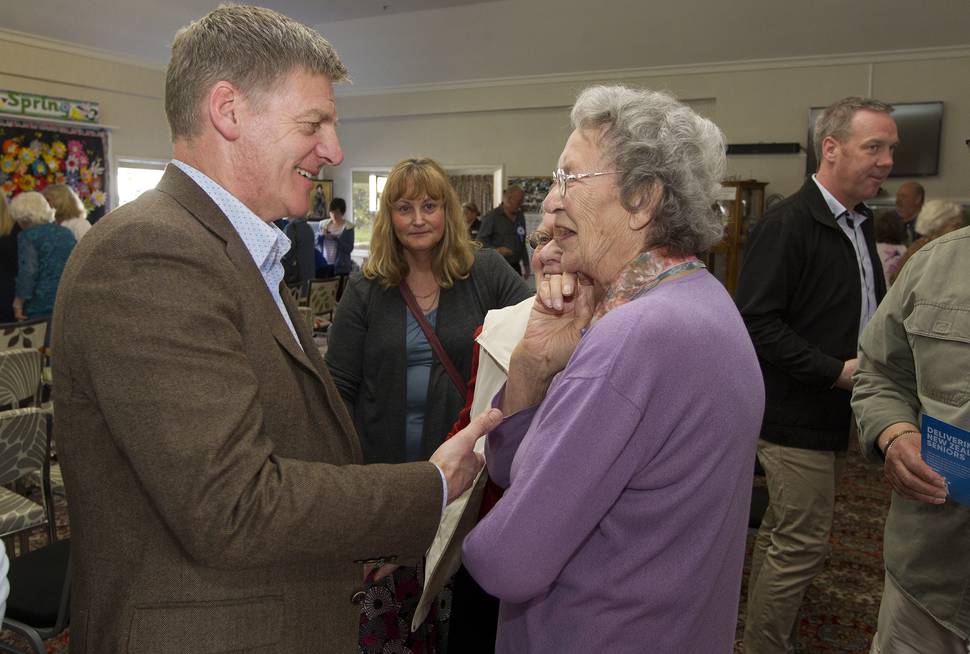 Her 5-year-old daughter Isis was enjoying her hot chocolate and posed for snapchat selfies with Mr English.
"He was friendly, down to earth and easy to chat to," Miss Keefe said.
Lachie Hoggard, 9, was pretty pleased to get a photo with his second prime minister, after meeting John Key on the campaign trail three years ago.
Mr McClay joked with Lachie that all the prime ministers come to visit him and helped him to find a National t-shirt in his size.
Mr McClay and Mr English then travelled south to Reporoa where the community had gathered for the local primary school's Treemendous Tree Makeover Project.
Mr English donned a Treemendous top and gumboots for the occasion.
Closely watched by excited children, Mr English dug a hole and planted a tree, giving the kids a few pointers as he went.
Mr English was also presented with a weta by the bug man, Ruud Kleinpaste, who has been helping the school build an outdoor classroom.
Once the weta started getting its feelers into Mr English, he handed it over to the group of kids showing him around.
The school won a $10,000 grant from Rotorua Mazda to turn what was the school's old horse paddock into a wetland and native garden, albeit a very muddy one at present.
The wider school community turned out to take part in the working bee, followed by a morning tea and a barbecue.
John Hathaway and his muddy 10-month-old grandson had come to help out with the planting.
Mr Hathaway said he had lived in Reporoa his entire life and couldn't remember other prime ministers visiting.
"Bill's certainly never been here before," he said.
"I think it's great for the community and for him to see what's going on."
Kate Brown's 5-year-old daughter Olivia had come home from school yesterday excitedly saying "Bill is coming".
"It's nice to see him in our little community," she said.
Other volunteers thought it was lovely that Mr English had stayed a bit longer to have a cuppa and some morning tea.
It was then back into town for Mr English, Mr McClay and Mr English's wife Mary for morning tea at Cantabria Home Hospital and Retirement Village.
There was a round of applause and a standing ovation for Mr English as he arrived at Cantabria.
Minister for Seniors Maggie Barry had already spent the morning with some of Rotorua's senior citizens discussing the risks seniors face, including online fraud.
Mr English reminded residents that 750,000 superannuitants would receive an extra increase from April 1 on top of their normal annual increase. For couples that would be an extra $680 a year.
New Zealand super had increased by more than $7000 a year under National - from $24,062 in 2008 for a couple to $31,216 in 2017.
That was an increase of 29.7 per cent.
As he shared stories of life in Dipton and introduced the National Party's seniors policy Mr English had the crowd laughing.
After his speech Mr McClay and Mr English celebrated a lifetime National supporter Una Ewart who turned 90 today.
After gifting her a large bunch of flowers the entire crowd and Mr English sung Happy Birthday.
"It was wonderful," Ms Ewart said.
"To even be in the same room as the prime minister was tremendous."
Mr English finished his whirlwind tour of the Rotorua district at Motion Entertainment where he announced a National-led Government would go ahead with the four-laning of Te Ngae Rd.
Families enjoying the day out were surprised to see the prime minister, with lots of double takes and pointing as he made his way through the centre.
Lucy Lou Vantol and Trevor Smith were sure to grab a picture with their 2-year-old daught Lexie Marie and Mr English.
"It was mean, he's so down to earth," Miss Vantol said.
Mr Smith added: "What's there not to like about Bill English?"