Reverend Napi Waaka was a master of the stage - leading by example with both his wit and talent.
Today, the stage was his again, as friends, whanau and colleagues gathered to say their final farewell to the great Te Arawa leader who spent a lifetime passing on his skills and knowledge.
Hundreds of people gathered at Te Takinga Marae, Mourea, to honour the life of Reverend Te Napi Tutewehiwehi Waaka, OBE.
Mr Waaka, a Te Arawa performer held in high esteem nationwide, died last Wednesday, one day after his 81st birthday.
He was well-known for his expertise in oratory, music, kapa haka and language revitalisation.
Local and national dignitaries attended his funeral today, including members of the iconic Maori performing group the Patea Maori Club, many of whom he had taught over the years.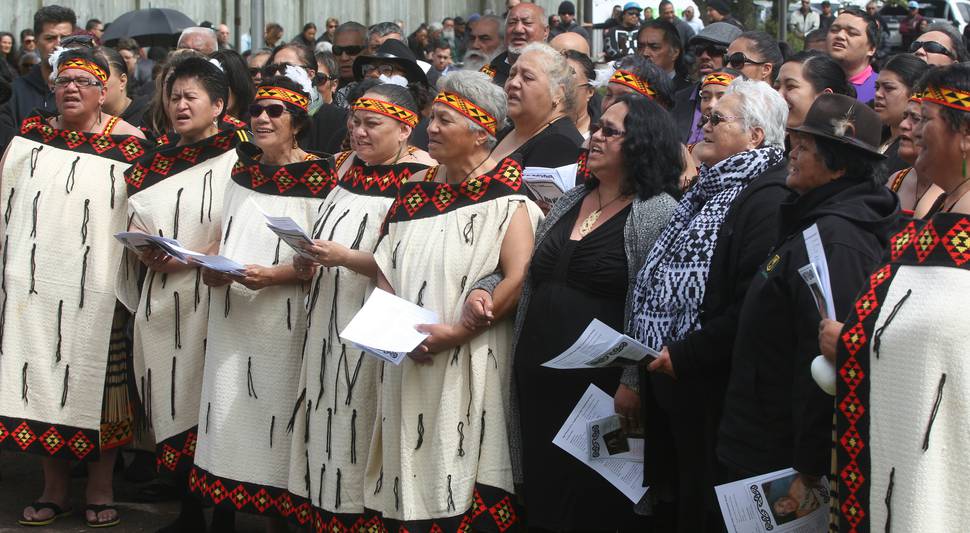 Mr Waaka, a Tainui and Ngati Pikiao descendant born and raised in Mourea, was remembered by mourners from all over the country.
Many remembered not only his cultural talents but his endless cheeky humour.
Friend Trevor Maxwell said one speaker told the story of how he and Mr Waaka were speaking at a meeting in front of many academics, with each one telling the crowd they were "so-in-so with an PhD in this, a MA and BA in that".
"Napi gets up and tells the crowd, I am Napi and I have got the rest of the alphabet.
"People were coming up with all sorts of funny stories from the past. But it was such a moving service. There was Maori and Pakeha from far and wide."
The service was taken by Tamou Kershaw and among the speakers were Arana Collett from Te Wananga o Aotearoa and a message read by the wananga's former chief executive officer, Bentham Ohia, on behalf of Rongo Wetere, who started the wananga alongside Mr Waaka. Mr Wetere now lives in Canada.
Former student Sam Hema, a DJ and musician from Rotorua, said the tangi was a fitting tribute for "Koro Napi", as he was affectionately called.
He said he was a man who knew how to get the best out of you.
"He was always optimistic, challenging, wise, cheeky, intelligent, hilariously quick-witted - a staunch Te Arawa, Ngati Pikiao leader. He was instrumental in igniting the talents of many Maori to perform on any stage with confidence through a foundation and love for our culture, te reo Maori and the performing arts."
Mr Hema said Mr Waaka played a huge part in the lives of he and his wife, Margaret.
"We met as students at Te Wananga o Aotearoa, then years later he and Evelyn attended our wedding, he will be remembered with many great memories. To have been under his mentorship as a student and tutor at Te Wananga o Aotearoa makes me honoured to have called him our Koro. Haere ki te okiokinga wairua e koro."
Entertainer Russell Harrison also attended today's funeral.
"Napi Waaka to me, and many others was a servant of, and to the people. He utilised his mastery of waiata and his witty, charismatic charm to help connect people to the power of transformational change through education. In short he dedicated his life to helping people, and he will be remembered as a humorous man with a big smile whose aspirations we should all try to emulate."
Mr Waaka was a graduate of the Trinity Methodist Theological College. A musician and saxophonist, in his earlier days he was a member of the Star Boys (a whanau band) and also the Tai Paul's Pohutu Boys, one of the leading dance bands in Rotorua in the 1950s.
Mr Waaka also received the 2014 Waiata Maori Music Keeper of Traditions award.