Tracy Barr-Smith doesn't look sick.
The 48-year-old answers the door vibrant, laughing and joking about not being ready.
Her piercing blue eyes sparkle, despite her heartache.
As muffins fresh from the oven, sit cooling in the kitchen of her Tauranga home, Barr-Smith takes a seat next to a sun-drenched bay window with husband Dean.
Barr-Smith has stage four metastatic breast cancer – advanced breast cancer which has spread to other parts of the body and has no cure, yet.
Like many others, Barr-Smith hopes life-prolonging drugs will keep her around long enough for a cure to be found.
"I can't even comprehend that I could be gone in five years. I don't want to get it through my head. That's why we need these drugs and this funding and the Government to step up and listen."
On October 16, Barr-Smith will join hundreds, if not thousands, of other cancer patients marching on Wellington to present a petition to Parliament.
The petition calls on the Government to allow funding for better access to medicines which extend a cancer patient's life.
About 300 New Zealanders are diagnosed with advanced breast cancer each year.
Ibrance, the brand name for palbociclib, and Kadcyla, also known as T-DM1 or trastuzumab emtansine, are already in use and funded or subsidised in other OECD counties such as Australia and the United Kingdom.
They are considered "game changers" by those working in the cancer field, but despite approval by the New Zealand Medicines and Medical Devices Safety Authority, there is no funding for them here.
"So people are having to self-fund Ibrance with upwards of $6000 to $7000 a month. The other one costs $10,000 a month," Barr-Smith says.
Initially, the organisers hoped the petition would gain 25,000 signatures. It has more than 30,000.
Much of the impetus has come from Metavivors - a group of stage four metastatic breast cancer survivors who came together via Facebook.
Of its members, only 1 to 2 per cent can afford to self-fund, Barr-Smith says.
Others fly to Malaysia or have moved to the United Kingdom where the drugs are as cheap as $39 a month, she says.
Barr-Smith doesn't want to leave, but she also wants to live.
Those blue eyes begin to well up as she expresses frustration that male erectile dysfunction drugs seem to get a higher priority.
"I know for many that can be a real, real issue but is it going to be life or death?
"For us it absolutely is. It's the potential to give us a longer life, stronger and healthier life. They are getting closer and closer each year to a cure for breast cancer.
"It just breaks my heart."
Slivers of silver through Barr-Smith's short, dark hair suggest the stress of the past year.
She spent four months in agony believing a prolapsed disc in her back was the cause for the pain. Doctors diagnosed with the incurable breast cancer on October 13, 2017,
Cancer tumours at the base of Barr-Smith's spine were pinching nerves but were not picked up on by X-ray.
"We couldn't believe it. We were in shock. The doctor was in shock."
Barr-Smith was diagnosed with early breast cancer "the size of the tip of my pinky" in 2012.
Early detection meant early treatment and early removal. But, just a couple of months before celebrating her fifth year in remission, cancer came back.
"It was a really tough time."
Barr-Smith says she does not know how long she has now and doesn't want to know.
"I'm not going to put myself in a box and try to deal with all of that," she says.
Barr-Smith pauses and looks to her husband of 14 years Dean Barr-Smith, the man who has been her rock and attended her every urgent appointment in the past year.
She desperately wants to grow old with him but knows it's unlikely.
Her only hope is the drugs.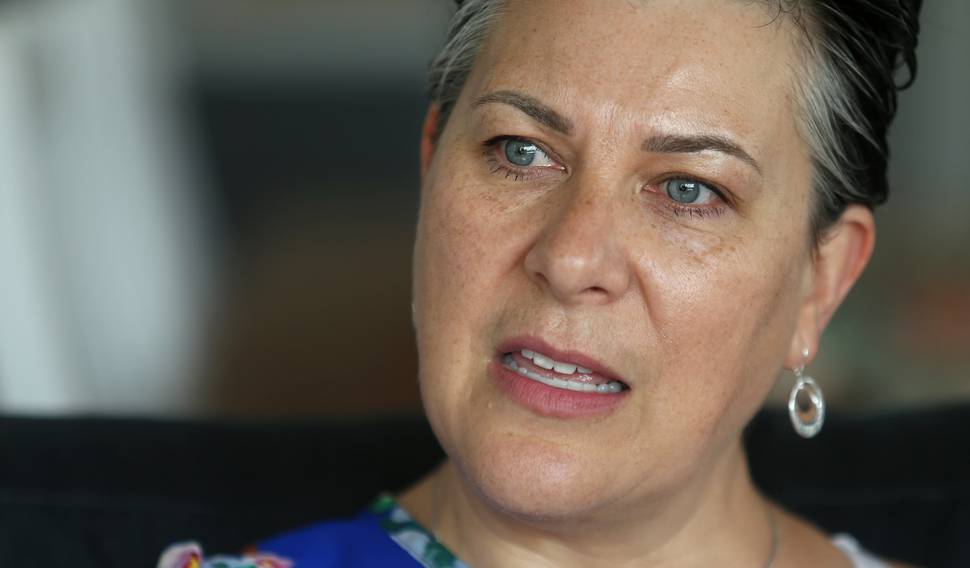 "They mean everything to people in my situation. You can extend your life for two years or more.
"Two more years is everything when you are faced with a ticking time bomb. Time is valuable. You don't realise how limited it is until you have been given a time frame," she says.
"That's two more years of making sure that my husband is sorted after me. It's my parents not having to bury their daughter before they die."
The couple are down to one income; an upholstery business Dean Barr-Smith operates.
Having stopped work to join us, he sits by his wife silent and stoic, nodding his head and pursing his lips. When he does speak, he is angry - angry that he too has been given a life sentence, just a different kind.
"When you've got Australia looking after their people better than us, what does that tell you?" he says.
In April this year, the Australian Government agreed to subsidise Ibrance, with a spokesman for Health Minister Greg Hunt saying it was a "very important step in the Pharmaceutical Benefits Advisory Committee listing process".
Tracey Barr-Smith says it is essential people understand "this doesn't just affect one person".
"This is not an older ladies' disease," she says.
"These are busy women being cut down in the prime of their lives. And 1 per cent of men get it too, you just never hear about them."
There is a lot of love in the room; love between the couple and from Bella the dog and cats Benny and Bart who have all joined the interview.
As tears flow, Bart, the cat does what he can by jumping on to Barr-Smith's lap and butts his head on her.
"People complain they wish they were younger. I wish I could grow older. I'd do anything to reach my 60s," she says.
"And now we've got an opportunity to do something to extend our lives and contribute to society and make a difference."
In Rotorua, pensioner Raewyn was diagnosed with advanced breast cancer in February.
She was advised to go on Ibrance at the cost of $5987 a month. Of that, $701 goes on GST each time.
She says she is only alive now because of those pills, which have so far totalled $48,000.
"I've eaten my way through a little new car, but if I hadn't eaten all of those pills, I wouldn't be around to drive a little new car."
Raewyn, who did not want her last name used, is funding the treatment after selling a rental property last year.
She says she is one of the lucky ones "if you could call it that" to afford treatment.
She says her tumours have shrunk since taking Ibrance and she's suffered no side effects.
"If this wasn't working, I could understand Pharmac's reluctance, but for me, it's working really well ... what more could Pharmac ask for?"
In August 2017, Pharmac received its first application for Kadcyla, and in November 2017, it sought advice from the Pharmacology and Therapeutics Advisory Committee about Kadcyla, which recommended funding it with low priority.
In February 2018 it received an application for Ibrance.
The committee recommended specific specialist advice be sought from the Cancer Treatments Subcommittee for both.
Pharmac did this last month. While the subcommittee's discussions have not yet been released, both drugs are recommended to be funded with low priority.
Commercial sensitivity has been cited by Pharmac for its refusal to release its priority list of medicine funding.
However, it has confirmed an application for funding for erectile dysfunction in spinal cord injury patients was received in 2014. This has been recommended to be given a medium priority standing.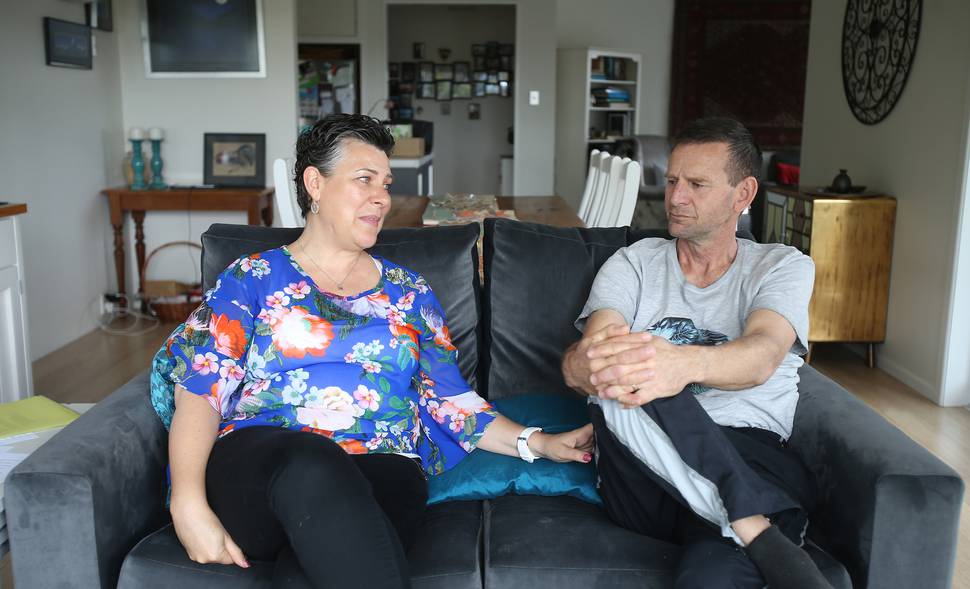 Director of operations Lisa Williams told the Bay of Plenty Times Weekend it worked hard on a fixed budget to make more medicines available to New Zealanders but: "We cannot fund every available treatment, so we have to make difficult choices about which medicines to fund in order to obtain the best health outcomes for New Zealanders."
"There are many reasons why one medicine is funded, and another isn't, or why one medicine might be a higher priority for funding than another."
Part of Pharmac's decision-making process included four different aspects being considered – health need, health benefits, costs, plus savings and suitability.
It also included three levels of impact - to the person, the person's family, whanau and broader society, and to the broader health system.
"This helps us to determine what 'best' means in the context of best health outcomes for New Zealand."
Williams says while some medicines may be available in other countries, the health needs, and funding and reimbursement systems were often not comparable.
"New Zealand must make its own decisions ... "
Minister of Health Dr David Clark said he understood calls for new cancer drugs to be funded.
However, decisions on which medicine got funded were made by Pharmac, which operated independently.
"This independence means the public can have confidence in the impartiality of funding decisions. We cannot have politicians second-guessing clinical experts."
Breast Cancer Aotearoa Coalition chair Libby Burgess says it is tragic people have to march on Parliament to call for better access to treatments "that they would get as a matter of course in other developed countries".
Research published last month by the Breast Cancer Foundation New Zealand shows the average survival for a Kiwi patient with advanced breast cancer is 16 months, compared with two to three years in other countries such as Australia.
In the report, the foundation states the country's "poor metastatic breast cancer survival needs urgent action".
This study identifies five areas of focus for change: medical care, symptom management, drugs, support, and investing in the future.
"However, none of the necessary changes will be possible without a change in attitude towards metastatic breast cancer within our health system," the report states.
Foundation medical advisory committee chairwoman Dr Reena Ramsaroop says the figures prove New Zealand is falling behind the rest of the world.
"We did this study because patients were telling us they feel forgotten, and cast aside."
Back in the living room of Tracy Barr-Smith's home, she says the Government won't know what is coming on October 16.
Her cancer is stable, for now. While she has the strength to fight, she will.
"It's for selfish reasons. I'm going to need this treatment myself one day, but we are fighting for all of our people."
She looks at her husband who squeezes her hand.
They hope that day will come.
The petitions for Ibrance and Kadclya funding can be accessed here and here.